Bhakti Baxter, Christopher Bradley, Bruce Conkle, Robin Griffiths, Richard Haden, jay hines, Brookhart Jonquil, SINISA KUKEC, Justin H. Long, David Marsh, Daniel Nevers, Daniel Newman, Matt Nichols, Brandon Opalka, Cheryl Pope, Ralph Provisero, Carlos Rigau, Audrey Hasen, Russell David Shaw, Hrafnhildur Arnardóttir (aka Shoplifter), Magnús Sigurdarson, sleeper, Toot, Kyle Trowbridge
September 1st, 2010 - October 2nd, 2010
Reception: September 1st, 2010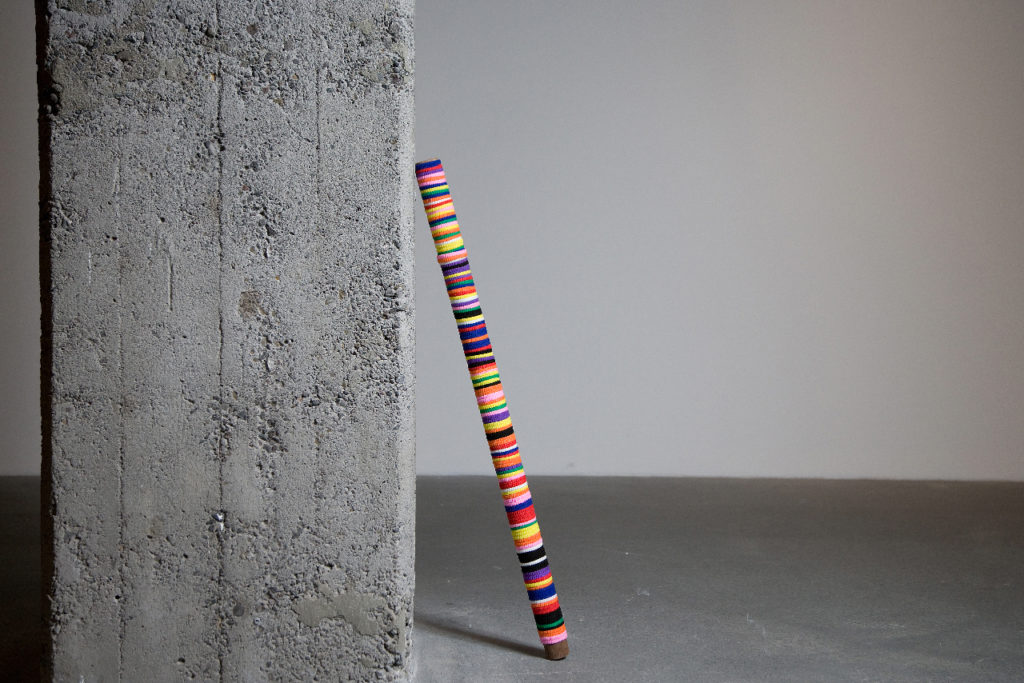 Bubble Raft is a group exhibition of sculptural works
These are a selected group of works and installation photographs from the exhibition. For a complete list of available works please contact us.
Dorsch Gallery presents Bubble Raft, a group exhibition of sculptural works. Utilizing the indoor and out-door spaces of Dorsch Gallery, the exhibition includes works by Bhakti Baxter, Cristopher Bradley, Bruce Conkle, Robin Griffiths, Richard Haden, Jay Hines, Brookhart Jonquil, Sinisa Kukec, Justin H. Long, David Marsh, Daniel Nevers, Matt Nichols, Brandon Opalka, Cheryl Pope, Ralph Provisero, Carlos Rigau, Audrey Hasen Russell, David Shaw, aka Shoplifter, Magnus Sigurdarson, sleeper, Kyle Trowbridge, Toot and more. Co-curated by Brook Dorsch and Magnus Sigurdarson.
The Opening Reception will feature performances by Otto Von Schirach / Mr.Feathers / and Alligator Jesus, Dino Felipe, Pocket of Lollipops, Boise Bob and his Backyard Band, and Viking Funeral.
Bhakti Baxter has shown his work in several group and solo exhibitions in Miami and around the world. Solo shows include the Museum of Contemporary Art in North Miami in 2002, the Emmanuel Perrotin Gallery in Paris, France in 2005, Bravin Lee Programs in Manhattan, New York, in 2009 and Federica Schiavo Gallery, Rome, in 2010. Baxter's work brings to mind the intricate and organic world of nature translated geometrically. Investigating the territory between science and spirituality, his practice points us in the direction of a fractal universe with doorways to the infinite at every intersection.
Chris Bradley received his MFA from the School of the Art Institute of Chicago in 2010. Since then Bradley has been actively working in Chicago, showing at such establishments as The Union League Club and the Evanston Art Center. On his work Flaccid Backboard in Bubble Raft, he writes, "I first started using the backboard several years ago in a series of prints as an image of hope or aspiration…The idea of being a professional athlete compared to my thoughts of being a successful artist. In its flaccid state, this work calls upon a certain impotence or dysfunction or an in between function, which for me alludes to failure, incapability, confusion and rest. This dysfunction, along with the title, aims to deflate the object's prowess and suggest its shortcomings."
Bruce Conkle loves snowmen, coconuts, fairy tales, crystals, burls, and meteorites. He creates work that combines art and humor to address contemporary attitudes toward nature and environmental concerns, including deforestation and climate change. Bruce's work often deals with escapism, artificial worlds and man's place within nature and frequently examines what he calls the "misfit quotient" at the crossroads. His work has shown in Rio De Janeiro, Reykjavik, New York, Philadelphia, Seattle, and Portland. Recent projects include public art commissions for TriMet/MAX Light Rail (Portland, Oregon) and Portland State University. In 2010 Bruce has received an Oregon Arts Commission Artist Fellowship and a project grant from the Regional Arts and Culture Council.
Miami-based sculptor Robin Griffiths had a solo show at Dorsch Gallery in 2008, his fifth solo exhibition at Dorsch Gallery. He works in wood and also mechanical and electrical systems. One of these exhibitions was 'Spue' in 2004, which Paula Harper, an Art History Professor at UM, reviewed in Art in America. He has been in numerous group shows in Miami, including SITES 2004 at Lummus Park and other shows at Miami Beach Botanical Garden, Museum of Contemporary Art in North Miami and the Lowe Art Museum.
Miami-based Richard Haden is known for hand-making hyper-real copies of cast-offs and cast-aways out of wood and paint. His titles, texts, and slogans prod at notions of the uncanny, copy and zeitgeist- how one attaches what is suggested by the work to other ideas at large. His Twice Tee-Totaling Tea Trays (2010) are two dented trays carved from poplar. One is finished with metallic green paint; the other is left unpainted, with Haden's mapping marks and carving strokes left visible. Haden was born in Frankfort, Kentucky and began his art education at the University of Kentucky. He apprenticed with Robert Bourdon in Sheridan, Wyoming, then he moved to San Francisco, then the Lower East Side in New York, back to the West Coast, then South Florida and now Miami. His work has been shown around the country: the Museum of Contemporary Art, North Miami and solo shows at Dorsch Gallery (in Miami and at VOLTA NY), lincart, San Francisco and Allan Stone Gallery in New York. He was included in a group exhibition exploring aspects of trompe l'oeil in modern and contemporary sculpture at Nicholas Robinson Gallery in New York. One can find him interviewed, writing and written about in the New York Times, the Wall Street Journal, and online at vernissage.tv, wetheat.tv and artlurker.com, among other sites.
Jay Hines is an itinerant artist, whose work in this show is a reflection on the fragility of his circumstances. Infinite Couchsurfing/ American Apparel (2010) uses surveyor's string (a tool from his day job) to balance a pillow cover on a 1 x 2, propped on an old folding metal chair. His solo exhibitions were at twenty twenty projects (2008) and dimensions variable (2010). His work has been in many group and collaborative exhibitions in Miami. Hines was part of the collective The House, which had a solo show at Museum of Contemporary Art in North Miami in 2001. He has a BFA from the Massachusetts College of Art.
In Brookhart Jonquil's Looking Both Ways (2009), the viewer climbs a short ladder to look at two mirrors set at 90º. The mirrors 
split the vision: one eye sees a dart stuck in the wall, the other eye sees a drawing of
the same. The mind registers the two sources as a single reality. Jonquil received his MFA from the School of the Art Institute of Chicago in 2010. He has a BFA and BA (Art History), both Magna Cum Laude, from the University of Arizona. He studied at the Leipzig Academy of Art in Germany. His work has been shown in numerous venues in Chicago, as well as the Museum of Contemporary Art in Tucson and Apex Art in New York.
Miami-based Sinisa Kukec's sculptures emerge from found objects or edifices. They are either modest in size or imposing. He states that his "artwork creates and inhabits a sad and beautiful space of interpretation, that at one moment encourages conscious critical dialogue and at another draws on its own subconscious, intuitive logic." He asserts that, even with all the philosophical brooding, which can alienate one from the material world, objects are important to him; his training in ceramics at Alfred University is reflected in his materials. His works often feature forms like bubbles. Kukec will have a solo show at the Art and Culture Center of Hollywood this September. He has shown widely in South Florida and has participated in group shows in Montana, New York, South Korea and California.
Justin Long explores nautical themes in contemporary art. In this vein, he touches on delightfully specific customs, like pirates, tropical vacations, yacht club rivalries, Columbus Day Regatta wars, and journeys on small boats. Consisting of a boat hull, pirated booty and rope, his work How to Catch a Pirate will be on view in Dorsch Gallery's garden. With an MFA from California Institute of the Arts and a BFA from FIU, Miami-based Long has shown in some of the most memorable group shows in Miami (in recent years) like Weird Miami at Bas Fisher Invitational, Boyz of Basel at Carol Jazzar Contemporary and CONFECTION at O.H.W.O.W. He had his first solo show in Miami in 2009 at twenty twenty projects. He has also had solo shows in Portland, OR and Valencia, CA.
David Marsh is a committed abstract painter. He argues that with only 60 years of history, abstract painting is still uncharted territory. He presented a bold show of paintings at Dorsch Gallery this past summer, after completing his MFA from University of Miami. It is worthy of note, then, that this painter submits a sculpture to this show, a work that reflects a poetry in his thinking on materials, objects and layers. Marsh is based in Miami.
Daniel Nevers writes that "Do-it-yourself is the new self-help. Using everyday objects from the home-improvement megastore, I construct tenuous sculptures and installations that explore the ways we present ourselves and the ways we are perceived." Nevers lives and works in the San Francisco Bay Area. He received an MFA in Sculpture from Mills College in Oakland, California, and previously studied at California College of the Arts. Nevers' work has been seen in solo and group exhibitions at galleries and museums in San Francisco, Los Angeles and Barcelona. He spends his free time reading self-help books and is training to become a certified life coach.
For his work, an eight-foot column covered in a pink fuzzy substance, mAtT Nichols provides the following suggestions: "If the Parthenon and the Pentagon had a torrid romance at the local county fair, the CottonCandyCultureClub would be their illegitimate love child." He elaborates on these terms, drawing on architectural and cultural histories. He continues, "by combining the rigid form of the column with a pentagonal profile and lush soft covering, the CottonCandyCultureClub asserts the dominance of social control by the upper classes while subsequently shedding light on middle class decadence through a beautiful, grotesque, and absurd means." Nichols got his MFA from the School of the Art Institute of Chicago in 2010 and his BA from UC Berkeley. He has shown widely in Chicago and received several notable awards, including Artist in Residence at ACRE in Wisconsin and Frans Masereel Centrum in Kasterlee, Belgium.
Miami-based Brandon Opalka paints on walls and canvases. He often makes constructions as models for his paintings. He shows one of these constructions here. If, as he has stated before, "painting is a mix of cerebral meditation and a romantic desire to visualize beauty," then his intermediary objects expose where paint, its physicality and its potential, and art history books, what they are physically and also what is in them. Opalka has had one-man exhibitions at Rocket Projects, Ingalls & Associates and Dorsch Gallery. His work has been curated into group exhibitions at Tomio Koyama Gallery in Tokyo, Japan; Whitebox, New York; and Bass Museum of Art, Miami, FL.
Cheryl Pope's Colts are a series of wood saw horses upholstered with vintage fur coats. By combining the sawhorse, a pedestrian level object used for construction with a luscious fur coat, she shifts the object, denies its function, and instigates questions around the construction of beauty, homoeroticism, seduction, and community. Pope is based in Chicago where she recently received her Masters in Design: Fashion Body Garment from the School of the Art Institute. She has exhibited at the Museum of Contemporary Art Chicago, Evanston Art Center, Morton Conservatory in Cleveland, Next at Art Chicago, among others. She currently teaches at the School of the Art Institute and is Head Studio Manager for artist Nick Cave.
Ralph Provisero's Moneybags, which is an army cot whose fabric support is sewn together canvas bags used to transport currency, is in line with a growing body of evocative, hybrid objects in his oeuvre. Born in Miami, FL, Provisero's works have been exhibited in the United States, Mexico and Canada, and in a number of important collections including the Martin Z. Margulies Collection, the Bass Museum of Art and the University of Miami campus. He earned a BFA from the Kansas City Art Institute in 1995 and is candidate for an MFA from the University of Miami. In 2007, he received the Atlantic Center for the Arts / Joan Mitchell Foundation Scholarship for Visual Artists.
Carlos Rigau's work operates at a junction between disturbance and humor. In Fuck ROCK a white-masked toy monkey humps a rock, which sports a cow mask, covered in tiny lips. The rock is a model of the set from Bojangles's performances. The sound of the famous tap-dancer is playing. Rigau was born in 1978 and was raised in little Havana, a Cuban neighborhood in Miami, Florida. He graduated in 2002 from F.I.U. with a double major in Fine Art and Television Communications. In 2009 Rigau completed Hunters MFA program in NYC. Carlos has exhibited his work in Berlin, New York, Chicago and Miami. His work is in the collections of Joseph S.Berg and Jefferson Godard.
Audrey Hasen Russell's delicate still-lives further a symbiotic relationship between found objects and a sculptural translation of fanciful pastoral landscapes. She has a rich appreciation of textures, color and form. Russell was raised in Eastern Tennessee, where her father worked with functional glass. She has an MFA from Cranbrook Academy of Art, Bloomfield Hills, MI and a BFA from University of Tennessee, Knoxville, TN. She was artist in residence at Sculpture Space Residency in Utica, NY and Robert M. MacNamara Foundation Residency in Westport, ME. She has shown her work nationally.
Hrafnhildur Arnardóttir (also known as Shoplifter) covers various cylinder types (pool noodle, PVC pipe) with hairties. "They are like a party of characters with no limbs or faces, some alien nation, power poles or energy sticks, tribal and abstract. The colors are a rainbow of feelings and are inspired by op art, and abstract geometry and make a drawing or a 3D painting in the space. The sticks are both personal crutches to strengthen you and inner totems, colorful spines to carry within. Something to hold onto in the vast sea of human existence/experience."
Shoplifter takes on themes relating to vanity, self-image, beauty and fashion, often touching on notions that come close to obsession or fetish, especially relating to hair.
Together with a.v.a.f. she was commissioned by MoMA in 2008 to create a large window installation, in the ground floor window of The Modern Restaurant building on 9 West 53rd street. Arnardóttir will represent Iceland, alongside Hrafnkell Sigurðsson, at the Liverpool Biennial in UK in September 2010.
Magnus Sigurdarson is known for his newspaper installations, of which FRY ME extended version is one. Residue of outdated information, newspapers are as viable as any organic matter for use as building material. This work features a rustic wooden fish which rotates atop a pillar of newspapers. The slogan evokes "Eat Me," at least in simpler cultures, where one can envision eating a whole fish, rather than a hunk of sushi. Its defiant connotation is slightly different in tone than a "Roast" in which participants are invited to make fun of the subject. It is here that Sigurdarson inserts himself, as the "friendly artist," who serves himself on a platter. He has studied at Studio Cecil & Graves in Florence Italy, Icelandic College of Arts & Crafts, and Mason Gross School of Art at Rutgers University. He currently lives and works in Miami. He has exhibited at PanAmerican Art Projects and Kevin Bruk Gallery at Art Basel Miami Beach 2007. His works are in the permanent collections of Iceland Air, The Living Art Museum in Reykjavik, Iceland, the Icelandic National Gallery, and The Focus Group corporate collection in New York, among others.
Sleeper makes sculptures from clothing and mannequins, sometimes wearing a piece. The palette and attitude of the work is reminiscent of Franz West's Passtucke and Erwin Wurm's performances, enhancing the awkward vulnerability in those works with an element of drag. He writes "My work in its physical form deals with the false realities that we create to cope with experiences sometimes masked, layered, stitched, or intangible. … The process is a relationship between me and the material, starting with an idea and working with it as it grows sometimes incorporating different medias to capture my thoughts as closely as I see them." Sleeper graduated at the top of his class from New World School of the Arts in Miami, FL.
Kyle Trowbridge's Neighbor (2010) is a sculpture from his series Pleasure Seekers, in which CDs stood in for raw digital data, particularly the kind that allows pornographic downloads. Trowbridge writes "my work has dealt with the impressionable forces we as malleable entities face in the midst of an "aggressively evolving" modern society. I have always and continue to find the dynamic between the unknowing victim and plotting victimizer to be a fascinating one." Trowbridge's work has been exhibited in Toronto, Santo Domingo, New York, Chicago, Miami, Los Angeles and as a U.S. representative at the Vienna Biennale. He is a lecturer in the Department of Art and Art History at the University of Miami. His work can be found in such permanent collections as the Museum of Contemporary Art, North Miami, Lowe Art Museum and the Broward County International Airport.
Toot is a collective of corporate and government workers in Miami. They intervene in peripheral fine art infrastructures, like ads, fundraisers, concerts and exhibition opening entertainment. The Anti-Sweat Lodge, using found lumber and a calibrated liquid nitrogen feed, is a structure of their making.
Bands:
The Broward and Palm Beach New Times voted Boise Bob and his Backyard Band as the year's best country band. The epithet is a revolution – for "unlike Toby Keith, this type of rebellion is several states outside of the Nashville system. Not content to let his toe-tapping, old-time swamp music roll past without an impact, Boise Bob has social politics on his mind that will be on yours if you give a listen. The raw edges of this country-fried punk cut through the bull with a track like Kmart ode "Blue Light Special." "Every time the blue light flashes, you will see the white trash dash in," he drawls in a voice straight out of the Appalachian foothills. Lest we forget Darnell Hotdog's banjo-chomping, Tex Merlot's washboard-scraping, and Owen Cash's washtub-bass-slapping, Boise Bob's backup crew, the Backyard Band, isn't afraid of a damned thing either. Even if it doesn't inspire a line dance, this music has no shortage of inspiring ideas." Owen Cash is also known as artist and filmmaker Clifton Childree, who is planning an exhibition at Dorsch Gallery in December 2010.
Otto Von Schirach (half Cuban / half German) was born in 1978 in the swamp infested refugee world of Little Havana Miami. As a child his grandmother practiced Santeria and White Magic, which opened his eyes to the strange and bizarre. Otto grew up listening to Miami Bass, Gore Grind, Gangsta Rap and Afro Cuban Noise. In 1995 Otto bought his first drum machine from a crack-head just 2 blocks from his mom's house. Right away he recognized his passion for grimy diamond soaked kick drums through distorted fuzz muck. After 8 albums, 10,000 shows, a 4 Gigabyte Sound Library and 7 computers, what else do you want? Otto is currently working on a bunch of new collaborations with Venetian Snares, Doormouse, Gut, Ebola, Gouch and is now promoting his Skinny Puppy record Bermuda Triangle.
Learn more about this exhibition and the artists.