Justin H. Long: GULL vs LOBSTER
March 27 - April 10, 2021
Reception: March 27, 2021 - 7PM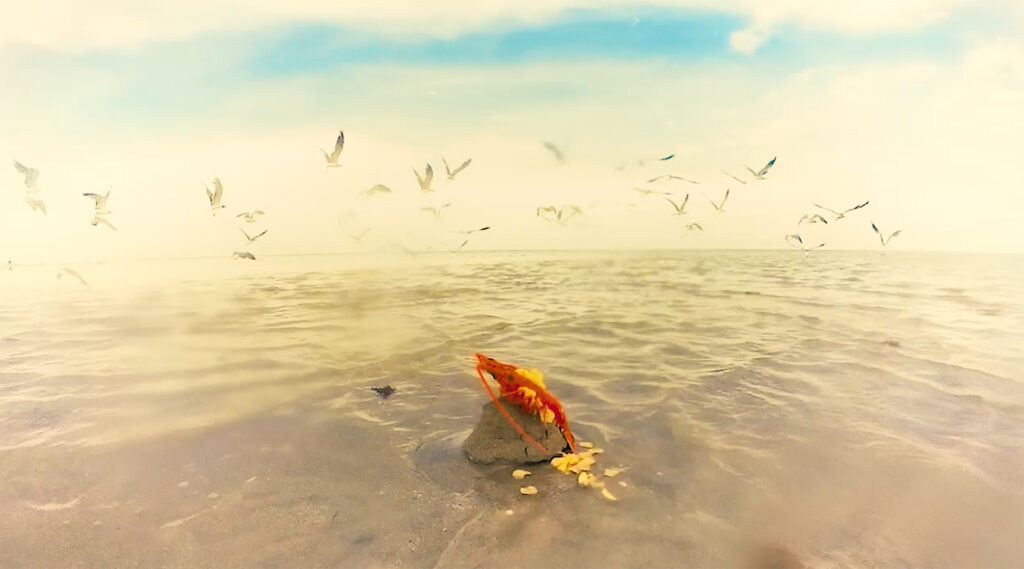 The video documents the process of manipulating a daily natural occurrence, a failed attempt at establishing trust between man and animal
These are a selected group of works and installation photographs from the exhibition. For a complete list of available works please contact us.
Justin H. Long: GULL vs LOBSTER
GULL vs LOBSTER was created as part of the Knight Foundation-funded Artist Residency at the MSD Biscayne Nature Center. While shooting another video on location at the North end of Key Biscayne, the scene of a fleeting sandbar occupied by Gulls was discovered. The video documents the process of manipulating a daily natural occurrence, a failed attempt at establishing trust between man and animal while exploiting the Gull's insatiable hunger.
Justin Hayes Long (b. 1980, Miami FL) addresses cultural phenomena related to his subtropical roots, often using irreverent humor and pop-cultural signifiers to propose constructs of freedom and privilege, and abuses of power as it relates to the physical environment and capitalism. He is known for work that combines nautical history with the seafarer's craft through sculpture, painting, writing, video, performative interventions, and structured installations. JHL holds a MFA from CalArts, Valencia CA, teaches sculpture at New World School of the Arts and at the University of Miami. He is Production Manager for Fringe Projects Miami, a temporary public art commissioning agency. Selected group exhibitions include those at The Fabric Workshop and Museum (Philadelphia, PA) the De la Cruz Collection (Miami, FL), and the New Wight Gallery (Los Angeles, CA). Selected solo exhibitions include those at The Bass Museum of Art (Miami Beach, FL), Emerson Dorsch Gallery (Miami, FL), and Art & Culture Center/Hollywood (Hollywood, FL). His work is part of private collections including the Museum of Contemporary Art, North Miami, and he is a recipient of artist support grants including the Wavemaker – Andy Warhol Foundation for the Visual Arts and the Ellies from Oolite Arts. He lives and works in Miami, FL.
Learn more about this artist.