Brookhart Jonquil: In a Perfect World
Reception: April 12, 2013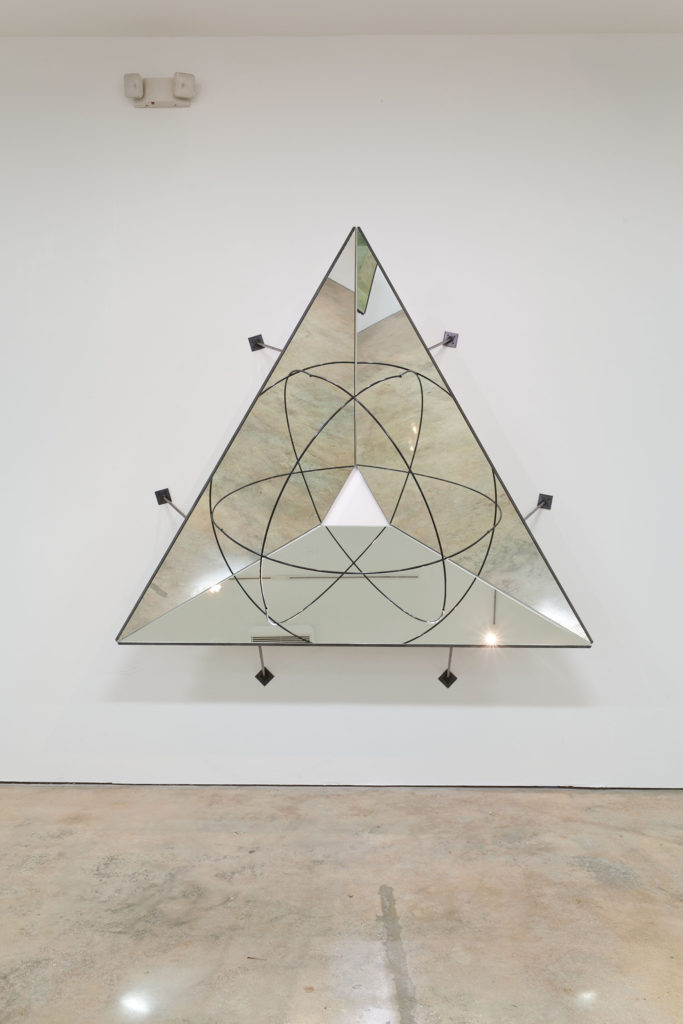 Jonquil works with the material, virtual, and phantasmic mechanisms of reflection.
These are a selected group of works and installation photographs from the exhibition. For a complete list of available works please contact us.
Brookhart Jonquil: In a Perfect World
Jonquil works with the material, virtual, and phantasmic mechanisms of reflection. In his statement, Jonquil discusses reflection and the relation of virtual or ideal space to the constantly changing world. Made of angled mirrors and bowed rods, his four sculptures hang at the cardinal points of the room. Each sculpture has a unique physical structure, yet, in their multiple reflections, the structures produce an immaterial form that is echoed in all four sculptures. Jonquil writes, "it is as if together the four sculptures create a proof of the existence of a fifth shape which is nowhere present."
Jonquil is interested in the concept of Ether, relating it to Utopia, or ideas of existence outside of the physical world, like Plato's Allegory of the Gold, Einstein's Theory of Relativity, Michel Foucault's heterotopias and Buckminster Fuller's Dymaxion Maps.
Jonquil's recent major exhibitions include 2012's Inverted Night at the de la Cruz Collection in Miami; Orpheus and Eurydice in the 2012 Art Live Fair in Miami; and a large-scale sculpture, Lumber Icosahedron, in Young Curators, New Ideas IV, organized by Mr. and Mrs. Amani Olu in New York in 2011. He was shortlisted for the 2011 Miami PULSE Prize and is prominently featured in the 2012 Andrew Hevia Documentary "Rising Tide: A Story of Miami Artists". He was Artist in Residence at MoCA Tucson in 2012. This is his second exhibition at Emerson Dorsch, where he is exclusively represented.
A brochure featuring an artist's statement and essay by Katherine Pill, Assistant Curator at the Museum of Fine Arts, St. Petersburg, accompanies the exhibition.
Brookhart Jonquil was born in Santa Cruz, California in 1984 and lives and works in Miami, Florida. Jonquil received a Masters of Fine Arts degree from the School of the Art Institute of Chicago in 2010, as well as a Bachelor in Fine Arts and Bachelor of Arts in Art History from the University of Arizona in 2007.
Learn more about this artist.
For a complete list of related materials please contact us.