Brookhart Jonquil: Endless Light in An Endless Night
Reception: April 21, 2018, 6 - 9pm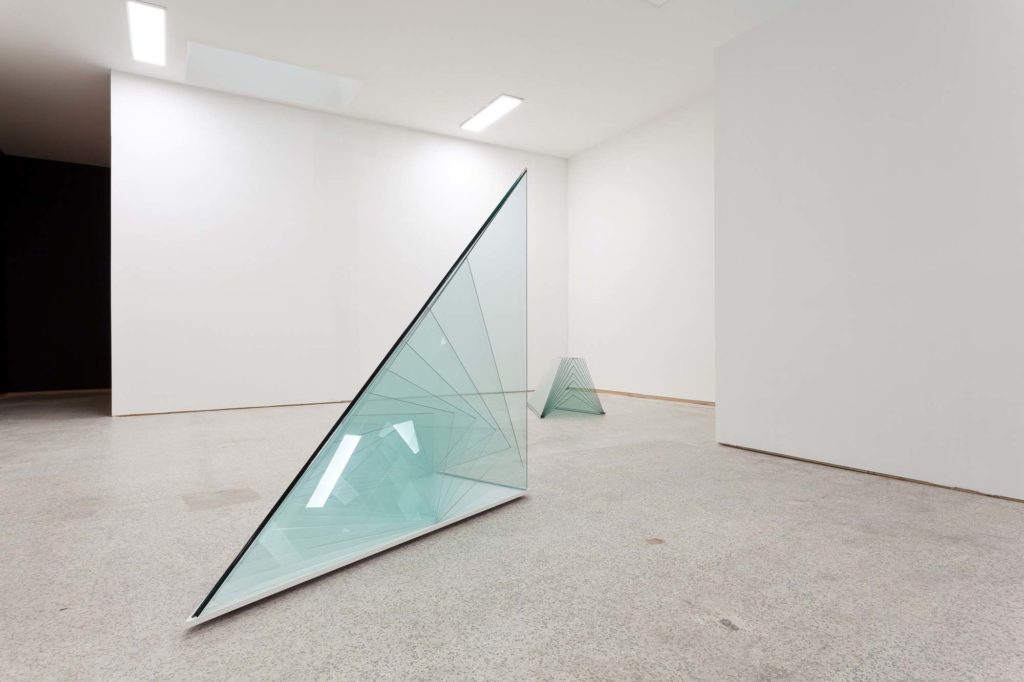 Brookhart Jonquil is looking at continuous cycles of expansion and rest that seem to be found in everything that changes through time.
These are a selected group of works and installation photographs from the exhibition. For a complete list of available works please contact us.
Brookhart Jonquil: Endless Light in An Endless Night
Emerson Dorsch is proud to present Endless Light in an Endless Night, an exhibition of seven new glass and light sculptures by Brookhart Jonquil. Building on previous sculptures which delved into the geometric, material, phantasmic potentials of reflection, Jonquil turns his motifs in an investigation of "continuous cycles of expansion" and infinity. The opening reception for the artist will be Wednesday, April 25, 5-10pm, at Emerson Dorsch, 5900 NW 2nd Ave, Miami, FL.
Jonquil writes, "In this work I'm looking at continuous cycles of expansion and rest that seem to be found in everything that changes through time. A tree doesn't grow in a linear way, at a steady and unchanging rate, but in bursts of growth in the spring and summer followed by an austere fall and winter. The cycles inscribe themselves in the concentric rings that emanate from the core of the tree. This image was not in my mind when I made this work, but seems connected because they both connect to that essential cycle.
The human body has no rings to count, but our experience of these vicissitudes is certain, and the quality of our life depends greatly on our attitude toward this flux. I can count only these basic circumstances in which a person will be afraid: While enjoying either action or rest, they fear that it will end and be replaced by the other. Or, finding the action or rest unpleasant, they fear that it will persist, that the other will not come. When the idea of infinity is added, these fears can become terrifying. Yet adding the idea of infinity with understanding of the cycle, one is reassured that night will always pass, and that the sun will always return again. It is in fact the nature of the infinite that allows us to say 'this will not be forever.'
These sculptures take this dynamic as both the essential human drama, and as our essential refuge from it. In the same way that a work of architecture shelters and becomes alive with the activity that fills it, these sculptures are perceptual environments that hold a continuous transformation of light and space. Reflections in mirrors create a world that extends into the immaterial. Subtler reflections in glass create infinities within infinities. To point at the endless, the works use abrupt truncation.
While the viewer's body does not enter these objects, their mind does, and like a Greek temple or a Gothic cathedral, the space within is organized to establish a conducive environment for the experience of truth. Skillful precision clears away the noise and guides us toward smoother vicissitudes, so that we can hear the truth of the total system. Sometimes expanding, sometimes resting, always already in harmony."
– From Brookhart Jonquil's Artist Statement, March 2018.
Since his last exhibition at Emerson Dorsch in 2013, Brookhart Jonquil has begun showing internationally, in India, with the Floodlight Foundation Residency and Art India in Delhi, India in 2017, and in art fairs and gallery exhibitions in Italy and Uruguay. His work on set design for Yara Travieso's La Medea (2015-16) meant that he was part of a major project with funding from Creative Capital and live performances with his sculptural set at BRICLab Residency, Brooklyn, NY; COIL Festival, BRIC, Brooklyn, NY and Performance Space 122, RAMP Residency, NY, NY. La Medea was widely acclaimed with a glowing review in The New Yorker (Jan. 2, 2017) and hyperallergic. Brookhart himself was interviewed for his part in the project in The Miami Rail. This project became a film, which enjoyed its Florida Premier at the 2017 Miami Film Festival. In 2017 Royal Enfield, an India-based motorcycle company, commissioned Jonquil to make what became Odysseus, a 14-foot tall sculpture, which enclosed a motorcycle with a crystalline form. This sculpture was on view at the Betsy Hotel in South Beach during Miami Art Week, 2017.
In Miami, his sculptural intervention at the Casino folly at Vizcaya Museum and Gardens in 2016, as part of Lost Spaces and Stories of Vizcaya was featured on the cover of the handsome book accompanying the exhibition. Jonquil has had solo shows and projects at the Bass Museum of Art, Miami (2014); Emerson Dorsch, Miami (2013, 2011); and the Rosa and Carlos de la Cruz Collection, Miami (2012). His sculptures have been featured in group exhibitions at the Orlando Museum of Art, Orlando, FL; Eyebeam, NY, NY; Vizcaya Museum and Gardens, Miami, FL; and the Deering Estate, Miami, FL. He was a finalist for the Florida Contemporary Art Prize (2014) and the Miami PULSE Prize (2011) and was Artist in Residence at Museum of Contemporary Art Tucson in 2012. Andrew Hevia's documentary "Rising Tide: A Story of Miami Artists" (2012) prominently features Brookhart and his work. For his 2013 exhibition at the gallery, Emerson Dorsch published a brochure featuring an essay by Katherine Pill, Assistant Curator at the Museum of Fine Arts, St. Petersburg, FL.
Brookhart Jonquil was born in Santa Cruz, California in 1984 and lives and works in Miami, Florida. Jonquil received a Masters of Fine Arts degree from the School of the Art Institute of Chicago in 2010, as well as a Bachelor in Fine Arts and Bachelor of Arts in Art History from the University of Arizona in 2007. His work is represented by Emerson Dorsch and Piero Atchugarry Gallery.
Learn more about this artist.