Paula Wilson: Salty & Fresh
Reception: April 7, 2017, 6 - 9pm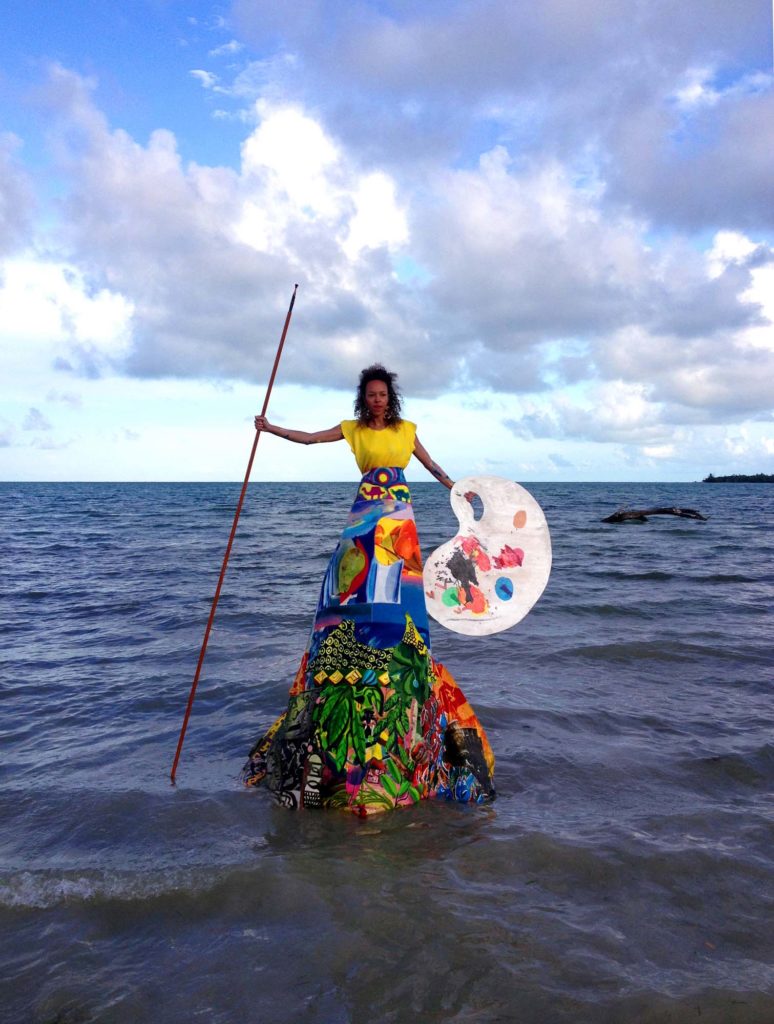 Paula Wilson revels in the light and vivid colors of stained glass, a medium with a long history of conveying narrative.
These are a selected group of works and installation photographs from the exhibition. For a complete list of available works please contact us.
Paula Wilson: Salty & Fresh
Emerson Dorsch is proud to announce that Paula Wilson will be the gallery's first visiting artist in the new location at 5900 NW 2nd Ave. Her exhibit, Salty & Fresh, features paintings, a wall installation, a sculpture and a video. Emerson Dorsch will host an opening reception for the artist and her exhibition on Friday, April 7th, 6-9pm.
Wilson's video, Salty & Fresh, was shot in 2013 during her residency at Cannonball in Miami. Historic Virginia Key is the setting where Wilson's iconic artistic giantess is juxtaposed with a set of blasé urban onlookers– a hyperbolically tall and joyfully adorned African queen/artist meets tropes of Western art history in a humorous and critical mélange.
In her newest paintings, disparate visual histories explode into kaleidoscopic patterns. She revels in the light and vivid colors of stained glass, a medium with a long history of conveying narrative. (Wilson has other bodies of work that mine the ancient visual history of rugs, mosaics and ceramics.) Her stained glass motif recalls the visual effect of Romare Bearden's multi-colored collage techniques. She delivers a new story of the black experience in this mode.
In the midst of the large, elaborate and joyous works, a small painting depicts the dark exterior of a stained glass window centered in a brick wall. The bright colors occur only when you are inside and the sun is shining through the glass toward you. This piece, titled Out of Light, acknowledges deep and recent wounds in America's intertwined histories. As beautiful and seductive as the colors and patterns in stained glass are, they are only visible when we ourselves are in the shadows. Are we "in the dark?" Is the darkness and the light within us? Wilson's empathy, humor, and exuberance portrays a clear and critical perspective on our history and our future. The criticality sits easier in us this way and stands a chance of finding fertile ground and growing, as something new, into the light.
Her works are "a large and elaborate conflation of painting, collage, relief and printmaking…." – Roberta Smith, from a review of I Am The Magic Hand, New York Times, 28 June 2013, C24
Paula Wilson paints as if she is skipping in the sunshine with Romare Bearden's ghost. Her visual works are intricately patterned and layered remixes of her particular present and our cultural past. She uses time and the "act of seeing" as subjects that bend to her will in a provocative and, sometimes, humorous dance. Her works can stop time like a brick wall or brighten the room with crystal clear floating light.
'We all cast a shadow, and sometimes we look backwards… we look backwards sometimes and find these things that are not in the light of reason.'
-Romare Bearden
Wilson lives in Southern New Mexico. There, in the arid desert, where she can see the brightest light with clarity and, like magic, she finds a way to paint it. The desert is the studio, not the subject.
"Dense layering of color, image, and pattern in her pieces act as a visual metaphor for the complex stratum of histories and cultures that inform the work."
-from The Backward Glance, curated by Chris Cook, Executive Director of Bemis Center for Contemporary Arts.
Paula Wilson received her MFA from Columbia University in New York. She has been featured in group and solo exhibitions in the US and Europe, including the Studio Museum in Harlem, Sikkema Jenkins & Co., Bellwether Gallery, The Bemis Center, The Fabric Workshop and Museum, Center for Contemporary Art Santa Fe, Johan Berggren Gallery in Sweden, and Zacheta National Gallery of Art, Warsaw. Wilson is a recipient of numerous grants and awards including a Joan Mitchell Artist Grant, Art Production Fund's P3Studio Artist-in-Residency at the Cosmopolitan in Las Vegas, and the Bob and Happy Doran Fellowship at Yale University. Her work is included in the collections of The Studio Museum Harlem, Yale University Art Gallery, Mildred Lane Kemper Art Museum, and Saatchi Gallery, among others.
She lives and works in Carrizozo, New Mexico.
Learn more about this artist.