Onajide Shabaka: Alosúgbe, a journey across time
Reception: Friday, May 10, 2019, 6 - 9 pm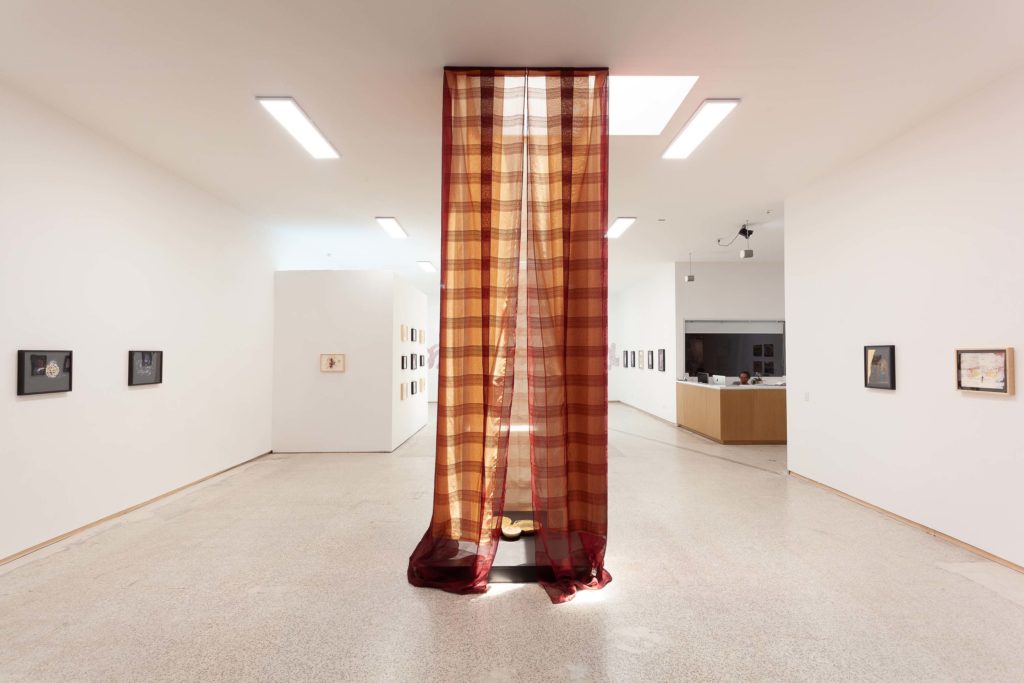 Onajide Shabaka explores biology and ethnobotany in the form of recent photography, works on paper and sculpture.
These are a selected group of works and installation photographs from the exhibition. For a complete list of available works please contact us.
Onajide Shabaka: Alosúgbe, a journey across time
In Alosúgbe: a journey across time, Onajide Shabaka's debut exhibition at Emerson Dorsch, Shabaka explores biology and ethnobotany in the form of recent photography, works on paper and sculpture. These media serve as material for understanding the migrations of both humans and plants during the Atlantic colonial slave era to the present. This exhibition derives from several years of ongoing research finding connections between colonial sites in the Low Country (Georgia & South Carolina), the Caribbean archipelago and Suriname. The artist has participated in several residencies between 2014 to 2019 during which he researched so-called slave gardens and environments of alternative modes of living and production.
 Shabaka's most striking discovery was in Suriname. His research found out that African rice was smuggled in the hair of slave women during the Atlantic slave trafficking era. Rice in Suriname was found to originate in Cote d'Ivoire (Ivory Coast) using species DNA testing, but the same stories swirled around the Low Country rice.
 While Shabaka was engaged in his research and walking practice in observance of tropical forests and the many botanical root structures, he happened upon large colonies of termites and ants whose architecture has provided a model for his ongoing series of hand-cut serpentine designs on paper. His use of raw pigment oxide from the arboreal forest of Minnesota continues to be one of his important mediums.
The works on view in this exhibition fall into a number of categories, and the labyrinthine connections between them wind through hybrids of observation, history, oral history and imagined memories. In this way Shabaka builds a cultural fabric, an origin story with art works that are delicate and immense, quiet and meditative, powerful and inspiring. The first group of works are arrowhead shaped columns and serpentine designs, which are delicately hand cut and painted and collaged onto stiff paper. In a group of four, Shabaka guilds representational compositions with gold leaf, touching in two of the pieces on charged observations of black figures. In other pieces he eludes to bits of pieces of his family's history like a diviner's card found in his great aunt's papers alongside botanical illustrations and silhouettes of African diaspora men and women. A mural installation re-creates in large scale his serpentine designs, while his star story collages and work on paper imagine a non-Western night sky.
 As a student at California College of the Arts (Oakland, CA) in 1971, Shabaka researched wood carving from Ghana and the Maroons of Suriname who had escaped slavery in South America. He never thought he would go there, and so the idea faded from his thoughts. In 2016, Shabaka found himself in the city of Moengo, Suriname as part of the Diaspora Vibe Cultural Arts Incubator (DVCAI) International Culture Exchange, and that moment rekindled his long ago memory.
 Onajide Shabaka's practice is concerned with historical/biographical themes related to geography that include African diaspora and Native American cultures. Using ethnobotany, geology and the performative as aesthetic vehicles for investigating and making historical/ biographical themes, his art practice comes into being through complex institutions, histories, human experiences. Shabaka's writing and curatorial practice focuses largely on contemporary art and culture, and subject specific research.
Onajide Shabaka (born 1948 Cincinnati, OH. Lives in Miami, FL) studied at California College of the Arts and received his MFA from Vermont College of Fine Arts. He has shown his work in solo exhibitions in Miami, Fort Lauderdale, Houston, TX and Potsdam, Germany, among others. His work has been included in numerous group shows over the years, including exhibitions at Project Row Houses In Houston, TX, PRIZM Art Fair in Miami, Museum of Contemporary Art of North Miami, Edna Manley College of the Arts in Kingston, Jamaica, Wayne State University in Detroit, MI and Emerson Dorsch in Miami, to name a few. He has been the recipient of numerous grants and awards, including, recently, The Ellies, a public sculpture commission for the Carrie Meeks Foundation building in Opa Locka, FL and a Wavemaker Grant.
Learn more about this artist.
For a complete list of related materials please contact us.