Onajide Shabaka: Silenced Histories
February 20 - March 26, 2022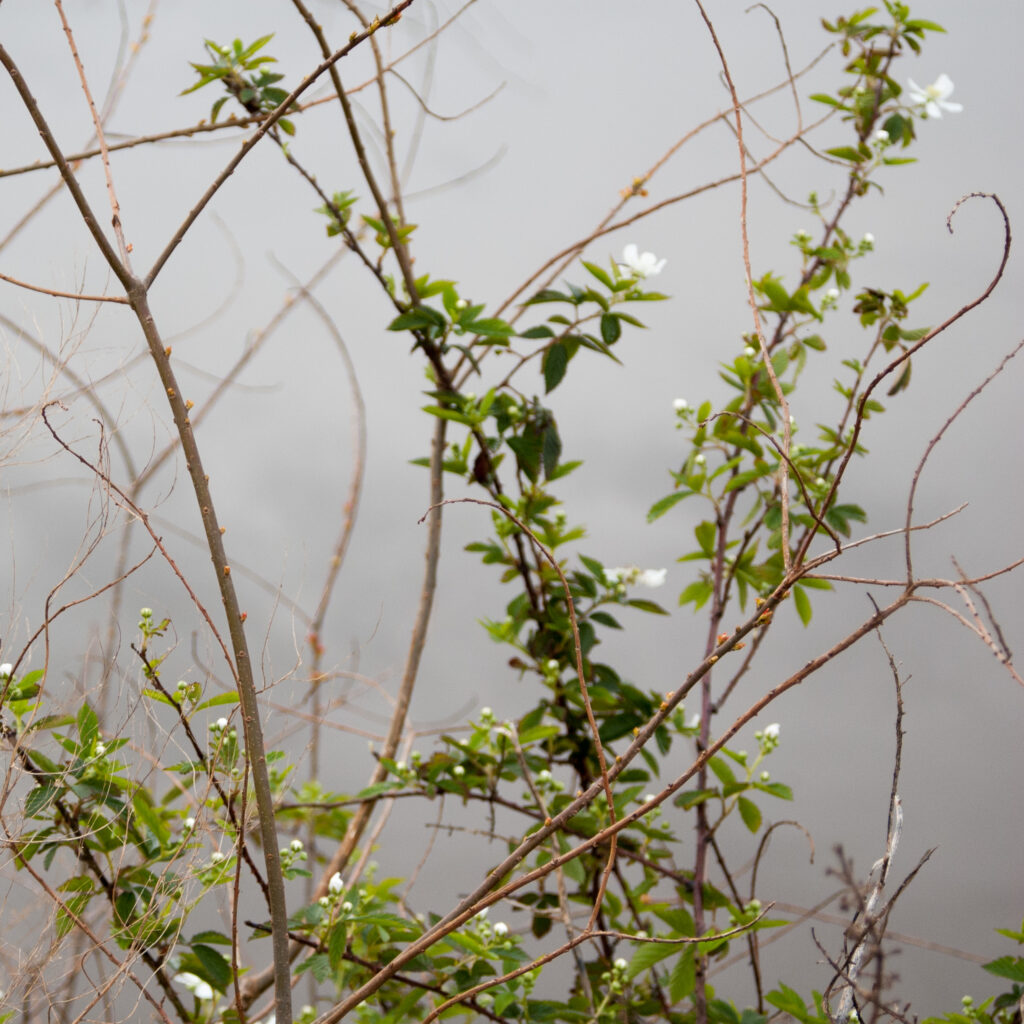 Onajide Shabaka's film documents the landscape engaging in commemorative walks along the Gullah Geechee Cultural Corridor.
These are a selected group of works and installation photographs from the exhibition. For a complete list of available works please contact us.
Onajide Shabaka: Silenced Histories
Onajide Shabaka's video Silenced Histories (2019-21) will play concurrently during the exhibition as part of Emerson Dorsch Online (EDO), a video channel on the gallery's website. Filmed while on a walk in the Gullah Geechee Cultural Corridor near the former lands of Major Pierce Butler's plantation, the video documents how the histories in that place seem to be invisible, but, with the knowledge given forth by the credits, its dark pasts are more palpable, if ghostly.
The crisscrossing juxtapositions within the exhibition echo the connections Shabaka draws out, like constellations, between formal patterns in plants, and their uses in various cultures and migrations between them. He places planetary movements, in proximity to spirits sensed in the muck, to the religious practices of the African diaspora. And he accompanies these with collected stories of consciousness, grief, determination, resilience, and adaptation.
Onajide Shabaka (Born Cincinnati, OH 1948. Live and works Miami, FL) is concerned with historical and biographical themes related to geography, as well as other social and natural sciences that include African diaspora and Native American cultures. His practice spans methods and media including meditative walks, photography, watercolor, collage, printmaking, artist books, sculpture and video. His research and writings are a vital part of the discourse surrounding his work. He studied at the California College of the Arts and Art Center College of Design and earned his MFA from Vermont College of Fine Arts. Shabaka has participated in numerous international art residencies, some established and others self-designed. Notable institutions in this residency list are Diaspora Vibe Cultural Arts Incubator (DVCAI); Oolite Arts, Miami Beach, FL; Anderson Ranch in Aspen, CO; Project Row Houses in Houston, TX and Artist in Residence in the Everglades (AIRIE).
Shabaka has shown his work in solo exhibitions in South Florida, Houston, TX and Potsdam, Germany, among others. His work has been included in numerous group shows over the years. Of these, recent showings include exhibitions at Project Row Houses in Houston, TX; Museum of Contemporary Art of North Miami; Locust Projects, Miami, FL; Oolite Arts, Miami Beach, FL; the Frost Art Museum, Miami, FL; The NSU Art Museum, Fort Lauderdale, FL; The Franklin, Chicago, IL; Edna Manley College of the Arts in Kingston, Jamaica; Cindy Rucker Gallery, New York, NY; Saltworks, Atlanta, GA; Everglades National Park Collection and Emerson Dorsch Gallery, to name a few. He has been the recipient of numerous grants and awards, including, recently, Locust Projects, The Ellies, Oolite Arts, Miami-Dade County Art In Public Places, and a Wavemaker Grant. His work is widely represented in Florida institutional collections as well as in a strong base of notable private collections. Recent shows and opportunities have highlighted his work in artist books, photography, and printmaking, resulting in collaborations with IS Projects and Nocturnal Press in Fort Lauderdale, FL, and Extra Virgin Press, Miami, FL.
Learn more about this artist.