Frances Trombly: All This Time
November 19, 2020 - January 23, 2021
Reception: 12 - 5 pm and by appointment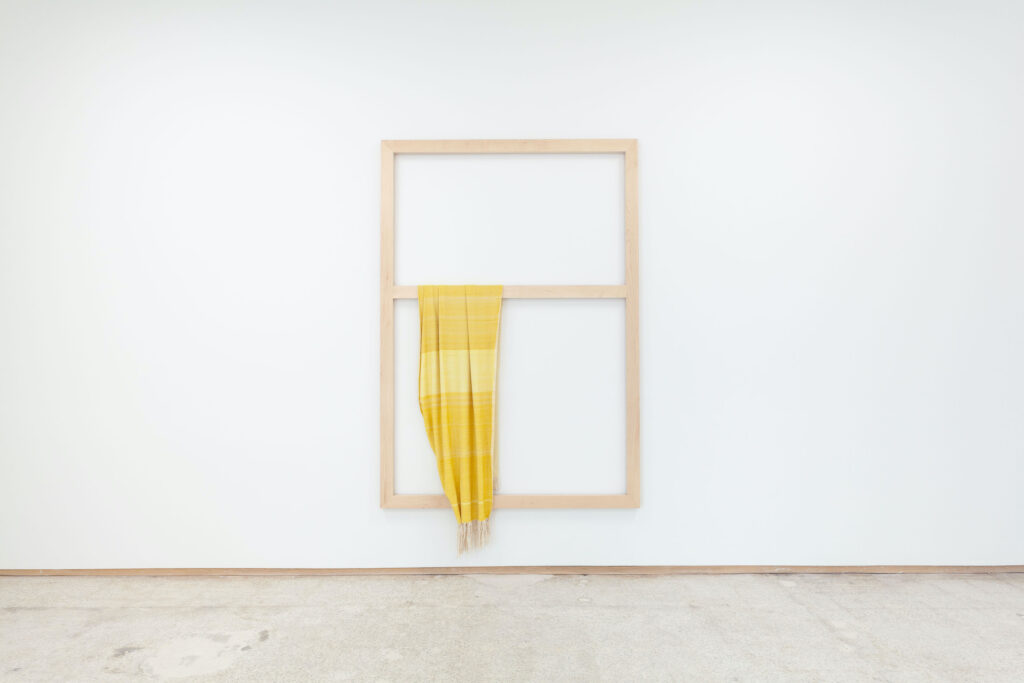 Frances Trombly strips the acts of draping, dying, spinning and weaving bare and makes them beautiful.
These are a selected group of works and installation photographs from the exhibition. For a complete list of available works please contact us.
Frances Trombly: All This Time
Emerson Dorsch Gallery is proud to present All This Time, a show of new works by Frances Trombly. Three works, each framing fabrics made with madder (red), indigo (blue), and weld (yellow) respectively, hang with the presence and scale of history paintings on the south, west, and north walls. Each corresponds in its dimensions to an old master painting. The fabric's placement echoes its two-dimensional representation in a particular Baroque painting's composition. For her new series, Trombly observed that vividly tinted and artfully draped fabrics which played a crucial role in Western art history were made by individuals who remain unknown.
Fabrics' folds and implied motion simultaneously buttressed structural integrity and signaled increasing artistic virtuosity from Ancient Greek sculpture to sculptures in the Baroque period, all the way to Neoclassical sculpture in the 19th century. Rendering fabrics' textures and colors became an obsession for Renaissance and Baroque painters like Lavinia Fontana, Rembrandt van Rijn, Johannes Vermeer, and Artemisia Gentileschi because the ability to do so well was a point of competition between artists. Rendering details that indicated luxury was as important to patrons of art then as it is now.
Trombly is not concerned with virtuosity, at least not in the craft of her fabrics. She insists on the primacy of the act of making and that she is choosing to do it. It is in the making that she shows us her thesis, that draping, dying, spinning and weaving can be stripped bare, to their most essential, and made beautiful.
In her essay about Trombly's early representational and replication works, Jenni Sorkin noted that Trombly shifted the focus in readymades from the absurdity of art's construct to the fact that someone made the object being used as a prop. Trombly reveals the labor that is, for a host of hierarchical and geopolitical reasons, invisible.
In "high" art of the Western canon, fabrics were similar to the storebought items in readymades. Even more than that, since the concept of the readymade, came about far later in the Modern era and the hierarchy of trades and artforms had not yet been questioned, the fabrics were props. Because handmade fabrics form the backbone of Trombly's practice, she sought out traces of these ancient tradespeople's work and found its essence in the trinity of dye plants, madder, indigo, and weld. Widely used in Ancient Europe and the Near East, these plants yielded clear reds, blues, and yellows respectively, and these colors comprise the palette for her new works.
A red swath of fabric hangs just so from a stately stretcher frame. The stretcher relates to the loom and its presence in the genesis of the fabric, in the same way, the scaffolding in Over and Under referred to industrial looms. Trombly's works exist in a taut space in between physicality and their positioning on the wall as paintings. Leah Ollman called them shapeshifters. From one to piece to another, they can be classified differently.
Readymades,  Sculpture, Time, Labor, and weaving in an ancient epic poem, these are all archetypes and big ideas with which Trombly engages. Painting is another, for it is literally woven into Trombly's work. In 2008 she replicated a canvas drop cloth of a preparatory worker or contractor, and then in 2010, she expanded this introduction of canvas to her oeuvre with a series of paintings that were also sculptures of the foundation of paintings. From that show, called Paintings, her signature material became untreated and raw canvas thread, forming the armature of her work. That is, these threads were frequently the fabrics' warp, the vertical threads that are attached to the loom. In her collaboration with her friend Lynne Golob Gelfman, Trombly wove together her own work, as the warp, with Gelfman's unraveled paintings, as the weft. For the weft in the new work, she integrates threads pigmented by the trinity of plant-based dyes. Tracing the history and historiography of recorded instances of madder and indigo reveals ancient travel, trade routes, and even the stench associated with the craft. The pigments in these plants were also used in artist's pigments. And so, Trombly observes, fabric dyes and historical, canonized paintings overlap in their shared sources of colors. Her works and the paintings of Western art history share blood.
As in her Patterned Mistakes works, Trombly chooses not to fix errors or glitches, preferring to let the bumps, crooked lines, and breaks be a record of her time at the loom. Whenever she runs out of a dyed bunch of thread, called a skein, she reaches for another nearby, which often absorbed the dye differently than the last skein. She accepts and absorbs the role of chance in life and time.  The subtle color block effect joins the work of Trombly's timekeeping.
"She's up to something, she's weaving
histories, they are never right,
she has to do them over,
she is weaving her version […]"
—Margaret Atwood, "Circe: Mud Poems," 1976
All This Time by Frances Trombly is funded by The Ellies, Miami's visual arts awards, presented by Oolite Arts. Through a competitive application process and monetary awards, The Ellies celebrate individual artists who are the backbone of Miami's visual arts community.

Frances Trombly and Emerson Dorsch Gallery would like to recognize and thank a number of people who have been particularly supportive: Doug Weber, Miami Industrial Arts, Paul Thomas, Jen Vollmer, Anja Sherry, Leyden Rodriguez, Penelope Rodriguez. Francesco Casale, as ever, memorializes artworks, studio milieu, and people with his photography.
Frances Trombly has exhibited nationally and internationally, with important institutional solo exhibitions at Locust Projects, Miami, FL; Girls' Club Collection in Ft. Lauderdale, FL; and the Goldie Paley Gallery at the Moore College of Art & Design in Philadelphia, PA. She is represented in diverse and international public and private collections, with a strong base in FL, a reflection of making Miami, FL her home. Trombly is also co-founder and co-director of an alternative art space in Miami called Dimensions Variable. Her extensive bibliography reflects both her art practice and her role at DV. She is represented by Emerson Dorsch, Miami.
She received a BFA from the Maryland Institute College of Art and completed residencies at Oolite Arts in Miami Beach, FL, the Capri Palace in Anacapri, Italy, and the Vermont Studio Center. Trombly has exhibited throughout the US, as well as venues abroad, including important group exhibitions, such as Happy at NSU Art Museum (2019), Stitch, Beeler Gallery at Columbus College of Art & Design (2017), Textures of Place, Prosjektrom Normanns, Stavanger, Norway (2014), Americana: Formalizing Craft, Perez Art Museum Miami (2013), and united states, The Aldrich Contemporary Art Museum (2012).
In addition to these shows, institutions who have exhibited her work in solo and group shows include: Oolite Arts, Miami Beach, FL; Locust Projects, Miami, FL; Bass Museum of Art, Miami Beach, FL; Goldie Paley Gallery, Moore College of Art & Design, Philadelphia, PA; Girls' Club Collection, Ft. Lauderdale, FL; Perez Art Museum Miami, FL.
Her work has been featured in various publications including The New York Times, Art Papers, Sculpture Magazine, Surface Design Journal, and The Los Angeles Times. The Girls Club Collection published an exhibition catalog Paintings, in 2010, and Emerson Dorsch Gallery published a book recounting the work presented at Zona MACO in 2018. Her work is in the permanent collections of NSU Art Museum, Fort Lauderdale, FL, the Museum of Contemporary Art, North Miami, Florida, Perez Art Museum Miami, as well as in private collections throughout the United States. In 2009, she received a South Florida Cultural Consortium Fellowship for Visual & Media Artists and, in 2010, the John S. and James L. Knight Challenge Grant with the Girls' Club of Fort Lauderdale. In 2019, she received an Ellie Creator Award from Oolite Arts. Frances Trombly was born in Miami, FL, where she lives and works.
Learn more about this artist.