Felecia Chizuko Carlisle: I Saw Three Cities
February 11th, 2011 - March 26th, 2011
Reception: February 11, 2011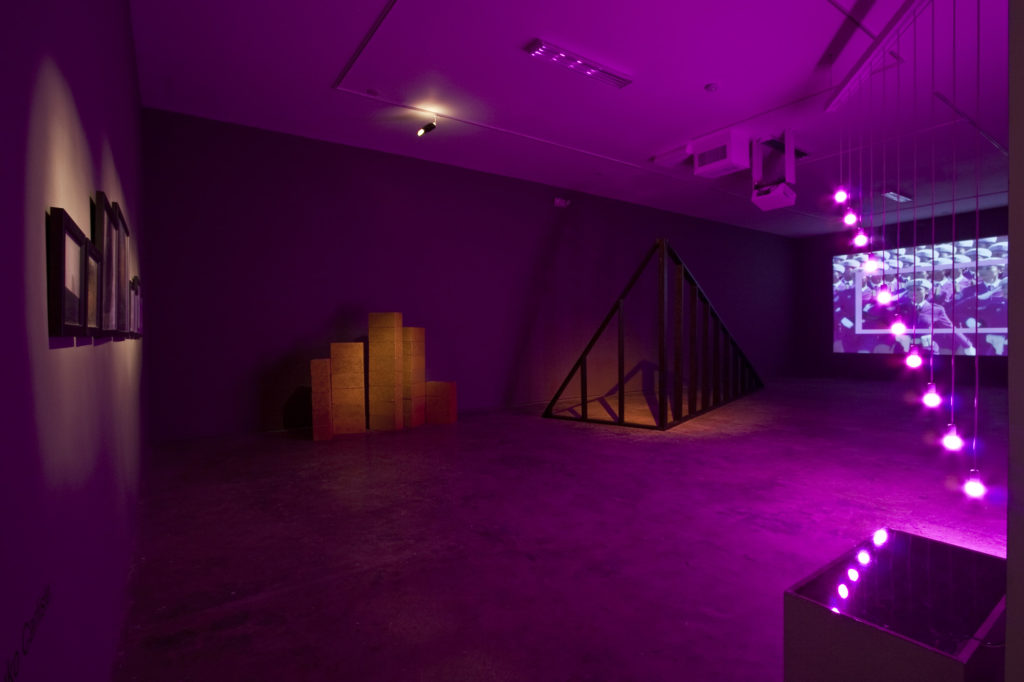 Carlisle continues to study space, through relations between discreet works of sculpture, photography, video and design.
These are a selected group of works and installation photographs from the exhibition. For a complete list of available works please contact us.
Felecia Chizuko Carlisle: I Saw Three Cities
I Saw Three Cities, a solo exhibition of recent works by Felecia Chizuko Carlisle, appropriates its title from a 1944 surrealist painting of the same name by Kay Sage. This painting and other examples from the period featured deep perspective, a sense of drama through stark contrasts, dreary atmospheres and almost endless horizons. These landscapes contained strange geometric allusions to architectures that supposedly had deteriorated over time, yet never existed. Sage depicted places found inside the mind of a subject whose gaze was focused on an imagined future.
The title, I Saw Three Cities, speaks to the question of artistic vision. The exhibition addresses ambiguous notions of the future/present, engaging in ideas of efficiency, efficacy, and function while experimenting with form. Carlisle continues to study space, through relations between discreet works of sculpture, photography, video and design. I Saw Three Cities, balances a sense of optimism for the future with the apparent realities of failed utopian and modernist dreams.
Emptiness and Luminosity Converge
by Christina Gast
I Saw Three Cities, Felecia Chizuko Carlisle's solo exhibition at Dorsch Gallery, takes its title and leitmotifs from a painting by early 20th century surrealist Kay Sage. In the painting, the pictorial space is partially framed by a wrapped and windblown length of canvas resembling a massive figure with an outstretched arm. Triangular walls recede into the arid, indeterminate distance casting stark shadows on ambiguous architectural forms.
By manipulating light and shadow, Carlisle translates Sage's investigations of expansiveness into an installation both sparse and quietly kaleidoscopic. Ostensibly consisting of discreet works of sculpture, video and photography, all works in the show are united by a central piece, Untitled, a 12-foot long solar-powered chandelier. The swooping diagonal of ten pink bulbs colonizes every surface in the long gray room with its sun-harnessed glow.
The far wall is occupied by a large-scale video projection entitled Pink Army/Pink Rectangle, altered found footage of a military parade in which all of the soldiers happen to be women in fuschia uniforms and luminous white berets. The army marches nowhere, forever, in perfect harmony, at times obscured by a pink frame. Frames and framed-out structures interlink as one moves through the space. A sculpture called Unusual Thursday, another title borrowed from Sage, is situated opposite the chandelier. Constructed of a polymer decking material called Lifetime Lumber (presumably selected for its allusion to infinity), the piece resembles two framed-out walls striving to be a pyramid, pointing with a flourish back to the forever-marching ladies.
A suite of photos documenting shadows, reflective surfaces, abstracted utilitarian architectural elements and one monumentally unfinished high-rise building are hung in a long row, the scale and texture of each individual image collapsed and punctuated by the spectre of the solar chandelier. It is the most immeasurable and intangible material in the exhibition, transformed sunlight, that converts so many contrasting formal elements, raw materials, and surfaces into a meditation on potentiality.
Felecia Chizuko Carlisle, a native Floridian, received her MFA from the New Genres department at San Francisco Art Institute, in 2006. She has explored a variety of contexts for her work including television in Madrid, Spain, and Moab, Utah, nightclubs in Hamburg, Germany and San Francisco, and has shown in various national and international galleries, museums and public spaces. Carlisle was most recently included in New Work 2010, a group show at the Miami Art Museum. Her research in art focuses on the complex relationship between real and virtual space, navigating the territories between the two. Her work draws from and combines multiple disciplines such as performance, installation, sound, design, architecture, sculpture and photography. Carlisle lives and works in Miami, FL.
Learn more about this exhibition and the artists.
For a complete list of related materials please contact us.