Robert Thiele: 3 for 8 minus 23
Reception: April 16, 2015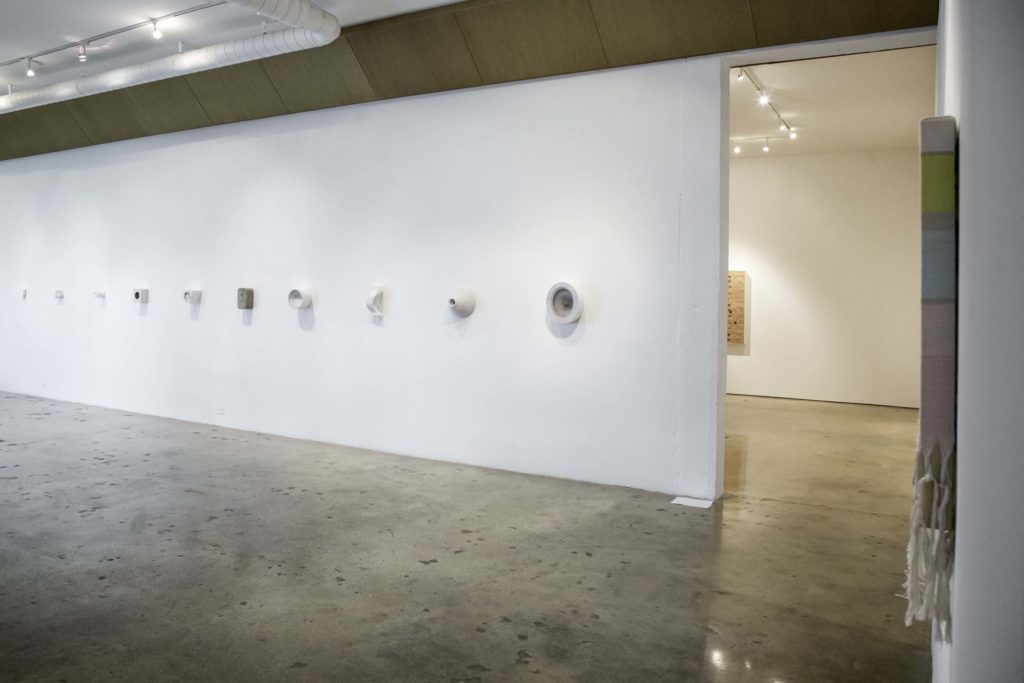 . . .inside the glass are little stories, marvelously masochistic, sexual things going on.
These are a selected group of works and installation photographs from the exhibition. For a complete list of available works please contact us.
Robert Thiele: 3 for 8 minus 23
Emerson Dorsch announces a solo show 3 for 8 Minus 23 by Robert Thiele, to open Thursday, April 16, 2015. Thiele will exhibit new works at the gallery, in advance of his museum exhibition of sculptures from the 1980s at Museum of Art + Design in September of this year.
Robert Thieles calm intensity emanates equally from his person and his works. An established figure in the South Florida art scene for more than forty years now, Thiele sustains a remarkable studio practice that, first and foremost, builds on itself. His studio itself is a magical place. In these paintings that he calls wall constructions, he embeds found objects from the environment. He creates apertures through which we can see a hint of the object. The shape and translucency of the window is essential. The construction is about 5 inches deep, and if the sides are straight, then he wraps them in canvas, painted white.
The action of taking something from the world, of collecting it and bringing it inside mirrors what it is to go from the bright unrelenting sun outside of his industrial building into his studio, with its filtered light, cool air, and quiet. To bring something inside is to make it your own.
Many of us in Miami have visited Bob in his studio. It is in the same building as the project space Bridge Red, which he runs with his daughter Kristen Thiele and son-in-law Franceso Casale. Bridge Red exhibits work by artists who do not have gallery representation in Miami, artists who, in many cases, got to know Bob during his thirty-year tenure teaching art at Miami-Dade College. The curatorial program there comes from a knowledge gained over years of conversations and studio visits between friends, colleagues and peers. This circle includes Duane Hanson, Lou Ann Colodny, Karen Rifas, Robert Huff, Barbara Neijna, William Cordova and Robert Chambers, to name a few.
The steadiness of his process, both as an artist and a curator, comes from the willingness to be quiet, to observe, and to make. The talking comes later, and only rarely does he share the stories behind his work. The tale is private, to be shared between friends. The wall constructions transmit this privacy in a way that some writers liken the spiritual. Still others, like George Bolges, the director of The Deland Museum of Art and Director Emeritus of the then Museum of Art Fort Lauderdale, take a more colorful view:
. . .inside the glass are little stories, marvelously masochistic, sexual things going on.
Of course, what we project as stories may say as much about us as the art, but the point Bolges made speaks to the secret humor at play in Thieles pieces. There are codes to his titles known only to him, and those stories – indeed some of them are meant to remain intimate details.
In an age of over-sharing and data mining, in a time when we must grapple with the fact that privacy is dead, the mystery of Thieles wall constructions and the quiet that he has chosen seem like an anchor in the storm.
Robert Thiele holds a Masters and Bachelors of Fine Arts in Painting from Kent State University. After serving in the army and playing for the Dallas Cowboys, Pat DeLong, then Chair of the Art Department at Miami Dade College, recruited Thiele to move to Miami to teach. He moved to Miami in 1966. In 1975, he and Salvatore la Rosa were the first and only two Florida artists to participate in the Whitney Biennial. He took part in the wonderful series of New Work Miami shows at the Perez Art Museum Miami (then the Miami Art Museum), with a show in 2004. He showed with several Miami galleries before working with Emerson Dorsch on his 30-year survey show, cryptically titled 30, in 2009. His work is widely collected in South Florida, with a presence in the public collections of at least 12 Florida public institutions, including the Bass Museum of Art, Museum of Contemporary Art North Miami, the Frost Art Museum, the NSU Art Museum, the Boca Raton Art Museum, the University of South Florida, the Museum of Fine Arts in St. Petersburg, FL and the Perez Art Museum Miami. His work has been covered in Art in America, Sculpture Magazine, The Washington Post, The Miami Herald, Ocean Drive, The Biscayne Times and ARTnews, among others. This exhibition will be his third solo exhibition with the gallery. His show with the Museum of Art & Design, Miami will open September 3, 2015, featuring sculptures and wall constructions from the 1980s.
Learn more about this artist.
For a complete list of related materials please contact us.