Robert Thiele: And Elsewhere
February 3, 2023 - March 11, 2023
Reception: February 3, 2023, 6pm-9pm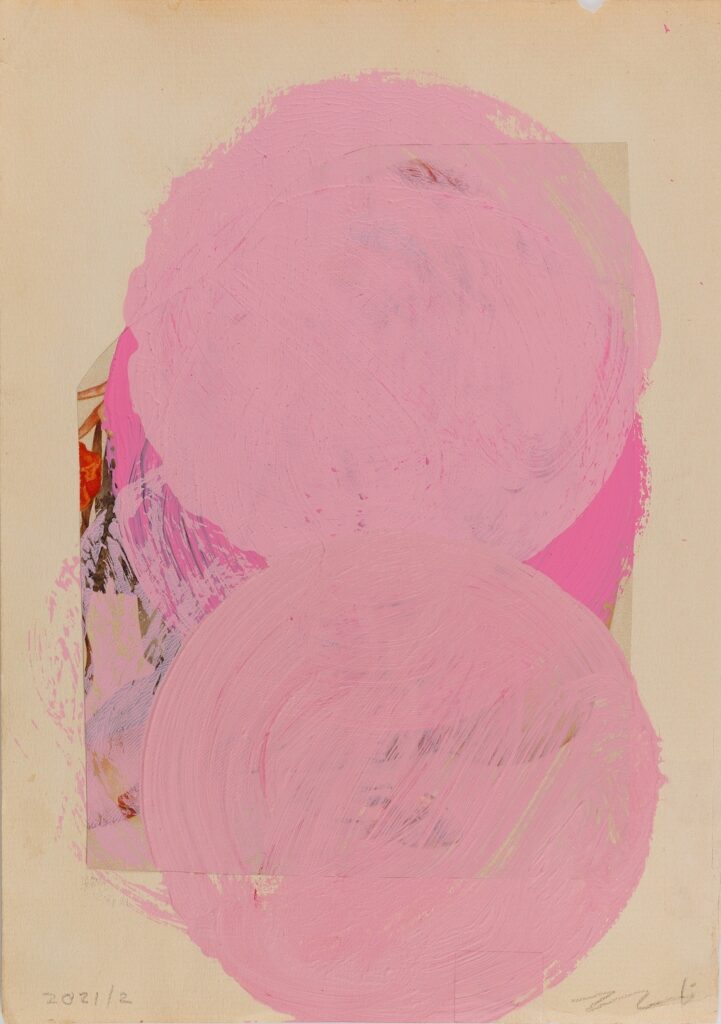 His brushstrokes bear the trace of his hand and gesture. It's clear that he painted quickly and with conviction.
These are a selected group of works and installation photographs from the exhibition. For a complete list of available works please contact us.
Robert Thiele: And Elsewhere
Emerson Dorsch is pleased to announce our next exhibition And Elsewhere, a selection of works by Robert Thiele. The starting point for And Elsewhere was the many iterations of black circles in Thiele's work. In the show's central piece, he reworks the pages of a 1931 issue of Art in America. The artist surreptitiously acquired the bound magazine from the Kent State Library while he was a student there in the mid-1960s. Thiele was among the men drafted to serve in the Vietnam War, and he'd already returned to teaching at Miami Dade College when he heard about the shootings at Kent State. In the 1980s, Thiele incised the text and image blocks from the magazine's pages, replacing them with his own. He didn't think of the project again until 2021, when he found that same issue in a stack of old magazines that he'd slated for the bin. He altered the pages once more, painting black, pink and red circles over each page, obscuring all identifiers of the image beneath. His brushstrokes bear the trace of his hand and gesture. It's clear that he painted quickly and with conviction. The oil bleeds outward onto the page, lending evidence of the paint's chemical composition. Installed in a wide grid that spans the room, the sheer number of circles lends force to the impression of what at first may seem to be just a form. It begs the question, why the circles, why the repetition? With this exhibition we explore these questions, to show how the artist breathed in his milieu and circumstance.
This work harks back to Robert Motherwell's Elegy to the Spanish Republic, which consists of about 100 paintings of black ovals from 1948-1967, though it also recalls Robert Rauschenberg's Erased deKooning Drawing from 1953. Chance operations seem to play a role in the generation of abstract language – as automatism did for Motherwell. So does erasure, as it did for Rauschenberg. But the brutality of the cancellation of an image is as true for Thiele as it was for Motherwell, deKooning and Rauschenberg; it is an act of declaration of presence and absence at the same time. Thiele, having witnessed the tolls of Vietnam as well as those of 2020, has as much at stake in this imagery as they did. Well versed in the New York School, Neo-dadaist work, and conceptual art, Thiele deploys strategies in conversation with all of them.
Robert Thiele is an influential visual artist as well as an educator and curator. Working with simple geometric and organic shapes and forms, Thiele developed a lifelong exploration of the art of containment and covering. His sculptural paintings variously contain, reveal and conceal, recede and project. These objects house apertures that frequently blur whatever is veiled behind them, whether with the size and shape of the opening, with obscuring fabric or acrylic. The apertures hint at an image, often an abstract(ed) form, but sometimes there is a stronger suggestion of a woman or an eye. His nuanced work employs spatial play within the individual artwork and in groupings of artworks, affording a succession of curators and collaborators endless edits within his open-ended system.
Thiele was born in Milwaukee, Wisconsin in 1941 and attended Kent State University in Ohio for his Bachelors in Fine Art, finishing in 1964. Though his father was an engineer and architect, it had not occurred to him at that time that he could study art full-time, so at first he focussed on psychology. A friend convinced him to take a stone carving class, and he took to it immediately. One of the reasons he was so receptive to artmaking were the family stories of his grandfather Max Krause, who had taught stone carving at the Bauhaus in the 1920s. From the beginning, Thiele's paintings were sculptural and his sculptures were painterly. In 1964, he was a free agent for the Dallas Cowboys. Early in his training, he received his first draft notice, so he returned to Kent State to work on his Masters in Fine Art. Upon graduation in 1966, he was recruited to join the art faculty at the fledgling Dade Junior College. After teaching there for only a year, he was again drafted into the Army. He counted himself lucky to be stationed in Schofield Barracks on the island of O'ahu, Hawai'i until September 1969. 
After his service, he taught at Miami Dade College for more than thirty years alongside Robert Huff, Duane Hanson, Marcia Murray and Salvatore La Rosa, among many others. He taught three dimensional design classes, but he specialized in and especially enjoyed Art Appreciation classes. The lecture format meant the teaching mode was more performative, and he was more effective at reaching students, in particular the ones who were not art majors. One of his many friendships with colleagues is memorialized in Hanson's seminal sculpture Football Player (1981), in the Lowe Art Museum Collection. Thiele was the model. He also had a storied run directing the college's gallery, where he organized exhibitions by artists such as Malcolm Morley, Les Levine, Vito Acconci, Purvis Young, and Peter Saul. Among the works he acquired for the college's collection were a gray felt suit by Joseph Beuys and a soft drum set by Claes Oldenburg. His students count him as a leader, influencer, and generous mentor. 
Thiele resumed making art as soon as he returned from Hawai'i in 1969. His first shows were the Hortt Memorial Exhibition at NSU Art Museum, Ft. Lauderdale in 1970 and 33 Miami Artists at Miami Art Center, Kendall in 1973. These exhibitions were the only two options for showing contemporary art at institutions in South Florida at the time, and the reviews were closely followed throughout the city. In this period Thiele was making black and white shaped canvases, which were well-received, but he changed direction anyway, beginning a more expansive and intuitive abstraction that would define the rest of his career. It was this new work that he showed with O.K. Harris Gallery in New York, NY in 1974 and 1978 and the Whitney Biennial 1975: Contemporary American Art. 
The 1980s saw an acceleration in Thiele's regional and national exposure, with inclusion in USA Sculpture at Maryland Institute of Contemporary Art (1980), Florida Visual Artists Exhibition at Florida State University (1983), 41st Biennial of Contemporary American Painting at the Corcoran Gallery of Art, DC (1988), along with shows at many South Florida institutions. In 1989, after winning the Florida Visual Artist Prize, which he received three times, the exhibition for the award winners traveled to Center for Contemporary Art in North Miami, Capitol Gallery in Tallahassee, Norton Gallery in Palm Beach, and the Brevard Art Center and Museum in Melbourne. He had a solo show at Southeastern Center for Contemporary Art in Winston Salem in 1988. From 1989 to 1992, the Made in Florida exhibition, initiated by USF Art Museum in Tampa, had an international tour to ten more institutions in the United States, Switzerland, France, Belgium, and Spain. At one of the stops, the Center for Fine Arts in Miami, he would later have a solo exhibition at that institution under a new name, Miami Art Museum, now called Perez Art Museum Miami, in 2001. There, he was also in a seminal group exhibition, called Miami Currents, 2002-3. 
Thiele's work is represented widely in Florida's museum collections. He has had solo exhibitions at Museum of Art Deland (2019), MDC Museum of Art and Design (2015), and Perez Art Museum Miami (2001). A 30-year survey show was at Emerson Dorsch in 2009. He received an Oolite Arts Creator Award in 2022.
Learn more about this artist.
For a complete list of related materials please contact us.