Mette Tommerup: Ocean Loop
January 26 - February 24, 2018
Reception: January 26, 2018, 6 - 9pm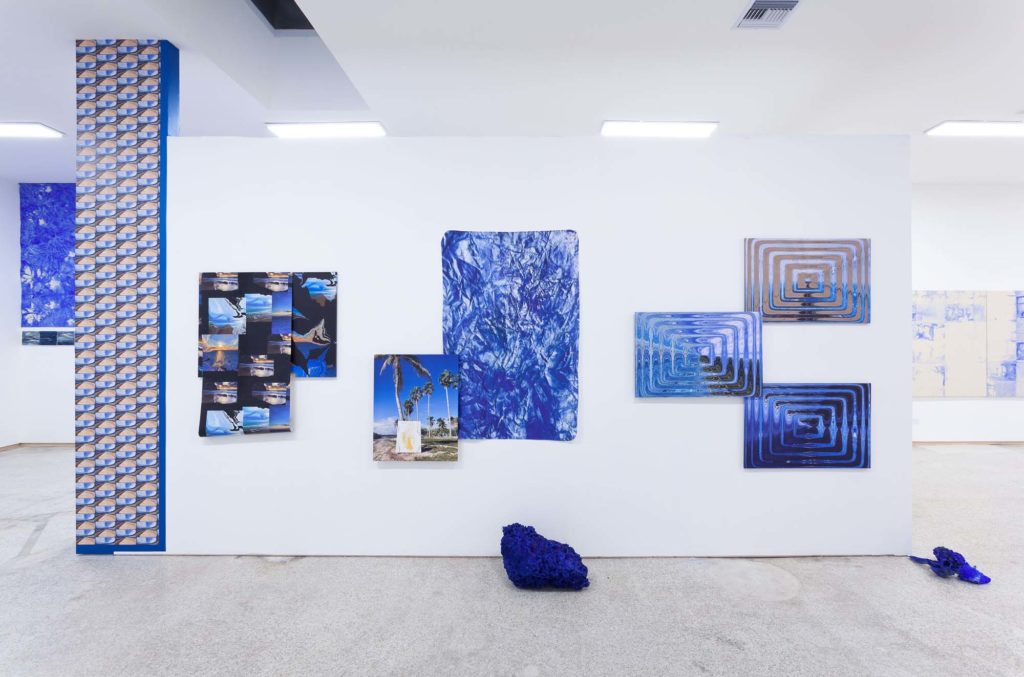 Mette Tommerup marries the virtual and the physical, creating an immersive experience that uses the ocean as a springboard for an exploration of the way the mind works in our digital world.
These are a selected group of works and installation photographs from the exhibition. For a complete list of available works please contact us.
Mette Tommerup: Ocean Loop
A new exhibition by Mette Tommerup is on view now, during gallery hours Wed-Sat 12-5 and by appointment. In addition, next month the gallery will host a talk by Tommerup and renowned independent curator Debra Bricker Balken on February 15, 2018, 6-7pm. The gallery will also be open during the popular Progressive Brunch on Sunday, February 18, 11am-2pm. The exhibition will be on view through February 24.
For this solo exhibition, Tommerup presents a complex installation of paintings, objects, and ephemera, invoking a narrative stream of information and imagery.
"In her ambitious installation Ocean Loop, Mette Tommerup marries the virtual and the physical, creating an immersive experience that uses the ocean as a springboard for an exploration of the way the mind works in our digital world. Tommerup's connection to the ocean is an elemental one. As a native of Denmark, she grew up in a small coastal town in a country whose history, back to the Viking days, is entwined with the sea. She now lives in Miami close to Biscayne Bay. Her studio offers a view of the harbor from which she was able to view the devastation wrecked by Hurricane Irma in the fall of 2017 while she was preparing this work.
The ocean would thus seem to be a natural subject for Tommerup. In fact, however, this installation presents something of a departure. Tommerup is better known for piquant and often provocative expressionistic paintings inspired by internet image searches. She initiated this project as part of an effort to literally wash away her old assumptions and approaches to art. Using the ocean both as a grand metaphor and a physical portal, she decided to go back to ground zero and think about what paintings can be.
This led her to a series of experiments that have something of the flavor of postwar avant-garde movements like Gutai, Arte Povera and Conceptual Art. Tommerup attached small oil paintings of the sea to a string and immersed them in the ocean. Some broke free and disappeared. She was able to reel others back in, battered and discolored by salt and water. Tommerup repeated the experiment with squares of raw canvas, and after retrieving them, sewed their water stained remains together. She grew salt crystals on paintings. She treated raw canvas with blue dye and salt water to create a surface that suggests the patterns that dance just below the skin of rippling water."
Excerpt from the essay Out to Sea by Eleanor Heartney published in the exhibition brochure for Mette Tommerup: Ocean Loop. A widely published art historian, Eleanor Heartney is the author of Defending Complexity: Art, Politics and the New World Order (Hard Press Editions, 2006) and a co-author of After the Revolution: Women who Transformed Contemporary Art (Prestel Publishing, 2007), which won the Susan Koppelman Award, among other books.
Mette Tommerup is a painter based in Miami. Originally from Denmark, Tommerup has held numerous solo exhibitions in Copenhagen as well as group shows in Berlin and Basel. Tommerup relocated to Miami in the late '90s after living and studying in New York City for many years. Tommerup has exhibited at The Chelsea Art Museum, Exit Art and the American Academy of Arts and Letters in New York City. In Miami, Tommerup has exhibited at The Bass, PAMM and The Frost Museum and has work in many private collections including work in the permanent collection of PAMM. Ocean Loop will be Tommerup's 3rd solo show at Emerson Dorsch Gallery.
Honors include acquisition of work through the Art Purchase Program at The American Academy of Arts and Letters in NYC. Publications include Miami Contemporary Artists, Miami Arts Explosion,100 Degrees in the Shade and Man as Object: Reversing the Gaze and exhibitions have been reviewed in Art in America, Artnet.com and the Miami Herald among other journals. Tommerup received an MFA at The School of Visual Arts in New York City in 1995.
Learn more about this artist.