Kris Chatterson, Dave Hardy, Ryan Roa, April Street, Robert Thiele, Odalis Valdivieso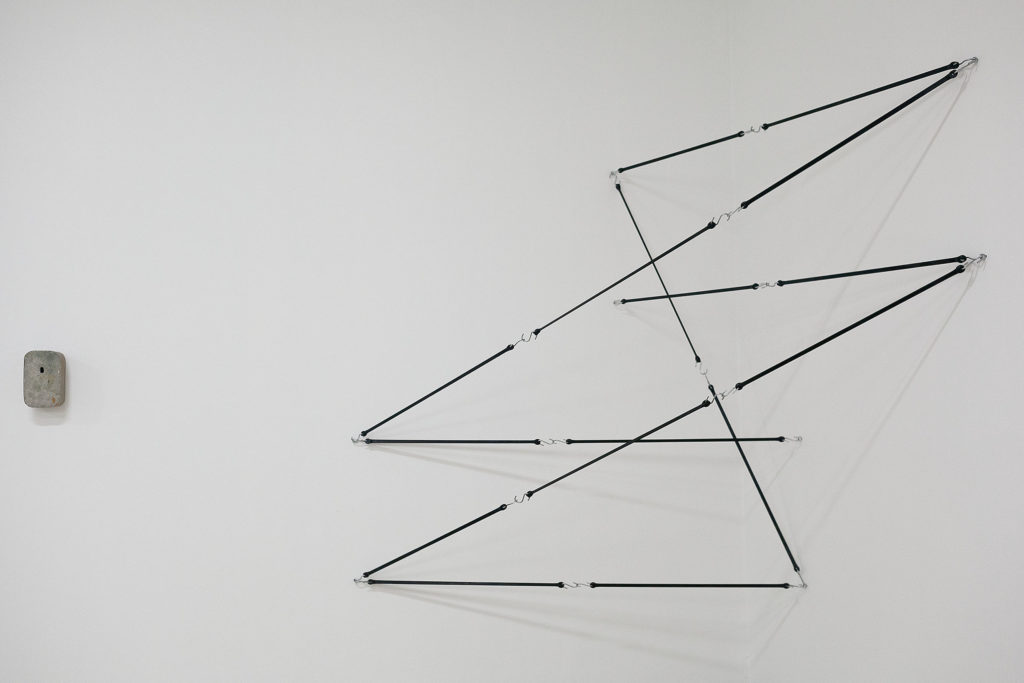 The exhibition results from an intuitive selection process that favored works and systems characterized by effortlessness in terms of approach, materials, resolution, or position.
These are a selected group of works and installation photographs from the exhibition. For a complete list of available works please contact us.
The exhibition results from an intuitive selection process that favored works and systems characterized by effortlessness in terms of approach, materials, resolution, or position. The exhibition presents the respective systems, proposing to view the work beyond what is visually present and to question their potential as things that allude to ideas, narratives, or physical weights.
The paintings of Kris Chatterson combine traditional abstract painting with an awareness of the brushstroke, applied through printed transfers of marks made on his computer or smartphone, which serve as processors in the image-making. Odalis Valdivieso's abstract watercolors result from an immediate labor, presenting formal aesthetics with a strong intent of demystifying the art-object. On the other hand, Robert Thiele utilizes material and opacity to embed an unsure sense of content or meaning, through wall mounted constructs incorporating blurred transparent elements that both reveal and distort the images within. In the case of another sculptor, Dave Hardy, sculptures are composed primarily of wood, foam, and glass. These common materials come together to create various forms, shifting between visual weights. Ryan Roa's site-specific Space Drawings also occupy volume, with wireframes created with easily obtainable bungee cords and hardware, graphically alluding to arbitrary planes within the gallery space. Conversely, April Street's Rope Paintings begin as paintings but are braided into seemingly functional objects, capped with bronze to keep them from unraveling, retracting them back into art-objects.
Kris Chatterson was born in Orlando, FL. He has spent the past ten years working between Los Angeles and New York and now resides in Rhode Island. Recent exhibitions venues include: Jeff Baley Gallery, Asya Geisberg Gallery, Lesley Heller Workspace and Feature Inc.in New York. Western Project and Summer Camp Project Project in Los Angeles. Dorsch Gallery in Miami and Laroche/Joncas in Montreal. In 2012 he was an artist-in-residence at The Marie Walsh Sharpe Art Foundation Space Program. His works are in the permanent collections of: University Art Museum, Cal State University Long Beach, Long Beach, California and Chapman University Permanent Art Collection, Orange, California. Kris received his MFA from Claremont Graduate University in 2004 and BFA from Ringling College of Art and Design in 2002.
Dave Hardy Born was born 1969 in Sharon, Connecticut US. He lives and works in Brooklyn, NY. In 2018 he received a Guggenheim Fellowship and a Pollock-Krasner Foundation Grant. In 2019 he will be the Warhol Fellowship Resident at RAIR. Hardy received his BA from Brown University, Providence, RI, 1992 and an MFA from Yale University, New Haven, CT, 2004.
Ryan Roa received his MFA from Hunter College and his BFA from SUNY New Paltz. He has had solo exhibitions at Jersey City Museum, New Jersey Institute of Technology and Trinity Museum. His work has been exhibited in groups shows at The Bronx Museum of Art, Queens Museum of Art, Moscow Museum of Modern Art, El Museo del Barrio NY, School of Visual Arts Museum, Samuel Dorsky Museum of Art, Seton Hall University, Socrates Sculpture Park, Rush Arts, Flux Factory, Emerson Dorsch Gallery and Rooster Gallery. Roa has participated in residency programs at The Bronx Museum of Art, Pace University and The Fountainhead Residency. Ryan Roa is currently based in New York.
April Street lives and works in Los Angeles. She studied painting at The School of the Art Institute of Chicago and bronze casting in central Italy. Selected solo exhibitions have been Portraits and Ropes shown at Carter & Citizen (Los Angeles), and Who Threw the Sunset at Me shown at Rosamund Felsen Gallery (Santa Monica). Selected group shows include Bakers Dozen The Torrance Museum (Torrance CA), Anniversary, Actual Size (Los Angeles), and recently Object implied, Emerson Dorsch (Miami). She was the recipient of an NEA Project Grant for her video collaboration, Imaging Appalachia.
Odalis Valdivieso was born in Caracas, Venezuela. She is a recipient of the South Florida Cultural Consortium Grant in 2004. Her work has been featured in exhibitions such as New Work Miami 2013, Miami Art Museum, Practices Remain, Regina Rex, NY, SET, Bridge Red Studios – Project Space, North Miami, Noise Field, Dorsch Gallery, Miami, New Work Miami 2010, Miami Art Museum, Miami, After Process, Miami Beach Regional Library, Ocupa, Far Side Gallery, Miami, Urban Interventions, Contemporary Art Museum, Rosario, Talking Heads, Girls Club, Fort Lauderdale, and Fragile Global Performance Chain Journey, Florence, Italy.
Learn more about this exhibition and the artists.