June 9 - September 12, 2020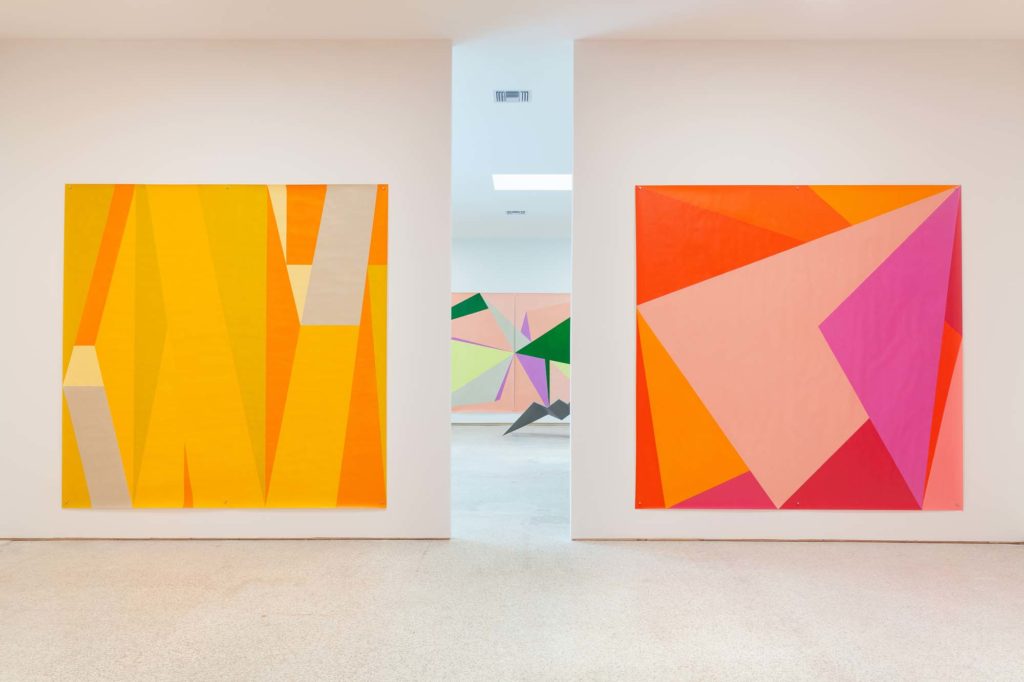 Karen Rifas constantly recalibrates ways to convey form in space and as new, imaginary spaces.
These are a selected group of works and installation photographs from the exhibition. For a complete list of available works please contact us.
Emerson Dorsch Gallery is proud to present Karen Rifas: 20/20, an exhibition of painting and sculpture. Following her outstanding show at the Bass Museum in 2018 and then her receipt of Oolite Art's Michael Richards Award in late 2019, Karen Rifas made a series of increasingly dynamic abstract geometric paintings in which seemingly simple elements coalesce and illusionistic effects – mirages – become facts. In the gallery's first two rooms wall-sized paintings create an immersive effect with vibrant color palettes and inventive compositional riddles. Three powder coated aluminum sculptures hover like virtual reality creations in front of the very pieces that inspired them. In the gallery's office hang exquisite studies, small acrylic paintings on panel, of the patterns in the large works.
20/20 will be on view from June 9th through August 29th. The gallery will be open by appointment via a booking tool available on our website. Appointments will be limited to one family or friend unit at a time and will be in 30 minute blocks, so groups will not overlap. We will wipe down and freshen the space in between every visit. We hope to be able to celebrate Karen Rifas and her incredible show with a closing reception.
SPATIAL DRAWINGS AND MIAMI STYLE
Rifas constantly recalibrates ways to convey form in space and as new, imaginary spaces. In this show, she emphasizes the importance of the physical experience of her art. Depending on where one stands, a painting conveys a receding row of boards, or a collection of parallelograms, trapezoids, and triangles in alternating bright and dark colors on one side and alternating closely related colors on the other. The paintings in 20/20 yield surprises in each vantage point; their color recedes form or pops it, depending on the vantage point. No one point of view reveals everything about one of her paintings. Rifas' current style, hard-edged geometric abstraction, was born in Miami, where multiple examples of the style from Latin America, North America and Europe have a strong presence in the city's public and private collections, galleries, and museums. Cousins of the style, in the form of modernist architecture, can be found throughout the city, including the artist's house and studio. Rifas's practice has taken them in and plays with variations, changing patterns and elements slightly to explore the possibilities.
ARTIST STATEMENT
Rifas writes:
"My work has evolved from bronze sculptural installations combined with oak leaves to site-specific installation of randomly stitched leaves to geometric cord installations that are also dependent on their architectural surroundings. I sometimes felt the necessity to produce environmental works of handmade paper or political work from found objects. The linear thread of the work as well as the geometry of forms in space led me to consider having a dialogue with similar concepts in the two-dimensional language of drawing and painting.
Throughout all my work runs this common thread. I have never stopped thinking about the delicate balance which I find between man and nature, in structure and in freedom and that must be maintained if we are to survive.
In my practice I find that there is a beauty in structure and geometry. It is this space in which my artistic play occurs. Today, in my works on paper, this is a space to explore the delicate balance between what we know and what we believe we know. Here unfolds a surreal, abstract and fascinating world of color and form.
We live in an irrational, absurd and surreal time. I am building improbable structures which would collapse in the real world but let me dream, believe in and explore on paper. These works, more so than ever, reflect the ever tenuous relationship to what we believe we know and reality. It is a delicate balance."
COLOR THEORY AND VARIANT – ETHICAL POSITION
In color theory, the best term for small shifts in color, form and line angle is variant, which denotes sincere and honest study of the colors and patterns in play. To Josef Albers, who brought Bauhaus ideas to Yale in the decades following the 2nd World War and published his famous treatise Interaction of Color in 1962, this type of practice demonstrates a conviction that form does not have a final answer; instead form compels continuous re-working and asks for consideration again and again. His precise language was in his time political – "there is no final solution in form" takes an anti-fascist position. Being always open to change is an ethical and humanist position.
DRAWING PRACTICE – LEADS TO MEDITATIVE PRACTICE
What is remarkable about Rifas's sustained experimentation is that she found her drawing language through her installation work. About 15 years ago, Rifas was best known for her volumetric leaf installations. In recent years, Rifas left the leaves behind, favoring the crisp lines of cord and strings that better defined the forms she wanted to convey. The shadows the installations cast on the wall struck her as her first drawings, and then in 2007 her drawings for the engineers in her commission for Royal Caribbean's Oasis of the Seas helped her see their potential. The roots of these new paintings are in her drawing process, which empowered her to self-educate line by line and color by color.
Rifas begins these studies in her 2nd floor studio amidst an oak tree canopy. In calm arises freedom for the mind. She paints in her concrete studio behind her house. Her daily practice affords each painting fluency and grace. One line after another, one color juxtaposition after another, each step leads to the next. Her intuitive process grows ever stronger. The paintings in this show yield surprises in each vantage point; the color recedes form or pops it, depending on the vantage point. No one point of view reveals everything about the painting.
She writes, "I have never stopped thinking about the delicate balance which I find between man and nature, in structure and in freedom and that must be maintained if we are to survive."
HER REFERENCES AS A SELECT EXHIBITION HISTORY OF MIAMI
Rifas's work in variants comes from practice and also from decades of observation and cultural engagement, much of it in Miami's museums, galleries and institutions. She remembers the work of Donald Judd and Franz Kline from her visits to the Art Institute of Chicago during high school. During her travels to Brazil in 1999, she discovered the work of Lygia Clark, Helio Oiticica and the Neo-Concretists. She read reviews of Lygia Clark's landmark show at Museum of Modern Art in New York in Art in America in 2004. Among the many exhibitions she has seen in Miami were The Sites of Latin American Abstraction at CIFO in 2006, Beyond Geometry: Experiments in Form 1940s-70s, an exhibition of Latin American, North American and European abstract geometric art that traveled from LACMA to Miami Art Museum in 2004, New Work: Odili Donald Odita at Miami Art Museum in 2002, and numerous exhibitions at Miami's Alejandra von Hartz Gallery and Arevalo Gallery, both of whom specialize in Latin American abstract geometric art. She follows exhibitions at the Maldonado Collection closely and states an affinity for Lygia Clark and Brazilian Neo-Concretism. In 2010, her workshop at the Rosa and Carlos de la Cruz Collection became an exhibition, and in the process, she was immersed in the collection's focus on American Abstraction. Her exuberant body of work was born in Miami, a city saturated with international movements of abstract geometric art.
"when we see opaque color as transparent or perceive opacity as translucence, then the optical reception in our eye has changed in our mind to something different.
These effects we call actual facts." (Josef Albers, Interaction of Color, p 72)
"[Lygia Clark's] experience of art as personal therapy and as "course of treatment," together with her own thinking and the analysis she underwent, led her to redefine the very idea of art as a gift, a possibility of offering others a way of living differently, in a way that would be creative and free." – Christine Marcel on post: Notes on Modern & Contemporary Art around the Globe.
Karen Rifas (Chicago, b. 1942) has shown nationally and internationally since the 1980s. In 2019, she was the second recipient of The Michael Richards Award, presented by Oolite Arts. This award is given to a Miami-based artist who has created a recognized body of original, high-quality works over a sustained period of time, and who, through his or her practice, is achieving the highest levels of professional distinction in the visual arts. Her work is represented in many public and private collections, including Oolite Arts, Museo de Arte de Ponce in Puerto Rico, The Bass Museum of Art, Fairchild Tropical Gardens, Museum of Contemporary Art North Miami, Miami-Dade Art in Public Places Trust, and Perez Art Museum Miami.
Karen Rifas has had solo exhibitions at The Bass Museum of Art (2018), Emerson Dorsch (2017), Meetinghouse Gallery (2016), MDC Museum of Art + Design (2015), De La Cruz Collection (2010), Pinnacle Gallery, Savannah College of Art and Design (2007), Polk Museum of Art (2004), Art Center South Florida (now Oolite Arts) (1997) and Museo De Arte Comtemporaneo, Panama City (1993). She has exhibited in numerous group shows and presented the following projects: Notices in Mutable Terrain, Fundación Atchugarry (2019); Selections from Karen Rifas Papers: Defining Space, Women Artist Archive Miami (2019); Transphysics, Art and Culture Center, Hollywood (2017), 100+ Degrees in the Shade: A Survey of South Florida Art (2015), MIA-BER, Berlin Arts Club (2014), Following the Line, Girls' Club Collection (2012), I Triennial, Santo Domingo (2010), globe>miami<island, DC Museum of Contemporary Art (2002) and The Bass (2001). She taught at New World School of the Arts for many years as well Kendall Campus of Miami Dade College and University of Miami. She lives and works in Miami, FL. Her work is represented by Emerson Dorsch Gallery.
ACKNOWLEDGMENTS
All of us at Emerson Dorsch Gallery would like to thank Karen Rifas for her incredible work and her utter commitment to her art. Her heart is in the show, and it beats strongly. Thank you to Frank Casale, Dennis Fuller, Doug Weber and Juan Gonzalez for going above and beyond. Fulano is always there for us with fantastic design and web support. We, along with Karen, would like to thank the Office of Applied Ideas for their fabrication of her sculptures.
Learn more about this artist.
For a complete list of related materials please contact us.