Karen Rifas: To Weave a Threshold
September 9th - November 4th, 2022
Reception: Friday, September 9th, 2022, 6-9pm

Curated by Patricia Ortega-Miranda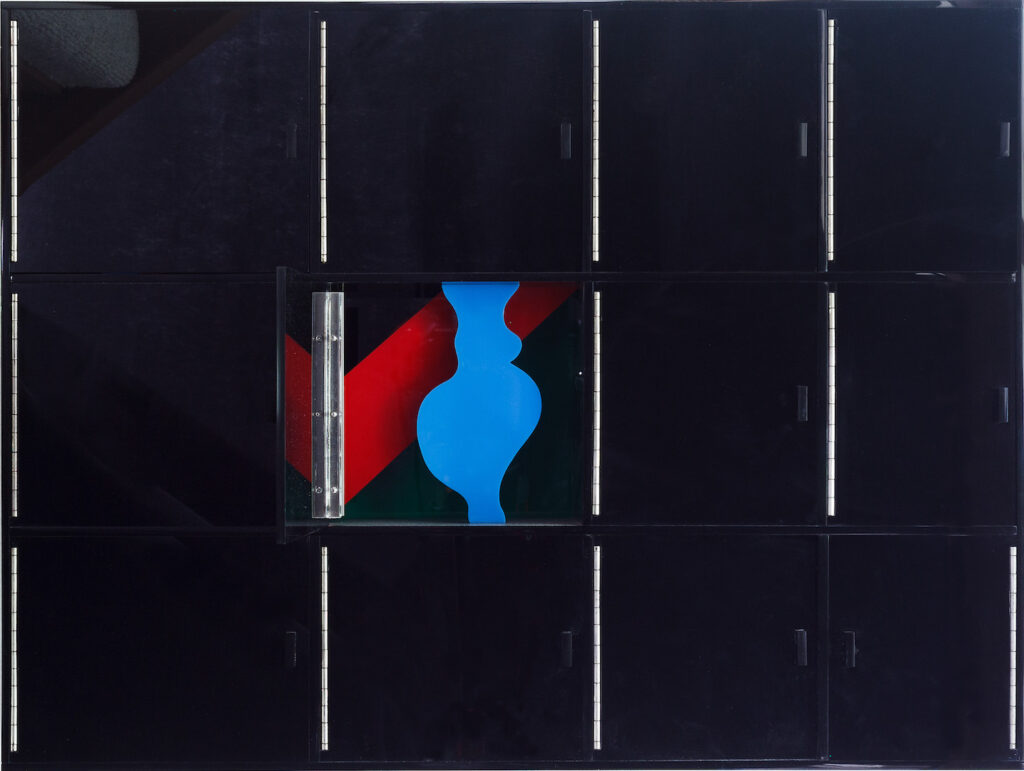 In the work of Karen Rifas, a line is always limit and possibility.
These are a selected group of works and installation photographs from the exhibition. For a complete list of available works please contact us.
Karen Rifas: To Weave a Threshold
Emerson Dorsch is pleased to announce, To Weave a Threshold, a solo exhibition by Karen Rifas. Curated by Patricia Ortega-Miranda.
On view from Friday, September 9th – Saturday, October 22nd, 2022.
Karen Rifas: To Weave a Threshold features a selection of works that explore the inseparable bond between the limit and the boundless. In bringing together different facets of Rifas' constantly evolving artistic practice, including her most recent body of work, this exhibition highlights the depth of her conceptually rigorous yet playful approach to space through a poetic meditation on the nature of structures as thresholds of infinite possibility.
From her early sculptural works to her most recent geometric paintings and three-dimensional constructions, the line has been a central element in Rifas's work, weaving metaphors of presence and absence, separation and connectivity, and reimagining space as a system of activities. The line also speaks to the role the artist herself has played in bridging different artistic generations, practices, and communities.
The exhibition's curator Patricia Ortega-Miranda developed a sense for Rifas's oeuvre while writing her essay about Rifas's work in early 2022. When she began the project, Ortega-Miranda knew that she wanted to make palpable the connections between the stages in Rifas's career in an exhibition setting.
Reacting to the show, Gallery Partner Tyler Emerson-Dorsch states, "I am excited to see how Patricia Ortega-Miranda makes the relationships between Karen Rifas's different bodies of work tangible. There is something even more powerful to seeing the through-line, so to speak, come to life in space. I am grateful for Patricia's sensibility here – and her wit. She responded to Karen's patterns of thinking in ways that are clear in the connections she makes. I also love how she brought a little of her history in theater to the show, putting Karen's work literally on a stage."
Patricia Ortega-Miranda's essay about To Weave a Threshold is posted in the Journal section of the gallery's website.
ABOUT THE CURATOR
Patricia Ortega-Miranda was born and raised in Havana, Cuba, and is a Ph.D. Candidate in the Department of Art History & Archeology at the University of Maryland, College Park. In 2017 she earned her Master's degree in Art History from the University of Texas at Austin. She has held fellowships from important institutions such as the Blanton Museum of Art in Austin, Texas; the International Center for the Arts of the Americas at the Museum of Fine Arts, Houston, and the National Portrait Gallery in Washington, DC. Between 2019 and 2022, she was a Curatorial Assistant at the University of Maryland Art Gallery, where she organized various exhibitions showcasing the work of internationally recognized contemporary artists. Currently, she teaches a course on Contemporary Art and Theory at Catholic University, Washington, DC.
Emerson Dorsch would like to thank all those who assisted in organizing this exhibition. Without your support, our program would not be possible. Thank you!
Acknowledgments: To our curator, Patricia Ortega-Miranda, our team: Daniel Clapp, Juan Gonzalez, Rachel Llaveria-Powell, our design team: Sinisa Kukec (Magic City Manifesto), Moises Maradiaga, Francesco Casale (Letter16Press), and Guillermo Ruballo.
Karen Rifas (Chicago, b. 1942) has shown nationally and internationally since the 1980s. She is the second recipient of The Michael Richards Award, presented by Oolite Arts. This award is given to Miami-based artists who have created a recognized body of original, high-quality work over a sustained period of time and who, through their practice, achieve the highest levels of professional distinction in the visual arts. In 2020, The Bass commissioned a series of banners by Rifas for their Art Outside initiative. Her work is represented in many public and private collections, including Museo de Arte de Ponce in Puerto Rico, The Bass, Fairchild Tropical Gardens, Oolite Arts, NSU Art Museum, Fort Lauderdale, FL, Museum of Contemporary Art North Miami, Miami-Dade Art in Public Places Trust, and Perez Art Museum Miami.
Select solo exhibitions include Deceptive Constructions, The Bass, Miami Beach, FL (2018); Macchietta: Small Sketches by Karen Rifas, MDC Museum of Art + Design, Miami, FL (2015); The Library, 581.4/R564.r, de la Cruz Collection, Miami, FL (2010); Volumes of Fragility, Pinnacle Gallery, Savannah College of Art and Design, Savannah, GA (2007); Mayfaire at the Museum, Polk Museum of Art, Lakeland, FL (2004); Karen Rifas at Robert Rauschenberg Gallery, Fort Myers, FL (2004); Karen Rifas, Museo De Arte Contemporaneo, Panama City, Republic of Panama (1993).
Select group exhibitions include At the Edge, curated by Dennis Scholl and Amanda Bradley, Oolite Arts, Miami Beach, FL (2022); The Willfulness of Objects, The Bass, Miami Beach, FL (2020-22); Notices in Mutable Terrain, curated by Adler Guerrier, Fundación Atchugarry, Miami, FL (2019); MIA-BER, curated by william cordova, Berlin Arts Club, Berlin, Germany (2014); I Triennial, Santo Domingo, Republica Dominicana (2010); globe>miami<island, curated by Robert Chambers, DC Museum of Contemporary Art, Washington, DC (2002) and The Bass, Miami Beach, FL (2001).
Karen Rifas taught at the New World School of the Arts, the Kendall Campus of Miami Dade College, and the University of Miami. She lives and works in Miami, FL. This will be her third solo exhibition at Emerson Dorsch.
Learn more about this artist.