Jenny Brillhart, Yanira Collado, Khaulah Naima Nuruddin, Ryan Roa, Leyden Rodriguez-Casanova, James Allister Sprang, Robert Thiele, Paula Wilson
February 15 - April 13, 2019
Reception: February 15, 2019, 6 - 9 pm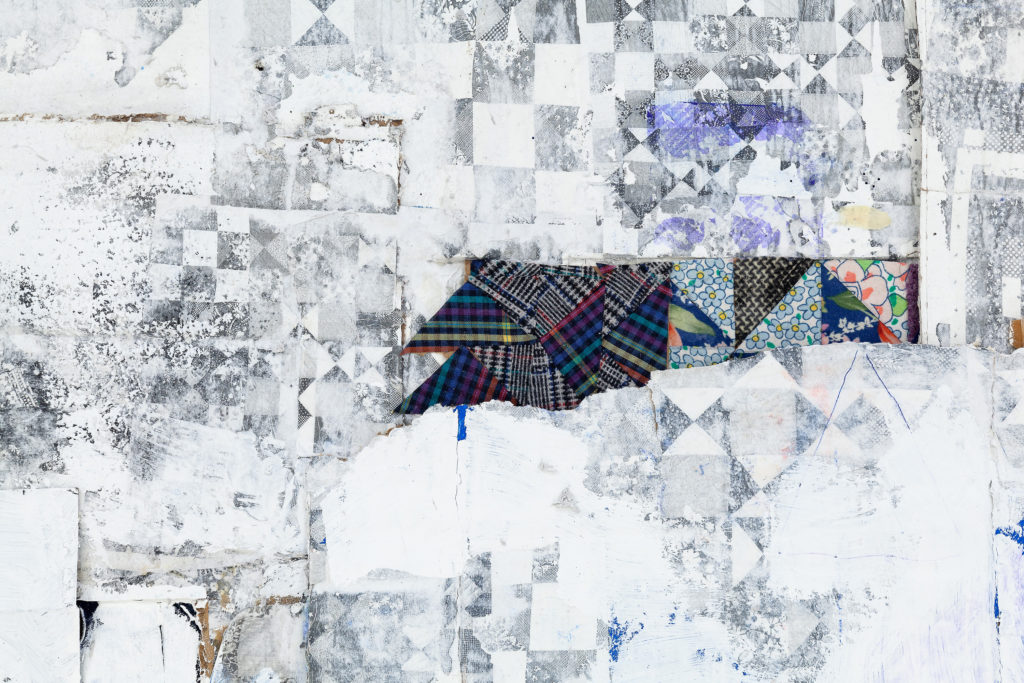 In Fragment, the pieces are not sewn back together again; they are left in pieces, for now.
These are a selected group of works and installation photographs from the exhibition. For a complete list of available works please contact us.
"The old understanding splinters into pieces, snippets. From here, I patch back together bits of old with the new. There is a Japanese idea kintsugi, a practice in which, when a ceramic breaks, one glues it back together again, leaving the fissures visible, treating the breaks as part of the object's history, not something to hide. In Fragment, the pieces are not sewn back together again; they are left in pieces, for now."
This group exhibition features artworks by Jenny Brillhart, Yanira Collado, Khaulah Naima Nuruddin, Ryan Roa, Leyden Rodriguez-Casanova, James Sprang, Robert Thiele, and Paula Wilson.
Jenny Brillhart was born 1972 in Keene, New Hampshire. She receive a BFA from Smith College – Northhampton, MA. Then she went on to study painting and drawing at The Art Students League, NY. In 2003 she graduated from the The New York Academy of Art with an MFA in painting. She lives and works in Stonington, Maine.
Yanira Collado lives and works in Miami, FL. Collado's artist residency fellowships include Bridge Red Art Center, North Miami, FL (2013-present), and Project Row Houses, Houston, TX (2015). She was awarded first place in the 2013 South Florida Biennial at the Art and Cultural Center/Hollywood, FL. Her work has been featured in numerous group shows, including Monarchs at the Museum of Contemporary Art, North Miami, FL (2018); Connectivity, Deconstruction, Patricia & Phillip Frost Art Museum, Florida International University, Miami, FL (2018); Transmissions, The Franklin, Chicago, IL (2016); Dirt, Florida Atlantic University, Boca Raton, FL (2016); and Ascent: Black Women's Expressions, Nova University, Ft. Lauderdale, FL (2015). In 2016, Collado had a one-person exhibit at Museum of Art + Design at Miami Dade College, in collaboration with Bridge Red Studios.
Khaulah Naima Nuruddin is a multimedia artist from Milwaukee, Wisconsin, who lives and works in South Florida. Nuruddin's work explores the intersections of personal expression and social commentary by initiating public discussion of race, sexuality and the social transfer inherent to her work as a Black visual artist. Nuruddin earned her BFA from The University of South Florida and her MFA from Florida Atlantic University. She is an adjunct studio-art instructor, Curator and Exhibitions Manager for Spady Cultural Heritage Museum, and Museum Education Coordinator for University Galleries at Florida Atlantic University.
Ryan Roa received his MFA from Hunter and his BFA from SUNY New Paltz. He has had solo exhibitions at Serralves Museum of Contemporary Art, Jersey City Museum, Seton Hall University, Trinity Museum and Ramapo College. His work has been exhibited in groups shows at The Bronx Museum of Art, Queens Museum of Art, Moscow Museum of Modern Art, El Museo del Barrio NY, School of Visual Arts Museum, Samuel Dorsky Museum of Art, Seton Hall University, Socrates Sculpture Park, Rush Arts, Flux Factory, Robert Miller Gallery, Emerson Dorsch Gallery and Rooster Gallery. Roa has participated in residency programs at The Bronx Museum of Art, Pace University, The Fountainhead Residency, and Deering Estate. His work has recently been added to the Sonnabend Collection. Roa is based between Miami, FL and Upstate, NY.
Leyden Rodriguez-Casanova was born in 1973 in Havana, Cuba and currently lives and works in Miami, Florida. He is currently co-director of Dimensions Variable (DV) in Miami, FL. Rodriguez-Casanova's select exhibitions include Pérez Art Museum Miami (PAMM), Miami, FL; The Center for Architecture and Design, Miami, FL; Factoria Habana, Havana, Cuba; Alejandra von Hartz Gallery, Miami, FL; ZONA MACO Arte Contemporaneo, Mexico City, Mexico; Museum of Contemporary Art, North Miami, FL; Prosjektrom Normanns, Stavanger, Norway; Museo de Bellas Artes, Havana, Cuba; Bass Museum of Art, Miami Beach, FL; Abrons Arts Center, New York, NY; Shoshana Wayne Gallery, Los Angeles, CA; Locust Projects, Miami, FL; Philip and Patricia Frost Art Museum, Miami, Florida; David Castillo Gallery, Miami, FL; Casas Riegner Gallery, Bogota, Colombia; Socrates Sculpture Park, Long Island City, NY; Sculpture Center, Long Island City, NY; Fredric Snitzer Gallery, Miami, Florida.
James Allister Sprang is a first-generation Caribbean-American based in Philadelphia, who creates work that exists in gallery spaces, theater spaces and the space generally found between the ears. Working across mediums—photography, sound, duration, installation—Sprang's work is a rigorous parallax of new media storytelling informed by the poetry of the black experimental tradition. Sprang earned his BFA at The Cooper Union and his MFA from The University of Pennsylvania.
Robert Thiele Born was born in Milwaukee, Wisconsin. Thiele a sculptor who divides his time living and working between Brooklyn, New York and Miami, Florida. Thiele received both his BFA and MFA from Kent State University in 1964 and 1966. Thiele's work is exhibited widely with recent shows in New York at the Howard Scott Gallery, in Berlin at Galerie Tammen & Partner, and in Miami at Emerson Dorsch. Thiele owns the artist studio warehouse Bridge Red Studios, and oversees Bridge Red Studios/Project Space.
Paula Wilson was born in Chicago in 1975 and graduated from Columbia University with a MFA in Visual Arts in 2005. Her solo show, Paintings and Drawings from the Hanno Valley at Galleria Suzy Shammah in Milan, Italy, presented paintings informed by printmaking, drawing, oil painting and video. She has exhibited at Zacheta National Gallery of Art in Warsaw, Poland, Sikkema Jenkins & Co., New York, Fred Snitzer Gallery and Emerson Dorsch, Miami, the Studio Museum in Harlem, Smack Mellon, and Kantor / Feuer Gallery, New York. She has been awarded residencies at the Vermont Studio Center and the Giverny Residency from the Art Production Fund in Giverny, France.
Learn more about this exhibition and the artists.
For a complete list of related materials please contact us.