Robert Chambers: Iron Oar
Reception: May 19, 2017, 6 - 9 pm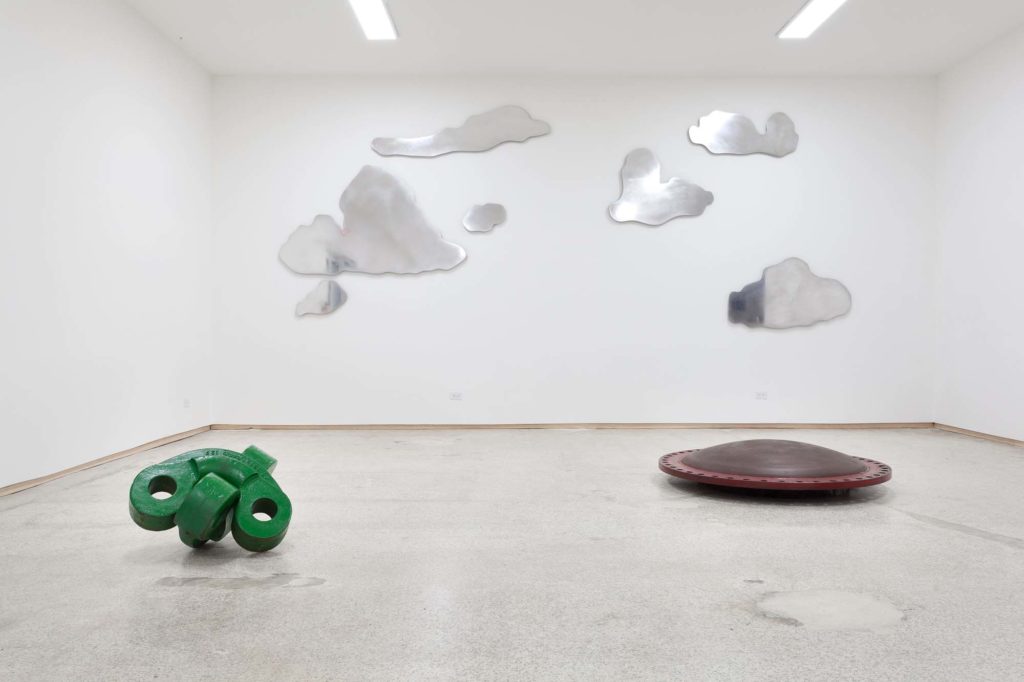 Chambers presents a new installation comprised of a salvaged battleship buoy, repurposed as a massive metal ball, more than 5 feet in diameter.
These are a selected group of works and installation photographs from the exhibition. For a complete list of available works please contact us.
Robert Chambers: Iron Oar
Chambers is a Miami legend. With his corkscrew wild hair and his rapid fire barrage of ideas that meld art & molecular biology or physics, his persona is archetypal – even romantic. He has built upon the second part with storied and historic studio visits – more like happenings really – in his backyard jungle-studio-paradise in Coconut Grove. And with solo shows at the Sculpture Center in New York and the Laumeier Museum in St. Louis, MO, as well as a number of significant public art projects, the impression he makes holds ground. About a year ago, he took the helm at the Sculpture Department at FIU, where he overhauled their facilities with the help of an enthusiastic team, including a new foundry that can cast up to 700lbs of bronze.
He will use the newly renovated sculpture lab to create his show for Emerson Dorsch, his first solo show in Miami in more than a decade.
Responding to his installation at Sculpture Center in 1991, Jenifer Borum observed in Artforum that Chambers straddled two sides of kinetic art, one Constructivist and the other Dadaist. The first embraced the advances of technology and the latter pushed back against mechanization with anti-rational objects and actions. This duality rings true today, though the anachronism of his mechanical and immensely heavy objects is even more pronounced today than in the early nineties. Now, their metallurgic prowess is as singular as their meditative qualities.
In the upcoming show, Chambers presents a new installation comprised of a salvaged battleship buoy, repurposed as a massive metal ball, more than 5 feet in diameter. Visitors can push the ball around an ovoid decagon track. Chambers lowers the ball's center of gravity by partially filling it with oiled BBs. This way, the ball will not tip nor stray from its journey. Eager accomplices, the visitors who push it advance the cycle, over and over again, never reaching a destination.
On the wall he realizes in miniature a public work,which languished in limbo for 7 years, due to arcane contractual loopholes. This piece, called Ryoanji Sky Mural, was to be 200 feet tall and 100 feet wide. Here, it is about 25 feet wide and 10 feet tall, though proportional to the opportunity. The installation recreates ratios of negative space in the original Ryoan-ji garden (c. 1488), a Japanese rock garden that spiritual leaders, scholars and artists have studied for hundreds of years.
Chambers refers to an essay on "Gestalt, Bauhaus and Japanese Gardens" in the Oxford Handbook on Perception. In it the authors Gert van Tonder and Dhanraj Vishwanath explain that the therapeutic appeal of this garden's space is related to the system behind its proportions. The rocks and the distances must be different sizes—not half the size, but instead one third or two-thirds the size of the neighbor. It is also essential that the entire composition be effortlessly apprehensible to the eye. Finally, the arrangement is an abstraction of clusters on an invisible tree, a method that establishes an optimal viewing point, one that, once located, relaxes the senses.
Asked about his reasons for making this work now, he states "I want to revisit my metal training. Serious metal work seems right, especially in light of the way things are, the way the art world is, the unrest, the uncertainty, the changes. In the midst of all this I revisit fairly minimal metal work, like my earlier installations as opposed to something more…" and here he pauses and with precise enunciation finishes, "lightweight."
Robert Chambers has work in the permanent collections of MOMA, the Kemper, PAMM, MOCA North Miami, MOSI and Tufts University. Recent public art commissions include Light Field, an interactive 100' light wall and Orbital 1 & 2, 10 and 12 ton marble CNC sculptures at the South Dade Cultural Art Center. An outdoor bronze constellation sculpture, Orthrus, is a recent commission for the Museum of Science and Industry in Tampa, Florida. Exhibitions include The Invitational at The American Academy of Arts and Letters in New York City and ProjektraumM54 in Basel, Switzerland. He was a resident at the Fabric Workshop and Museum in Philadelphia. Robert Chambers earned a BFA from the University of Miami and an MA from New York University. He is the former Head of the Sculpture Department at Florida International University, Miami. Chambers also works with students in the National YoungArtsFoundation based in Miami, FL and completed an artist residency at AIRIE in the April,2019. His awards include the Nancy Graves Award and the Louis Comfort Tiffany Award. Chambers lives and works in Miami.
Learn more about this artist.
For a complete list of related materials please contact us.