FOUNTAINHEAD BIENNIAL II: Last Days of a House, Curated by Omar López-Chahoud
Andrés Aizicovich, Rodrigue Mouchez Armendariz, Patricia Ayres, Merav Kamel & Halil Balabin, Minia Biabiany, Miguel Braceli, Héctor Jiménez Castillo, Adama Delphine Fawundu, Cathy Hsiao, Karlo Andrei Ibarra, Manoela Medeiros, Irini Miga, Terrence Musekiwa, Mano Penalva, Umar Rashid, Crack Rodríguez, Máret Ánne Sara, Joaquín Segura, and Andrey Gûaîanã Zignnatto
July 27, 2023 - September 30, 2023
Reception: Thursday, July 27, 2023 6PM-9PM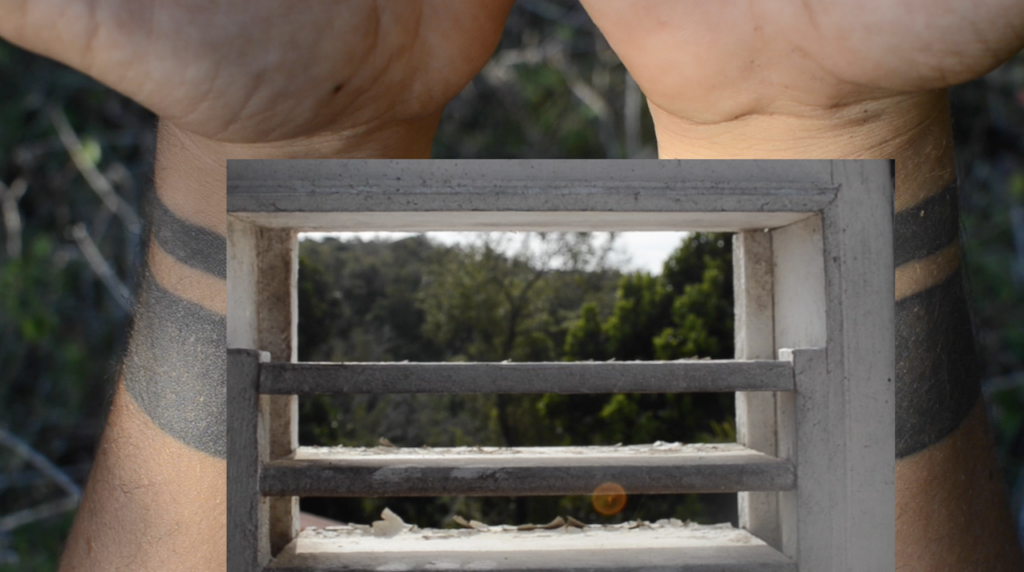 It's easy to imagine the sounds she - the house - didn't write down. The sounds in the street.
These are a selected group of works and installation photographs from the exhibition. For a complete list of available works please contact us.
FOUNTAINHEAD BIENNIAL II: Last Days of a House, Curated by Omar López-Chahoud
Curated by Omar López-Chahoud
Exhibition essay, "Active Silence" by Tyler Emerson-Dorsch
Emerson Dorsch Gallery is pleased to announce FOUNTAINHEAD BIENNIAL II: Last Days of a House, the second edition in a series of exhibitions initiated by the gallery in 2021. Curated by Omar López-Chahoud, the exhibition will open Thursday July 27, 2023 and will be on view through September 30, 2023.
For the Fountainhead Biennial series, the gallery invites a guest curator to select from Fountainhead Residency alumni around a theme. López-Chahoud selected artworks with an austere, conceptual style, whose messages are rarely direct. Sometimes the only way truth-telling can land is by telling it obliquely, in code, or behind a veil. Sometimes, absorbing the bind you are in becomes part of the work and part of the critique.
During the process, López-Chahoud recalled the ethos evoked in "Últimos días de una casa," a long form poem by Cuban author Dulce María Loynaz, who was born in 1902. Published in 1958, the poem is narrated from the perspective of the house. This was one of the last poems Loynaz published before she stopped writing poetry entirely. The Cuban Revolution was a year later, and it's possible that Loynaz was detained. She never spoke of it, but we know that she chose to stop making her art and that she chose to stay in Cuba, in her childhood home, and that she chose silence as her resistance.
Loynaz remained committed to poetry built mostly with timeless or time-defiant elements, like a house, blood, souls, a rose, birds, a stone, marble, the sea, wind, her garden. She made a decision to remain with her house. It's possible that the poetry she had written was part of her conviction. In her poetry she seems to believe utterly that forward movement is impossible, that each movement is fated to be undone. The ultimate commitment to her vision was to live it.
Loynaz's poem then, and Loynaz's story, became foils for the exhibition in a way that embraces sensitive associations. She imbues the house with human characteristics. This house recounts how it once was able to see the sea and misses its presence. Damage to its walls and floors are felt as cuts in flesh. Humanity's ineffable and intangible characteristics, like souls, are contagion which infect the house.
With decidedly local and domestic imagery, Loynaz leaves her readers to wonder at her poems' personal and political resonances, and there are many. Her poetry contains surreal and vivid imagery of loss and sorrow and a structural motif that repeats erasure or negation, like waves washing away markings in the sand. It feels natural to meditate on Loynaz's house and her poem as if they are porous memories, open not only to her context, but also to the proximity of her imagery to works in this exhibition.
A house is a container. A vessel in many ways for the lives lived within it. It witnesses the many stages of lives, the patterns that build over time and can make human lives anyway, seem interchangeable. Generations come and go, are born and lost, and some come back. Christmas eves are dear memories. Neighborhoods change, and the sea, once within view, becomes a memory. Now when the sound of water intrudes, it is not waves crashing, but a roar of streaming water. Now the smell of sweet sea air fades and instead there is the smell of factories and brewing coffee.
Loynaz's house hardly ever acknowledged action on the street, except as it pertained to her, as when the owner came to ready her for sale or demolition. Still, it's easy to imagine the sounds she – the house – didn't write down. The sounds in the street.
In Miami, middle class homes often feature a decorative wall with perforated cement. The wall often suggests a garden enclosure, like in the poem's courtyard. They approximate the decorative perforations in stucco work in more ornate and luxurious settings, like the Alhambra in Spain, but the memory of those delicate designs is so distant that what matters is that geometric patterns in the bricks are more interesting than the blocks without. Sunlight can shine through, casting shadows. We become conditioned to these compromises. Perforations sometimes covered entire windows, so that ladies could spy on the courtyard below without being seen. So it was with caning on windows in colonial Rio de Janeiro, the ones that faced the street. Mano Penalva's Bang, Bang Ventana (2019) brings together designs from these windows and thresholds and manages to reference that architectural device that turns gawking into peeking. The geometric designs, three circles stacked vertically, echo speakers, and remind us that sound could always travel.
Loynaz's art enacted the lack of forward movement, a sort of fatalism that Crack Rodriguez rails against. His video La Trinidad (2016) shows him pushing tied books down a highway with a jet stream of water until the water runs out. The act is dangerous – the traffic streams around him on both sides of this four lane highway – and also futile. He enacts futility to stoke awareness in the regular people who see him, who drive past him. In those moments of annoyance, it's possible a driver might put the parts together. A water truck, to which the water hose is attached, follows him. A man sits on top of the truck's water tank, waving a white flag. It's a way to caution the drivers, and there's no mistake it's a flag of truce or surrender. But does he want surrender?
Futility and fatalism can set in when conditions, like new buildings, hem you in and block the view of the sea. "The world is already small without anyone understanding it," Loynaz wrote. Sounds of water change from waves to water cannons, and the old ornaments at the doors can become relics of an old world unable to respond to the present. Parts of a house's refusal, its inertia, decorate the terrain of streams of action.
In Beijing the Forbidden Palace remains aloof from daily life. Its doors are studded with brass protrusions, arranged in a grid. Cathy Hsiao takes this motif and wraps it around a speaker, set on a shelf, playing interviews with pro-democracy activists and artists of their experiences of the 2019-20 Hong Kong protests. Printed social media photographs show how military forces used water cannons and dye to control the crowd. As in the rooms in Loynaz's house, in Hsiao's Sound Sculpture (2 channel) (2021) thresholds lead to others in ways that are consistent with the meaning, material and trajectory of the action. She creates montages with the diverse elements in her practice in the gallery space and on her website. To access details that are liminal, like the sound coming from the speakers in the gallery space, one must navigate two thresholds of links, one to a blog with her stylized coverage of Hong Kong Protests, and the other to more recordings. The viewer navigates through containers, like Loynaz's phrases or rooms.
A house can outlive its inhabitants, and sometimes, as in Havana, when one person dies, another moves in. There aren't enough places to live on the island to leave a house empty. Shells of people multiply, and the house grows numb to the differences between them. Hector Jiménez's Torcida series represent in relief snake skins that could have come from any snake. A snake is a snake. And yet. There is the art of describing them, or of describing how their lives blur into multiples.
Somehow this house, she does not blur into the others. She remains herself even as she is partitioned, as families move in that are not the ones she remembers. As holes pressed into her walls remain unrepaired. Gouges in the floor remain. These violations wound her as if her walls and floors are flesh.
Indeed, wounds can calcify and become integral. Fleshy bulges spill over binds in Patricia Ayres's sculpture. What seems fleshy is an upholstery system coddling together scraps of panty hose in various flesh tones. The containers they form are stuffed, then bound and stuffed again. There's tension between the soft folds and tight belts and straps, and the balance between stuffing and binding holds the form together. The wounds build up becoming part of the being, containing something inside that is bubbling up. Without the centrifugal forces, the structure would fall in on itself.
Loynaz's verses contain rooms, phrases inside phrases. And where there are actions or declarations, they are undone. Still, there is a pulsing feeling, a stone thrown into the air to be caught again. It is not nothing.
"The world is used to losing and winning,
and so am I when life wants it so;
but win or lose, what I have been,
is a stone tossed into the air,
and the very hand that threw it
cannot halt its flight,
and it must slice through the air alone until it falls.
What I have been is in the air…"
"A perder y a ganar hecho está el mundo,
y yo también cuando la vida quiera;
pero lo que yo he sido, gane o pierda,
es la piedra lanzada por el aire,
que la misma mano que la lanzó no alcanza a detenerla,
y sola ha de cortar el aire hasta que caiga.
Lo que yo he sido está en el aire…"
Loynaz, like her poem, was enigmatic. Straightforward language and presence belie existential concerns that await an attentive observer. The poem's vivid imagery of lives lived and lost, of the cost of time passing, of sorrow and even bitterness, are all laid on the house's bones. The corporeal root of this poem is a repeated motif in the exhibition, as well as the ways art can exist with and as resistance.
Dulce María Loynaz's biography is remarkable in that she was a celebrated Cuban poet who chose to stay in Cuba after the revolution. Before the revolution, her father, a wealthy and influential figure in Cuba's fight for independence from Spain, sent the seventeen-year-old Loynaz's poems to La Nación to be published. Theirs was a home filled with friends who were luminaries, writers and artists. After those first poems most of her published works which enjoyed widespread acclaim throughout the Spanish speaking world were published in Spain. Her poetry's lack of overt politics in an environment that demanded it amounted to a resistance to revolutionary goals at home. Following the revolution she stayed in Cuba, in her ancestral home, a fading mansion, refusing to write poetry or publish. She stayed but stopped making her art. Her work was ignored in Cuba and even actively suppressed until she received the Cervantes Prize in 1992. Late in her life, her work enjoyed a renaissance, but her work remains obscure to English speaking readers.
In a time when dogmatism and forms of censorship are rising in the United States and around the world, "Últimos días de una casa" has become so important that the gallery commissioned Mary Ann Newman, Director of the Farragut Fund for Catalan Culture, USA to translate the poem into English. The fact that a translation could not be found was itself a form of silencing. The poem's stanzas will thread through the exhibition as artwork descriptions float into this reading of the poem.
ARTISTS:
Andrés Aizicovich, Rodrigue Mouchez Armendariz, Patricia Ayres, Merav Kamel & Halil Balabin, Minia Biabiany, Miguel Braceli, Héctor Jiménez Castillo, Adama Delphine Fawundu, Cathy Hsiao, Karlo Andrei Ibarra, Manoela Medeiros, Irini Miga, Terrence Musekiwa, Mano Penalva, Umar Rashid, Crack Rodríguez, Máret Ánne Sara, Joaquín Segura, and Andrey Gûaîanã Zignnatto.
ACKNOWLEDGMENTS: 
Emerson Dorsch Gallery would like to thank Omar López-Chahoud, The Fountainhead Residency, Kathryn Mikesell, Nicole Martinez, Francesca Nabors, Mary Ann Newman, Ana Clara Silva, Daniel Clapp, Rachel Llaveria-Powell, Juan Gonzalez, Blum & Poe, Matthew Brown, Hesse Flatow, Galería Tiro al Blanco, Nara Roesler, Catinca Tabacaru, Portas Vilaseca Galeria, and Pequod Co.
ABOUT THE PROGRAM:
Emerson Dorsch Gallery launched the first in a series of exhibitions called The Fountainhead Biennial in 2021 as a way to engage with artworks by select Fountainhead Residency alumni. The Fountainhead Residency has forged meaningful connections between Miami's art scene and more than 500 artists from 47 countries. Emerson Dorsch Gallery partner Tyler Emerson-Dorsch is particularly interested in the role of exhibitions in shaping the reception of art, and so the gallery invites a guest curator to curate each edition of the Fountainhead Biennial. The first edition in 2021 was curated by Terri C. Smith.
López-Chahoud selected a group of 20 artists from 12 countries, making the FOUNTAINHEAD BIENNIAL II one that appreciates the global reach of the Fountainhead Residency.
ABOUT THE CURATOR:
Omar López-Chahoud has been UNTITLED's Artistic Director and Curator since its founding in 2012. As an independent curator, López-Chahoud has curated and co-curated numerous exhibitions in the United States and internationally. Most recently, he became the International Director of Y. ES Contemporary. López-Chahoud has participated in curatorial panel discussions at Artists' Space, Art in General, MoMA PS1, and the Whitney Museum of American Art in New York City. López-Chahoud earned MFAs from Yale University School of Art and the Royal Academy of Art in London.
ABOUT THE FOUNTAINHEAD RESIDENCY:
Fountainhead Residency was founded in 2008 by passionate art collectors Kathryn and Dan Mikesell to positively impact the lives and careers of artists and nurture and grow their local Miami arts ecosystem. Establishing a residency program for visiting national and international artists, Fountainhead has served over 500 artists from 49 different countries and myriad national and international cities. Each year, 33 selected artists are invited to live and work in a 1950s Miami Morningside home. They are personally introduced to nationally recognized curators, collectors, and gallerists for one-on-one studio visits, offering a one-of-kind opportunity for mentorship, insight, and perspective on their work. At the end of each month, Fountainhead welcomes the public into the residency to meet the artists, view their work, and learn what inspires them.
A true catalyst of Miami's rapid evolution into a globally recognized art city, Fountainhead has exposed Miamians to some of the most promising artistic talent in the world, establishing relationships between artists, institutions and audiences that shape perspectives and positively impact the local landscape. Believing that connecting people intimately with artists impacts how we move through this world, treat one another and confront today's most critical issues, Fountainhead's mission is to elevate the voices, visibility and value of artists in our society and make their work accessible in a welcoming and inclusive environment.
ANDRÉS AIZICOVICH
Born 1985, lives and works in Buenos Aires, Argentina.
He got his degree as Bachelor in Visual Arts by the UNA (Universidad Nacional de las Artes, BuenosAires) and studied at the graduate program for artists in Torcuato DiTella University in 2012. Did several collective and personal exhibitions on galleries and museums such as Montagehalle HBK (Braunschweig, Germany, 2023), Kunstverein Leipzig (Germany, 2021), Alberto Sendrós Gallery (Buenos Aires, Argentina,2021), Palais de Tokyo (Paris, France, 2018), Galerie Papillon (Paris, France, 2018), Museum Muntref (Buenos Aires, Argentina, 2017), Museum of Modern Art (Cuenca, Ecuator, 2015), Recoleta Cultural Center (Buenos Aires, Argentina, 2016), Nora Fisch Gallery (Buenos Aires, Argentina, 2015) SESC Sorocaba, (São Paulo, Brazil, 2014), among others.
In 2017 received the Prix Braque awarded by the French Institute.
He's been artist in residency in the Cité internationale des arts in Paris, France, ARTOMI in New York, U.S and in Parc Saint Leger centre d ́art contemporain, Pougues-les-Eaux, France, among others. In 2019 he held his first solo exhibition at a museum; Contacto, in the Museum of Modern Art of Buenos Aires. In 2022 he was selected for a one year scholarship and residency at the Hochschule für Bildende Künste – Braunschweig Projects, Germany. In 2023 took part as Artist in residence at Fountainheads, Miami, US.
He has written numerous essays and critical texts on artists for exhibition catalogues as Vitamin T -Threads and Textiles in Contemporary Art (Phaidon Publisher) as for journals, cultural supplements and art magazines. As of 2013 he is the founder and co-editor of the arts magazine El Flasherito, along with Liv Schulman, and Leopoldo Estol.
RODRIGUE MOUCHEZ ARMENDARIZ
Rodrigue Mouchez Armendariz (born 1987 in France) grew up between the western suburbs of Paris, his mother's Mexico, Los Angeles and Hugo Chavez's Venezuela. He studied Visual Arts in Lyon (MBA, ENSBA Lyon, 2012), choreography in Montpellier (Exerce, CCN Montpellier, 2011) and began his artistic career between Brussels and Mexico City before settling in Barcelona, where he has lived and worked since 2019.
Rodrigue Mouchez Armendariz had solo exhibitions at Konvent (Barcelona, SP), Guadalajara90210 (Guadalajara, MX), FASE (Barcelona, SP) and at the French Institute in El Jadida (El Jadida, MA). In the last few years, he exhibited at Massapê Projetos (Sao Paulo, BR), participated in the Special Projects Program of Untitled, Miami Beach (Miami, US) and participated in several group exhibitions at Galeria Mercado Negro (Puebla, MX), Galeria Canopy (Brussels, BE), 68projects-Gallery Kornfled (Berlin, DE), Z33 Art Center (Hasselt, BE), Le Magasin (Grenoble, FR) or the 5th Marrakech Biennial (Marrakech, MA). In 2018, he founded the curatorial platform AGUAS (Mexico/Barcelona, SP) which aims to facilitate a meaningful dialogue between artists from Europe and Latin America through exhibitions, talks and publications.
PATRICIA AYRES
Patricia Ayres (b. 1975, New York) lives and works in New York.
She received her MFA from Hunter College in 2018, BFA from Brooklyn College in 2015, and an A.A.S degree in Fashion Design from the Fashion Institute of Technology in 1995. In 2019, she attended the Skowhegan School of Painting and Sculpture. Recent solo exhibitions include Critical Mass, Mendes Wood DM, New York (2023); The Rubell Museum, Miami (2022); and Bound, Matthew Brown, Los Angeles (2021).
Select group exhibitions include Full and Pure: Body, Materiality, Gender, Green Family Art Foundation, Dallas (2023); Esfíngico Frontal, Mendes Wood DM, São Paolo (2023); Together, At The Same Time, de la Cruz Collection, Miami (2022); Matter & Form, The Bunker Artspace, West Palm Beach, FL (2022); Some Kind of Monster Roster, Analog Diary, Beacon, NY (2022); This Basic Asymmetry, Museum of Contemporary Art Santa Barbara, CA (2022); Recent Sculpture, Matthew Brown Gallery, Los Angeles (2022); Reflections Part 3: Sculpture by Women Artists, Workplace, London (2022) It Seems So Long Ago, Matthew Brown, Los Angeles (2020); Entering A Song, Koenig and Clinton Gallery, New York (2019).
Ayres is currently an Artist-in-Residence at UrbanGlass Fellowship, Brooklyn (2023) and Dieu Donné Workspace Program, Brooklyn (2022). Past residencies include Shandaken: Storm King Sculpture Park, New Windsor, NY (2022); Fountainhead, Miami (2022); Monira Foundation, Jersey City (2021); Lower Manhattan Cultural Center, Su-Casa, New York (2020); Sharpe-Walentas Studio Program, Brooklyn (2019); and The Studios at MASS MoCA, North Adams, MA (2019). In 2020, she was a recipient of the NYSCA/NYFA Artist Fellowship in Sculpture/Craft.
MERAV KAMEL & HALIL BALABIN
Merav Kamel (born in 1988, Israel) and Halil Balabin (born in 1987, Israel) live and work in Tel Aviv. They received their BFA from Bezalel Academy of Art and Design in Jerusalem (Kamel in 2012, Balabin in 2014).
They have been working together since 2012. Their interdisciplinary work shifts among different techniques and practices, from hand-sewing hybrid figures, to drawing, painting, sculpture and site-specific installations. Their research investigates human society and modern culture through a provocative yet ironic practice – at times surrealistic and folkloristic, but also critical and serious – that focuses on gender issues, sexuality, power and control, and represents fears, weaknesses and desires of our contemporaneity.
Their work has been exhibited in numerous solo and group exhibitions, including: Buchum Museum, Germany; Israel Museum, Jerusalem; Tel Aviv Museum; Bat Yam Museum; Herzliya Museum; Brno house of art, Czech; Pram Gallery, Prague; PM gallery, Dusseldorf; Circle 1 Gallery, Berlin; Untitled art fair, Miami; Artport, Tel Aviv; Dada Museum, Ein Hod; Ha'Kibbutz Gallery, Tel Aviv; Givon Gallery, Tel Aviv; Basis Gallery, Herzliya; Inga Gallery, Tel aviv; among many other venues.
Their work is included in many public and private collections such as the Tel Aviv Museum of Art; the Israel Museum, Jerusalem; Philara collection; Carry and Dan Bronner collection; Discount Bank collection; Roni and Allen Baharaff collection; Shoken collection; Ann and Ari Rosenblatt collection; Dubi Shiff collection and other private ones.
Both were awarded from Beatrice S. Kolliner Award for a Young Israeli Artist, Israel Museum, Israel Ministry of Culture, Young Artist Award (Kamel in 2018, Balabin on 2016); Artis Grant for Exceptional Work in Uncertain Times; "Elhanani" Prize from Bezalel Academy of Art; America-Israel cultural Foundation award for extraordinary artistic achievement.
MINIA BIABIANY
Minia Biabiany's practice is concerned with the past and ongoing effects of colonialism, exploring the poetics of resistance embedded in everyday life practices, and translating this research into the exhibition space through careful consideration of the cultural and spiritual implications of the material she uses, and the techniques she employs. She is interested in the specificities of the Caribbean and the complex cultural interactions that circulate in and around it. More recently, her work also approaches healing and sexuality and their potential for liberation in a feminist sense.
In 2016, she initiated the pedagogical and artistic project Semillero Caribe [Caribbean Seedbed]: an experimental seminar based on exercises with the body and drawing engaging with concepts of Caribbean thinkers.
MIGUEL BRACELI
Miguel Braceli is an artist, architect, educator. His practice is focused on participatory art projects in public space; working at the intersection of art, architecture, and social practices; exploring geopolitical and local conflicts. Most of these projects have been large-scale works developed in Latin America, Europe, and the United States; exhibited in galleries and institutions through photography, sculpture and film. He has led educational projects with institutions such as Documenta Fifteen, The Bronx Museum of Arts, Matadero Madrid, among others. His most recent participations and recognitions include Skowhegan School of Painting (2022), Art Omi (2021), AIM Bronx Museum Fellow (2022), Fulbright Scholar (2020-2019), and Young Artist Award of the Principality of Asturias (2018). In 2021 He founded LA ESCUELA___ together with Siemens Stiftung International. In 2022 he received a commision by the Percent for Art program for a permanent public artwork in New York City, where he is currently living and working.
HÉCTOR JIMÉNEZ CASTILLO
Lives and works in Guadalajara, Jalisco, MX. Jiménez Castillo's practice is influenced by intuition, chance and the use of his own biography. His work frequently depicts human vulnerability and examines identity and intimacy. Castillo investigates the production of images that are inspired by our unconscious and explores them in different media including choreography, text, drawing, costume design and sculpture. His work process can be described as methodically organizing an unveiling of his own reality and that of others while playing with notions of chance. He is a co-founder and active member of the Arrogante albino artist lab, Arrogante's work could be considered a collage of media that has the body as its research center. Castillo also had collaborated and performed with other artists in specific projects: Claudia Cisneros (MX), La Compañía Opcional (MX-SP), Alejandro Mendicuti (SP), Tamara Cubas (UY), Lara Brown (SP), Micheangelo Miccolis (MX), Teatro Ojo (MX), Heesoo Agnes Kim (KR).
ADAMA DELPHINE FAWUNDU
Adama Delphine Fawundu is a photographer and visual artist of Mende, Bubi and Krim descent born in Brooklyn, NY. Fawundu co-published the critically acclaimed book, MFON: Women Photographers of the African Diaspora. For decades, she has exhibited both nationally and internationally and is a 2022 Outwin Boochever Portrait Competition finalist. Her awards include, New York Foundation for The Arts Photography Fellowship (2016) and the Rema Hort Mann Artist Grant (2018) amongst others. She was commissioned by the Park Avenue Armory to participate in the 100 Years|100 Women Project/The Women's Suffrage NYC Centennial Consortium (2019-2021). Her works are in the permanent collections of the Brooklyn Museum of Art, Brooklyn, NY; Princeton University Museum, Princeton, NJ; Bryn Mawr College, Bryn Mawr, PA; The Petrucci Family Foundation of African American Art, Asbury, NJ; The Brooklyn Historical Society, Brooklyn, NY; Norton Museum of Art, Palm Springs, FL; The David C. Driskell Art Collection, College Park, MD; and number of private collections. She is an Assistant Professor of Visual Arts at Columbia University.
CATHY HSIAO
Cathy Hsiao is a multi-disciplinary artist born in New York City and growing up between the US, Taiwan and Hong Kong. She was raised by a Falun Dafa mother who taught her much of the indigo plant traditions she uses in her work. She holds an MFA from the School of the Art Institute of Chicago and a BA from the University of California, Berkeley. She is a 2014-2017 New Artist Society Merit Fellow at the SAIC, a 2018-19 BOLT resident at the Chicago Artists Coalition, a 2019 Newcity Magazine Breakout Artist, a 2020 Graham Foundation Artist Grantee, and a 2022 Fountainhead Artist-in-Residence in Climate and Environmental Sustainability.
KARLO ANDREI IBARRA
Painter, creator of installations and video artist. He earned a Bachelor's Degree at Escuela de Artes Plásticas in San Juan in 2005. He obtained First Prize at the sixth edition of the Video Creation and Digital Art Competition in Central America and the Caribbean and in the People's Choice Award at the Optic Nerve Video Festival e Miami. He has participated in the Biennial of Bucharest (2008), the San Juan Poly-Graphic Triennial of San Juan, Latin America and the Caribbean (2009 and 2012), and in the Moscow International Biennial of Young Art (2010), XIII Havana Biennial (2019). In 2021, Ibarra received The Fountainhead Residency in Miami. His works are part of institutional collections in Costa Rica, United States, Puerto Rico and Argentina. His works display a political and social discourse reinforced by references and allusions to literature. He combines these topics to study situations such as globalization, migration and identity.
MANOELA MEDEIROS
In her practice, Manoela Medeiros (b. 1991, Rio de Janeiro, Brazil) articulates an approach to painting that transcends the specificities of the medium, making use of sculpture, performance, and installation work. Pursuing a hybrid framework for the pictorial, Medeiros questions artistic media by going beyond their conventional formats, producing paintings and in situ installations that explore the relationships between space, time, and the corporeality of art and of the viewer.
The artist frequently performs direct interventions into exhibition spaces, creating works that emerge from the singularities of the space around her, whether they be material, structural, or in relation to natural and artificial light. With this, her practice attributes a sense of organicity to space, turning architecture into its own body, one that is specific to the experience of art.
Through a seemingly archeological process, Medeiros engages with the notion of ruins as a spatial indication for passing time, undertaking a process that reveals what is often left to underlie. The artist scrapes surfaces – such as the exhibition space's walls-, unveiling the layers of colors and materials employed, covered, and thus, forgotten over time. Medeiros seeks to reinvigorate our temporal experience by exhibiting layers -each of which carries the memory of the time when it was created-, and by allowing them to coexist and intertwine. Thus, the artist operates within a liminal space between construction and destruction, foregrounding how they may complement, rather than detract from each other.
Manoela Medeiros lives and works in Rio de Janeiro, Brazil. Medeiros studied at the École Des Beaux-Arts, in Paris, and at the Escola de Artes Visuais do Parque Lage, in Rio de Janeiro. Solo exhibitions include: O carnaval da substância, at Nara Roesler (2022), in São Paulo, Brazil; Concerto a céu aberto, at Kubik Gallery (2020), in Porto, Portugal; L'être dissout dans le monde, at Galerie Chloé Salgado (2019), in Paris, France; Poeira varrida, at Galeria Fortes D'Aloia & Gabriel (2017), in São Paulo, Brazil; and Falling Walls, at Double V Gallery (2017), in Marseille, France. Group exhibitions include: Arqueologias no presente, at Nara Roesler (2021), in São Paulo, Brazil; Recyclage / Surcyclage, at Fondation Villa Datris (2020), in L'Isle-sur-la-Sorgue, France; Reservoir, at 019 (2020), in Ghent, Belgium; Vivemos na melhor cidade da América do Sul, at Fundação Iberê Camargo (FIC) (2018), in Porto Alegre, Brazil; Espaces témoins, at Praz Delavallade (2018), in Paris, France; 67ème Prix Jeune Création, at Galerie Thaddaeus Ropac (2017), in Paris, France; 62ème Salon Montrouge (2017), in Paris, France; In Between, at Galeria Bergamin & Gomide (2016), in São Paulo, Brazil; 11º Abre Alas, at Gentil Carioca, (2015), in Rio de Janeiro, Brazil; among others.
IRINI MIGA
Irini Miga (b. 1981 Larissa, Greece, lives and works in Athens and New York) studied Visual Arts at Central Saint Martins College in London, obtained a BA from the Athens School of Fine Arts and an MFA in Visual Arts from Columbia University, New York.
Her recent solo exhibitions include: An Interval at Flyweight Projects, New York; Away is Another Way of Saying Here, at Essex Flowers Gallery, New York; and Reflections, at the Atlanta Contemporary Museum. Her work has been featured in group exhibitions such as We tell ourselves stories in order to live at Callirrhoë, Athens; Going Viral, at Steinzeit Gallery, Berlin, Mr. Robinson Crusoe Stayed Home, at the Benaki Museum in Athens; Spring Works, Summer Shows, at Haus N Athen in Athens; Room for Failure, at Piero Atchugarry Gallery in Miami; Tomorrow's Dream, at Neuer Essener Kunstverein in Essen, Germany; When You Were Bloom, Thierry Goldberg Gallery in New York; Scraggly Beard Grandpa, at Capsule Shanghai gallery, China; Marginalia, at The Drawing Center in New York; The Equilibrists, organized by the New Museum in New York, the DESTE Foundation and presented at the Benaki Museum in Athens.
Irini Miga has been honored with awards and fellowships from organizations and foundations such as the Fulbright Foundation, the Stavros Niarchos Foundation, the Greek State Scholarships Foundation (IKY), and Columbia University in New York. She was nominated for the DESTE Foundation Prize and for the HYAM- Young Mediterranean Artistic Scene Prize (Paris) among others.
Miga has participated in highly competitive and internationally acclaimed residencies such as: The Skowhegan School of Painting and Sculpture; The Fountainhead Residency in Miami; The Workspace Program at the Lower Manhattan Cultural Council (LMCC), New York; The Open Sessions Program at The Drawing Center, New York; The Bemis Center for Contemporary Arts; and The Watermill Center among others.
Her work belongs in collections such as the European Central Bank Collection in Frankfurt, the Dakis Ioannou Collection / DESTE Foundation for Contemporary Art, Athens and other international private collections.
Recent press mentions include Artforum, Flash Art, Ocula, Time Out New York, Kathimerini, The Art Newspaper Greece, LIFO, VIMA, The Huffington Post and more.
TERRENCE MUSEKIWA
Terrence Musekiwa emerges from a Shona lineage steeped in the tradition of stone sculpture, an ancestral knowledge passed down through generations. This heritage finds its origin in the artistic legacy of his father, Kennedy Musekiwa, a testament to Zimbabwe's rich artistic tapestry spanning several centuries. Drawing upon deeply personal found objects, Musekiwa's creations serve as a direct continuum of the oral histories that have endured and adapted through centuries of turmoil. Informed by syncretism, a strategy of preservation and survival found within oral traditions, Musekiwa's work serves as a manifestation of this codification. He deftly merges and actualizes contemporary methodologies, philosophies, and materials, intertwining them with the profound wisdom accrued over generations past. In doing so, Musekiwa breathes life into his art, infusing it with an indomitable spirit and a profound resonance that echoes through the corridors of time.
MANO PENALVA
Mano Penalva's production comes from the displacement of everyday objects, reflecting the artist's interest in Anthropology and Material Culture. Through mediums such as sculpture, installation, painting, photography and video, Penalva proposes new aesthetic arrangements based on retail sales strategies, his own experience of collecting stories and the observation of the field between the Home and the Street. With his artwork, Penalva emphasizes the idea that the exponential proliferation of objects and images is not intended to train our perception or consciousness, but rather invites us to merge with them.
Penalva holds a Bachelor's Degree in Social Communication from the Pontifical Catholic University of Rio de Janeiro (2008). He attended art courses at Parque Lage for 7 years (2005-2011). He founded the artist-run space and studio, Massapê Projects, that focuses on critical art thinking and production.
In recent years he has participated in several artistic residencies such as Casa Wabi – Puerto Escondido (Mexico) 2021, Fountainhead Residency – Miami (USA) 2020, LE26by/ Felix Frachon Gallery – Brussels (Belgium) 2019, AnnexB – New York (USA) 2018, Penthouse Art Residence – Brussels (Belgium) 2018, RAT – Artistic Residence for Exchange – Mexico City (Mexico) 2017, Pop Center – Camelódromo Porto Alegre (Brazil) 2017.
UMAR RASHID
Umar Rashid (b. 1976, Chicago, IL) makes paintings, drawings, and sculptures that chronicle the grand historical fiction of the Frenglish Empire (1648–1880) that he has been developing for over seventeen years. Each work represents a frozen moment from this parallel world that often recalls our own fraught histories—both canonized and marginalized—with familiar signifiers and iconographies that channel the visual lexicons of hip hop, ancient and modern pop culture, gang and prison life, and revolutionary movements throughout time. This alternative history and its many subplots are told with elaborate visual and literary detail—with painterly tableaus depicting large networks of protagonists that relate to one another across bodies of work, and with lyrical and humorous artwork titles often a paragraph in length. Each exhibition is produced in response to the geographical locale of the host site; each time Rashid building upon his encyclopedic knowledge of global colonial history and conjuring new fabulations that underline the roles of race, gender, class, and power in the tales of what was, what was recorded, what was negated, and what could have been.
Umar Rashid lives and works in Los Angeles, CA. He received his BA in cinema and photography from Southern Illinois University, Carbondale, IL. His work was featured at The Huntington and the Hammer Museum as part of the biennial Made in LA 2020: a version. Recent institutional solo exhibitions include Ancien Regime Change 4, 5, and 6, MoMA PS1, Queens, NY (2022); What is the color when black is burned? (The Gold War Part 1), University of Arizona Museum of Art, Tucson, AZ (2018); and The Belhaven Republic (A Delta Blues), University of Memphis Galleries A and B, Memphis, TN (2017). Rashid's work is represented in the public collections of the Brooklyn Museum, Brooklyn, NY; Hudson River Museum, Yonkers, NY; Jorge Pérez Collection, Miami, FL; Mount Holyoke Art Museum, South Hadley, MA; Nevada Museum of Art, Reno, NV; Ruth and Elmer Wellin Museum of Art at Hamilton College, Clinton, NY; Santa Barbara Museum of Art, Santa Barbara, CA; Wadsworth Atheneum Museum of Art, Hartford, CT; and the Zeitz Museum of Contemporary Art Africa, Cape Town, South Africa, among others.
CRACK RODRIGUEZ
Crack Rodriguez is an artist and activist, and lives and works in La Libertad, El Salvador. He's a member of The Fire Theory, an art collective based out of El Salvador. Rodriguez is also a member of the artistic movement "Los Siempre Sospechosos de Todo" (Those Always Suspicious of Everything). His practice and actions are intrinsically related to social, political, and popular culture, from which ties to the public – who react and or participate in his practice – are built. Rodriguez resignifies his public, not as passive spectators but as accomplices of the action's memory, to catalyze the rituals of the social context in order to question and demystify symbols and narratives belonging to abuses of power that seek to impose their acute vision of truth as the official one.
Rodriguez was a beneficiary and participant of the Landings project by curator Joan Duran Mérida, in Yucatán / Belize, which was an important influence on Rodriguez's practice.
His work was presented at CreativeTime Summit 2017 "Patria y Revolución", coordinated by Creative Time and The PowerPlant Art Gallery in Toronto to speak on his approach & practice: "Ignorance as Revolution and Fear as Homeland". He completed his OPEN SOURCE RESIDENCE ART with The Fire Theory in September 2017 in Brooklyn, New York on situations related to migrations. Rodriguez has been nominated as a 2014 MISOL Emerging Artist Grant from the MISOL Foundation in Bogotá, Colombia. He was a member of the Zummer Paul Klee Academy in 2015, curated by Hassan Khan Berne, Switzerland. Rodriguez was selected for the artistic residence DESPINA 2016 "Art and activism in Latin America" in Rio de Janeiro, Brazil from September-October 2016.
MÁRET ÁNNE SARA
Máret Ánne Sara (b.1983) is an artist and author. She is from a reindeer herding family in Kautokeino and currently works in her hometown. Máret Ánne is the initiator of Dáiddadállu Artist Collective. She has published two novels and was nominated for the Nordic Council's Children's and Young Literature Prize in 2014 for her debut book "Ilmmid gaskkas" (published in Norwegian in 2014 and in English in 2016). The follow-up "Doaresbealde doali" was published in 2014. Sara is currently working on the contemporary art project Pile o'Sápmi, which was presented at Documenta 14 in Kassel in 2017.
Máret Ánne has exhibited visual art since 2003 and often deals with political and social issues, from a Sami and reindeer-social perspective. Sara has designed posters, CD / LP covers, scene visuals and fabric prints for a number of Sami artists, designers and institutions. She is said to have a distinctive style and a recognizable visual expression.
JOAQUIN SEGURA
Joaquín Segura has built his artistic imaginary through a symbolic dismantling of great notions such as history, truth, and power in the context of diverse ideological systems from the 20th and 21st Centuries. He lives and works in Mexico City.
Segura channels his obsessions through propaganda objects, memorabilia and the iconographic legacy of the radical as a starting point for the development of new lectures on the contradictions that exist in geopolitical structures in the contemporary world.
‍His action, installation, intervention and photographic work has been shown in solo and group exhibitions in Mexico, USA, Europe and Asia.
Some spaces that have featured his work include Museo de la Ciudad de Querétaro, Sala de Arte Público Siqueiros, Museo de Arte Carrillo Gil, La Panaderia and Museo Tamayo Arte Contemporáneo in Mexico City, along with El Museo del Barrio, Anthology Film Archives, White Box and apexart (New York, NY), LA><ART, MoLAA (Los Angeles, CA) Museo Nacional Centro de Arte Reina Sofia (Madrid, Spain), National Center for Contemporary Art (Moscow, Russia), the Modern Art Museum of Fort Worth, TX, the Museum of Contemporary Art of Denver, CO and the National Gallery of Victoria (Melbourne, Australia). In recent years it has been included in public collections such as Colección Fundación M, KADIST, Museo de Arte Moderno of Mexico Collection, and Phillips/Yuyito.
His work has been widely reviewed & featured in local and international art publications & major newspapers such as Artforum, Flash Art, Adbusters, Art Papers, Código, Art Nexus, Discipline, Celeste & The Washington Post, among many others.
In 2008/09, Segura was an artist- in-residence at the International Studio & Curatorial Program, New York, NY and at the 18th Street Arts Center, Santa Monica, CA. Between 2012 and 2021, he undertook artistic residencies and research stays at Bemis Center for Contemporary Arts (Omaha, USA), Hangar –Centre de Producció i Recerca d'Arts Visuals (Barcelona, Spain), MeetFactory – International Center of Contemporary Art (Prague, Czech Republic), Impakt Foundation (Utrecht, Netherlands), Casa Wabi (Oaxaca, Mexico) and Seoul Art Space_Geumcheon (Seoul, South Korea).
In 2018, he's appointed as a fellow to the National System of Artistic Creators / FONCA (Mexico). He's a founding member and board advisor of SOMA, Mexico City.
ANDREY GÛAÎANÃ ZIGNNATTO
Artist and activist, Andrey Guaianá Zignnatto is a brazilian indigenous from two native nations, Dofurêm Guaianá and Guarani M'bya. He worked as a bricklayer with his grandfather between 10 and14 years old. These affective and ancestral memories are the foundation for the conceptual development and the methods used in his artistic production.
He has shown artworks in more than 50 solo and collective exhibitions in galleries and museums in Brazil, USA, Colômbia, UK, Italy, Spain, France, Peru and the United Arab Emirates. The most important: 'Territórios Forjados' Paço das Artes SP [2015]; 'Arte e Patrimônio' Paço Imperial RJ [2015]; 'Estudos Para Novas Propostas de Interpretação do Espaço Físico' Fundação Nacional das Artes SP [2015], 'Territórios Forjados' Sharjah Art Museum [2016]; 'Embyra' Museu Afro Brasil [2021]; 'Co Yby Ore Retama' Museu da Cidade de São Paulo [2021]. His works are in some important collections, Museu de Arte do Rio MAR [Brazil], Perez Art Museum [Miami, USA], Capriles Brillembourg collection [Miami, USA – Madrid, Spain]; Bunker artspace [Miami, USA], Museu Nacional de Belas Artes [Rio de Janeiro, Brazil], and others.
Since 2002 he has been developing artistic workshops to humanitarian projects to people who live in extreme vulnerable social situation: civil war at Síria and Lebanon, orphan children in Brazil and Angola, Seniors Reference Center, Social Support Reference Center, psychosocial support centers adult and child, prostitutes and ex-prostitutes, prisoners in Brazil.
Learn more about this exhibition and the artists.