Elisabeth Condon: New Works
Reception: Tuesday June 22, 2021: 6 - 9PM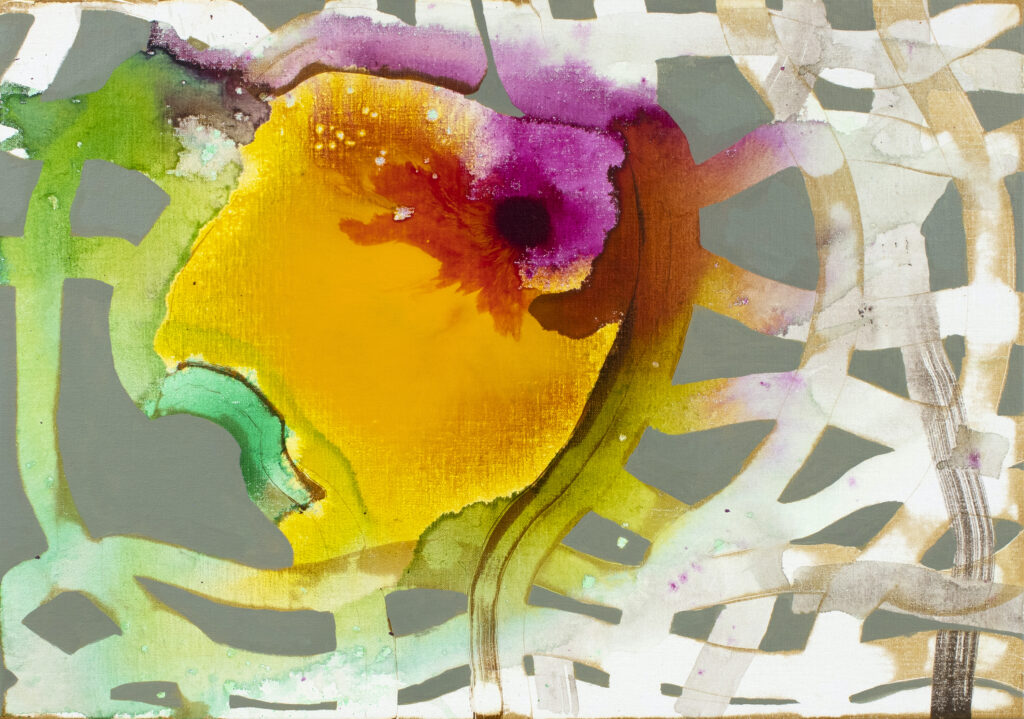 ...the lattice motif has grown organic, like a vine or a fungal net that is arising from decay to live again.
These are a selected group of works and installation photographs from the exhibition. For a complete list of available works please contact us.
Elisabeth Condon: New Works
A mid-career painter, Elisabeth Condon makes paintings that nearly always begin with poured paint and grow to reflect the legacy of abstract expressionists, 5th century Chinese landscapes, North American interior décor patterns, and her personal history in landscapes and décor. Her recent paintings grow from her latest obsession with the lattice pattern that permeated wallpapers and textiles in her mother's house. Her lattice paintings play out a reckoning with the legacy of American middle class taste on her own artistic maturation. The fight can turn awkward and sometimes ugly, as she grapples with the restrictions of that very particular grid. In the newest paintings, the lattice motif has grown organic, like a vine or a fungal net that is arising from decay to live again. After a year of being homebound, the notion that the patterns on the walls would come alive to smother the house's inhabitants does not seem far-fetched.
Elisabeth Condon (Born 1959 Los Angeles, CA) is a North American artist, born in Los Angeles and based in New York, NY and Tampa, FL. She works primarily as a painter, invoking synthetic landscapes from a feminist perspective. Condon's process layers initial pours of acrylic color and ink, adding vintage wallpaper and textile patterns, or brush painting techniques inspired by the imaginary travel in scrolls.
The recipient of a 2018 Joan Mitchell Foundation Artist & Sculptors Grant, Condon has been awarded the 2015 New York PULSE Prize, the 2015 New York Studio School Alumni Association Mercedes Matter Award, a 2008 Pollock Krasner Foundation Grant a 2008 Florida Individual Fellowship, and fifteen research grants from the University of South Florida, where she held tenure for eleven years. Condon is a 2019 MacDowell Fellow. Her previous residencies and fellowships include the Montello, UCross, and Morris Graves Foundations, Carrizozo Colony, Wave Hill Winter Workspace Program, Swatch Art Peace Hotel Shanghai, Fountainhead, The Yaddo Corporation, and National Parks Residencies at Grand Canyon and AIRIE in the Florida Everglades. Condon's work is held in the collections of Perez Art Museum Miami, Tampa Museum of Art, United States Embassy Beijing, and JP Morgan Chase, and has been featured in numerous online and print publications including Hyperallergic, artcritical, Artnews, Arts + Antiques, The New York Times, New York Observer, and the Miami Herald. Elisabeth Condon's work is represented by Emerson Dorsch.
Learn more about this artist.
For a complete list of related materials please contact us.