Clifton Childree: Storm Inn
September 30th - November 7th, 2020
Reception: By appointment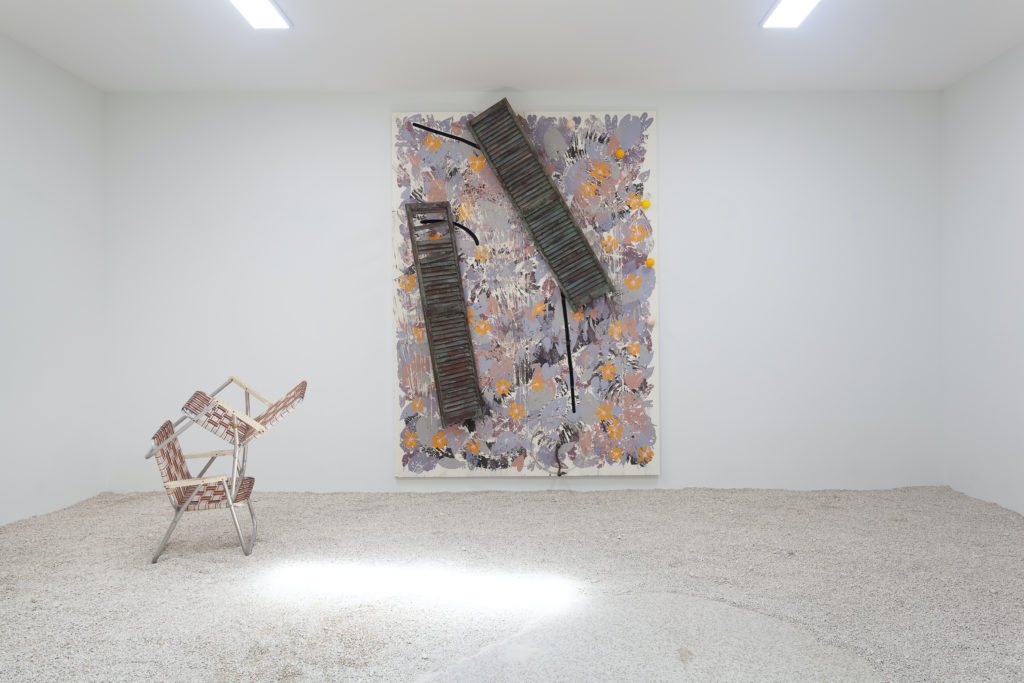 Clifton Childree has an affection for simple mechanics out of a deep love of the arcade midway.
These are a selected group of works and installation photographs from the exhibition. For a complete list of available works please contact us.
Clifton Childree: Storm Inn
Emerson Dorsch Gallery is pleased to present Storm Inn, a solo exhibition of Clifton Childree's new paintings. An award-winning experimental film, performance, and installation artist, Childree began making paintings as backdrops for his films and mixed media installations, but, at the outset, they were props, not the focus. After more than a decade of working in Miami's art scene, he's honed a painting style that holds his past while opening into a more meditative moment. The exhibition will open on September 30, 2020, and will be on view through November 7th, 2020.
The largest paintings in the show have the scale of homemade and hand-painted highway billboards, with weathered surfaces and overgrowth to match. No ordinary advertisements, they once may have promoted a glue that could bolster your storm shutters. Even the promotion was ingenious because the sign itself was a game. Drivers could get out of their cars, their kids could turn the crank, and the shutters would swing about wildly, as if in a gale-force wind.  There are traces of this history in the paintings, but now only the grooves remain, and some lights, some scuffs, the colors, and the crank.
The palette recalls 20th century signage along Southeastern highways, though now rather than conveying language or pictures of wares, the colors depict a barely legible tangle of plants, in various stages of their life cycle. Childree's paint contains marble dust to achieve a matte chalky texture, one that mimics the look of old billboards. He painted plants growing in his backyard studio – the greens of palms, Florida grasses, poinciana trees, and the orange-red of their flowers. Four of the paintings are inspired by the early color film still life photos. In bringing together the old palette of billboards with the colors of his garden, Childree correlates the influence of place on sign makers of Florida's past as much as on himself.
If there is a nod to the professionally designed signs in these paintings, it lies in the cut-out lines which, to Childree, represent the grooves in a pinball machine. The forms of midcentury roadside signs have a similarly distinct swooping quality. The lines also evoke dance movement notation – he has poured over the life and works of Merce Cunningham and practices a form of Japanese Butoh by performing movements every day in his backyard from a book. He writes, "The placement of the shutters and their presumed movement (since they were long ago signs with moving elements) on the large billboard paintings is inspired by classic Cunningham and Butoh dance moves." One of the paintings notes how two dancers might fall away from each other.
Childree, a filmmaker and performance artist first, eschewed film school and used the money instead to make his first film. An omnivorous storyteller, he draws on his past – he often tells stories about spending summers as a child at his grandparents' place in Mobile Bay, Alabama, where he, his cousins, and extended family would play music and put on vaudeville-like shows from the porch. His grandma Doris was a vaudeville dancer when she was a girl, and his grandpa J.F. Wall, aka Jeff, had been a Chief Petty Officer in the Navy for 20 years and served in Corp of Engineers for another 20. He served to avoid juvenile detention, and later in life, he still had a temper. But he also made his own surfboard and surfed off Dolphin Island. Those summers by the bay were a vivid experience of place, time, class, and culture that is now mostly gone, and it had an indelible and lasting effect on Childree's artmaking, in visual aesthetics, performance, and music. His appreciation for silent films and slapstick comedy, the washtub bass, abject and grotesque humor, scrappy do-it-yourself mechanics, antiques, and even Japanese Butoh all line up with this perspective, one that is best told by an artist with an honest connection to it, one who recognizes the cultural power and relevance of it to an art world that often finds itself detached from the ways of working-class rural folk.
Clifton Childree and Emerson Dorsch Gallery would like to recognize and thank a number of people and institutions who have been particularly supportive.  Doug Weber, Emilia Morrow, Thom Wheeler, and Monica Lopez de Victoria assisted Childree during long painting sessions in his backyard, and Francesco Casale, as ever, memorializes artworks, studio milieu, and people with his photography.
Storm Inn by Clifton Childree is funded by The Ellies, Miami's visual arts awards, presented by Oolite Arts. Through a competitive application process and monetary awards, The Ellies celebrate individual artists who are the backbone of Miami's visual arts community.
Clifton Childree (born 1971 Birmingham, AL. Lives and works Miami, FL) is a filmmaker and artist who has shown at Perez Art Museum Miami, Museum of Contemporary Art North Miami, Oolite Arts, Bas Fisher International (BFI), Pulse Art Fair, Florida Atlantic University (FAU), Frost Museum of Art at Florida International University, Miami International Film Festival, Vizcaya Museum and Gardens, Florida Dance Festival, Locust Projects, Hallwalls, NY, and internationally in Vienna at Hilger Brot Kunsthalle and a solo exhibition at Kunsthalle Wien in addition to over 40 domestic and international film festivals. He received an Ellie Award from Oolite Arts, The Hilger Award for Locust Projects, the South Florida Cultural Consortium Fellowship, the Legal Art Native Seeds Grant, and the Florida Individual Artist Fellowship. His large-scale installations have been commissioned by the Pulse Art Fair NYC, Locust Projects Miami, the Miami Performing Arts Center/Miami Light Project, Hilger Contemporary Gallery, and Kunsthalle Wien. Childree collaborated with Pablo Cano on nine animated films intended for permanent display at the Young at Arts Museum in Davie, FL. Childree is a featured artist in the book Miami Contemporary Artists. His show Fuck That Chicken from Popeyes for the Wien Museum Project Space in 2011 was accompanied by an eponymous well-illustrated catalog, featuring essays by Synne Genzmer and Gerald Matt. His work has been published and discussed in The New York Times, Art in America, Artforum.com, Huffington Post, Miami New Times, and The Biscayne Times. Storm Inn is Childree's second solo show with Emerson Dorsch Gallery.

Learn more about this artist.
For a complete list of related materials please contact us.