Catherine Czacki and April Street
October 16 – November 16, 2013
Reception: October 16, 2013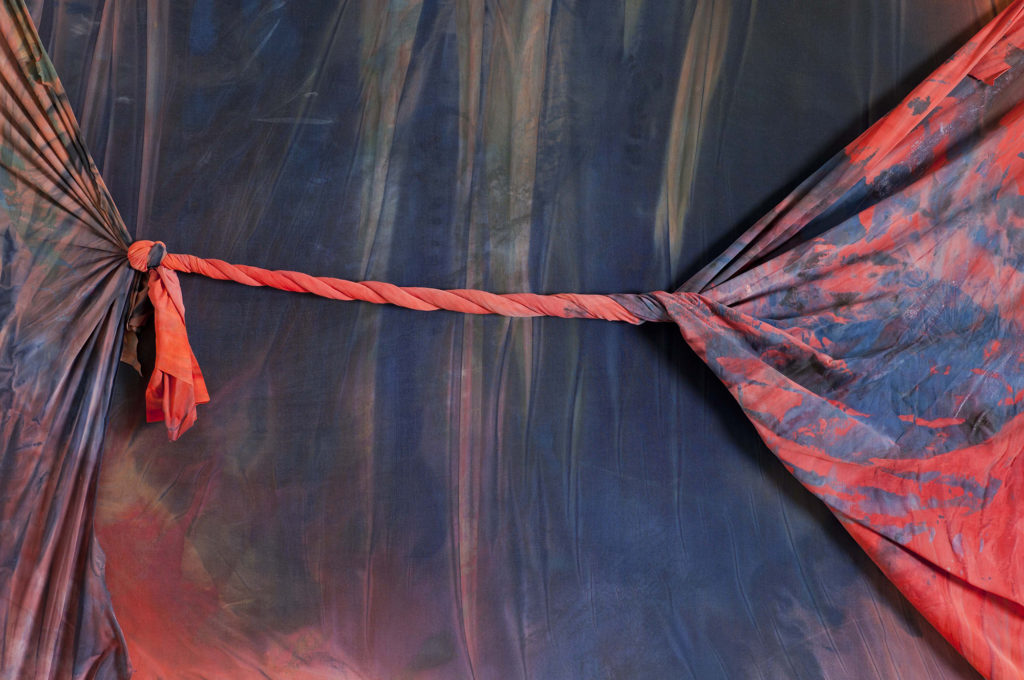 The discreetly gestural sculptures and wall-hangings of Catherine Czacki and April Street evoke ideas of skin and duration.
These are a selected group of works and installation photographs from the exhibition. For a complete list of available works please contact us.
Catherine Czacki and April Street
The discreetly gestural sculptures and wall-hangings of Catherine Czacki and April Street evoke ideas of skin and duration. Their slumping, sagging postures are ambivalent to the obscure processes of their creation. The result is a disquieting intimacy suggestive of proximity to a live body. In the work it is clear that a thing is never just an object, but a fetish or fossil in which private performance has petrified.
April Street's sensuous paintings are similarly rooted in experience, the type situated between kinesthetic memory and action. In a private performance, she wraps herself in hosiery fabric, lies atop paint-pooled canvases reenacting a recorded series of positions from her sleep. The initial impressions made on the canvases are then rinsed away, repainted, then hidden underneath or replaced by hosiery. Some of the works are treated in gold leaf, bronzed, spun into ropes, or accented by twisting bondage restraints. The result is fleshy and troublesome, compounded by such titles as I'll keep you close like fingers around a fragile neck (collar).
Catherine Czacki is a PhD student in the Art History, Theory and Criticism program at the University of California, San Diego with a concentration in Art Practice. She holds a Masters of Fine Art from Columbia University and Bachelors of Fine Art in New Genres from the San Francisco Art Institute. Recent solo exhibitions include The one beneath is mysterious, falling below the line of sight at the Discursive and Curatorial Productions Initiative of the University of California, San Diego. Selected group exhibitions include S-N-W-O at DREI Raum fur Gegenwartskunst (Koln, Germany), Walking Forward – Running Past at Art in General (New York), Lightness of Being at Present Company (Brooklyn).
April Street lives and works in Los Angeles. She studied painting at The School of the Art Institute of Chicago and bronze casting in central Italy. Selected solo exhibitions have been Portraits and Ropes shown at Carter & Citizen (Los Angeles), and Who Threw the Sunset at Me shown at Rosamund Felsen Gallery (Santa Monica). Selected group shows include Bakers Dozen The Torrance Museum (Torrance CA), Anniversary, Actual Size (Los Angeles), and recently Object implied, Emerson Dorsch (Miami). She was the recipient of an NEA Project Grant for her video collaboration, Imaging Appalachia.
Learn more about this artist.