Back on Earth, A Tragicomedy in Two Parts
Hugo Montoya, Brandon Opalka
December 1, 2014 - January 31, 2015
Reception: December 1, 2014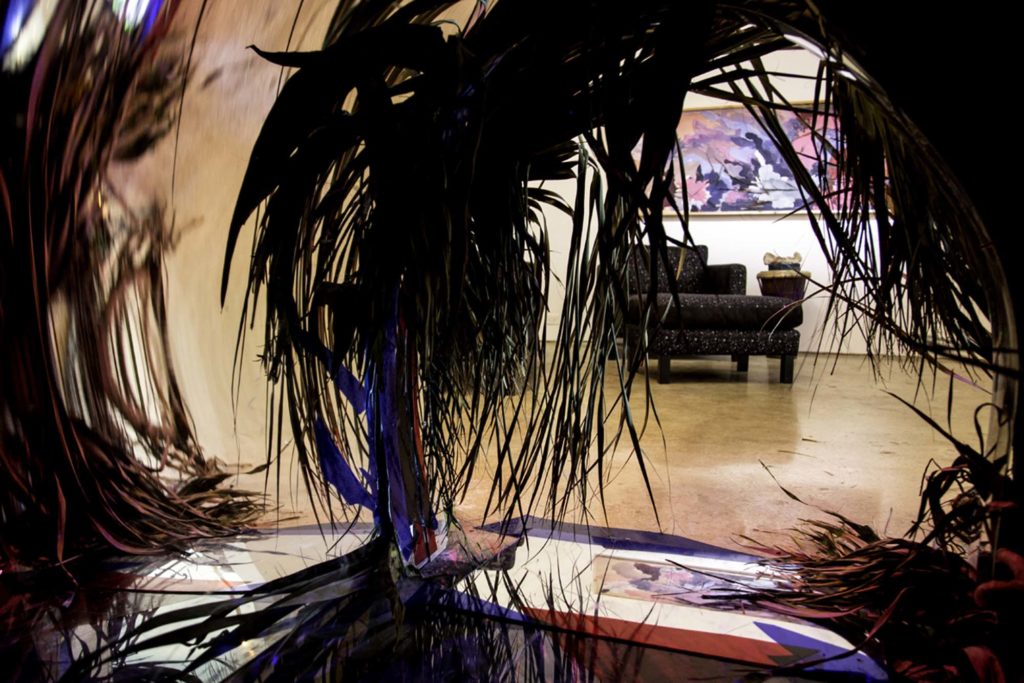 In a universe suddenly divested of illusions and lights, man feels an alien, a stranger. His exile is without remedy since he is deprived of the memory of a lost home or the hope of a promised land. - The Myth of Sisyphus, Albert Camus
These are a selected group of works and installation photographs from the exhibition. For a complete list of available works please contact us.
Back on Earth, A Tragicomedy in Two Parts
Emerson Dorsch announces an exhibition by Brandon Opalka and Hugo Montoya, Back on Earth, a tragicomedy in two parts. Featuring entirely new bodies of work by each artist, the show includes large-scale installations, sculptures, paintings, video, and an interactive immersive-environment. Amidst a volley between evidence and lyricism, the gallery and the artists construct and present parallel stories.
How should the absurd man live?
Our story begins with a sketchy reconnaissance into the origins of the absurd, a tale of two men spurning death. In truth, they refuse it, white knuckling the golden place where they live. Steadfast and floating, the men recline in the sand and swim in the sea, into the habit of living before acquiring the habit of thinking. They have passion for women and the taste of salt and alcohol on their lips, remorseless self exposure, and loud soulful music. These two unbridled, worn, robust-bodied men find joy at home, on the streets and shores of Miami.
Hailed from their sunny shiftless lives by the temptation of Basel fame, they were asked to work. Stubborn as they are, the two would not concede to the burden. They shook their fists, made outrageous demands, spun stories, and sent terrifying texts, as if they had never been complicit. All curation was challenged outright, and eventually revealed as partial, and related as much to ethical decisions as to aesthetic choices about beauty and order.
In Back on Earth, Montoya and Opalka exploit the critical potential of romantic ambivalence, as it lies beneath an objects absurdities. Montoya employs an almost aggressive neutrality to create an effect that is at once profoundly disquieting and pleasantly satisfying. Opalkas disarming, childlike sense of play manifests in a conflation of histories and spiritualities, all in a feral attempt to quiet the pain of the thorn in his heart. While seemingly obfuscated, the subject matter they mine or lampoon describes a deep narrative of personal struggle in the search for meaning or the lack thereof. The sincerity of their dilemma charges these works not only with a certain absurdity, but also an unexpected poignancy.
In this storys telling there is nothing really to understand, there are only varying levels of humor. The truth is more nuanced than the story, of course it is, but the storys enmity relays some truth too.
A Sisyphean Happiness
The Absurd arises by the contradictory nature of two things existing simultaneously: the human tendency to seek inherent meaning in life and the inability to find any. In acknowledging the absurdity of this search but continuing regardless, one can eventually find happiness.
King Sisyphus was notorious as the most cunning of men. As punishment for his chronic deceitfulness, Zeus sent Death to his door. But the king tricked Death into his own handcuffs and made him a prisoner. With Death bound in chains, nobody could die. The headless, bloodless, mortally wounded and disease-torn continued to walk the earth, until the war god Aries set Death free and delivered Sisyphus to him.
Clever Sisyphus managed to elude his fate once more. Before descending to the Underworld, he instructed his wife Merope not to bury him, as a test of her love. The myth tells of Sisyphus arriving at the Palace of Hades as an unburied pauper. He appealed to Queen Persephone, so that he might return to the surface of the earth for just three days to arrange for his funeral, punish his wife for neglecting her duties, and teach her respect for the lords of the Underworld.
Back on Earth – in the light of the sun – Sisyphus forgot entirely the deal he had made in the Underworld. Guilty of hubris, in his belief that he could outsmart the gods, Sisyphus was condemned to an eternity of meaningless labor, to endlessly roll a great boulder to the top of a hill. Each time the boulder neared the summit, it would roll back down to the bottom and Sisyphus would set upon repeating his task.
Camus describes Sisyphus as he looks down the mountain at the falling boulder; he knows what is ahead of him, but he can enjoy this moment. He can enjoy the rest. He can enjoy the fact that in this curse, he is condemned to an eternity of pushing, and he cannot die. This was his goal all along.
Brandon Opalka (b. 1978, Portsmouth, VA) is building a body of work best described as assemblage and installation, from which emanates discrete sculptures and paintings. He also creates characters and performances to inhabit his environments. His art distills his psychotropic visions of the world, launched in part by the antiestablishment impulses that began with graffiti. In the 12 years since his first solo show in Wynwood, a neighborhood launched by graffiti, he has exhibited at Art and Culture Center of Hollywood, Art Center South Florida, Emerson Dorsch, Ingalls & Associates, and Rockets Projects in Miami; Galerie Ernst Hilger NEXT, Vienna; Tomio Koyama Gallery, Tokyo, Japan; and LHoste Art Contemporain, Arles, France. He curated two graffiti exhibitions at NEXT Contemporary and HISTORY Miami. His work is represented in numerous private collections in Miami, including that of Robert Wennett & Mario Cader-Frech, Miami Beach FL; The Four Seasons, Miami, FL; Bass Museum, Miami Beach FL; and Lin Lougheed, Miami, FL.
Hugo Montoya (b. 1975, Gainesville, FL) makes sculptures, installations and photographs. He holds a BFA from Florida International University. He has had two solo shows at Guccivuitton in Miami and David Castillo Gallery, also in Miami. This is his first project at Emerson Dorsch. He has shown widely in Miami, including O.H.W.O.W. Gallery, Little River Yacht Club, the De La Cruz Collection and Swampspace. In 2008, he curated the notorious group show Boys of Bazel presents The Heman Woman Haters Club at Carol Jazzar Gallery. His work has been written up in the Miami Rail, the Miami New Times and Artlurker.com. Select collections include the Debra and Dennis Scholl Collection, Soho Beach House, Miami Beach, Four Seasons Hotel Group and Tanqueray Corporation, Miami, FL.
Learn more about this exhibition and the artists.
For a complete list of related materials please contact us.