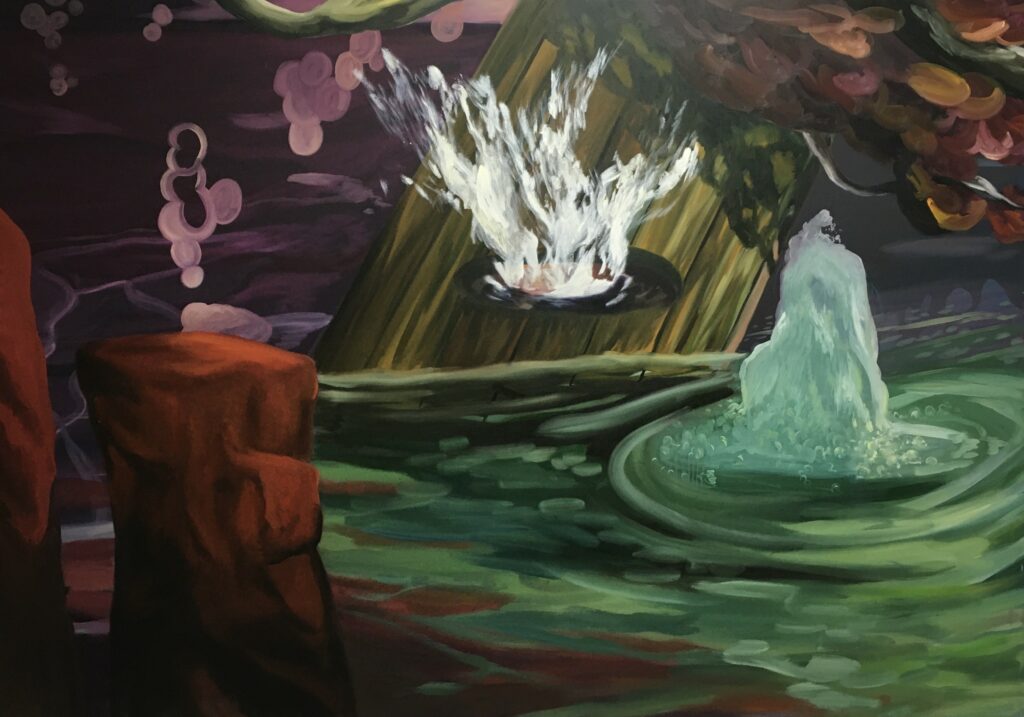 I believe that personal and ambiguous creation is what forces the observer to question what is being seen. - Ernesto Gutiérrez Moya
These are a selected group of works and installation photographs. For a complete list of available works please contact us.
ERNESTO GUTIÉRREZ MOYA
(b. 1995, Havana, Cuba)
Ernesto Gutiérrez Moya is a Miami-based artist whose drawings and paintings are characterized by enigmatic landscapes. There are no people present his works, instead, his focus lies in the search for a connection created through compositional lines––abstract structures are often housed among mystical lush gardens and forests in his paintings. Gutiérrez Moya's palette is made up of bold colors used in a mysterious manner, sometimes assigning colors to objects to which they don't belong. This reinforces the ambiguous quality of his narrative. He is influenced by imagery found in art, books, film, and nature, and he uses forms that stem from a real foundation to construct spaces that are at the same time familiar and otherworldly.
Gutiérrez Moya graduated from the San Alejandro National Academy of Fine Arts in Havana and later taught at the school for two years. His work has been exhibited in group shows in New York, Miami, and Havana and he has had solo shows in Miami and Havana. Publications include CdeCuba Art Magazine, DESTIG Magazine, and The Saatchi Gallery Magazine.
Born Havana, Cuba
Lives and works in Miami, Florida
SELECTED SOLO EXHIBITIONS
2021   The Enigma of an Evening in Autumn, Emerson Dorsch, Miami, FL
2017   Endless Space, Vargas University, Miami, FL
2016   Incognito Spaces, Carmelo González Gallery, Havana, Cuba
SELECTED GROUP EXHIBITIONS AND FAIRS
2023   Lo Bello Está Hecho de un Elemento Eterno, ArtSpace 305 & Mahara+Co.
2022   SWAB Barcelona, Barcelona, Spain
2021   UNTITLED Art Fair 2021, Miami Beach, FL
            I Found the Island, NADA HOUSE NY, Governors Island, NY
2019    Gallery104, New York, NY
2018   Spectrum Miami, Miami, FL
            Art Context Miami Basel Season, Curators Voice Art Project, Miami, FL
            Wynwood Juried Show, Curators Voice Art Project, Miami, FL
2015   Zip, 12 Biennial of Havana, Cuba
            Zip, Galería Artis 718, Havana, Cuba
            Zip, Ludwig Foundation, Havana, Cuba
2014   Jirones de Danza, for the 24th International Ballate Festival in Havana, Cuba
            Interlude, Fresa y Chocolate Gallery, Havana, Cuba
2012   Backed in Hope, Cuban Art Factory (F.A.C.) Havana, Cuba
            Marti and the San Alejandro Academy, Fordes Gallery, Havana, Cuba
2008   Grupo somos lo que hay, 50th Anniversary of  the Hotel Habana Libre, Havana, Cuba
GRANTS, AWARDS, RESIDENCIES, & HONORS
Miami-Dade Individual Artists (MIA) Grant Program, 2023
Vermont Studio Center Residency, 2023
Whale & Star Summer Workshop with Enrique Martinez Celaya, 2022
PRIVATE COLLECTIONS
Alex Fluker & Frank Destra
Vera Kaminester
SELECTED BIBLIOGRAPHY (PRINT AND ELECTRONIC) 
CdeCuba Art Magazine No.23, No.24, No.26, No.28 cover
"Ernesto Gutiérrez Moya Interview." DESTIG, Destig , 13 Sept. 2019, https://www.destig.com/ernesto-gutieacuterrez-moya-interview.html. 
Magazine, Saatchi Gallery. "Love Art Final 50." Saatchi Gallery Magazine, 27 Apr. 2018, http://artmag.saatchigallery.com/14445-2/
Stories, Local. "Meet Ernesto Gutierrez Moya." Voyage MIA Magazine | Miami City Guide, 
Voyage MIA Magazine, 28 Feb. 2019, http://voyagemia.com/interview/meet-ernesto-gutierrez-moya/. 
EDUCATION
2014   Graduate from specialty of painting, San Alejandro Academy of Art, Havana,      
Cuba
Learn more about this artist.
For a complete list of related materials please contact us.