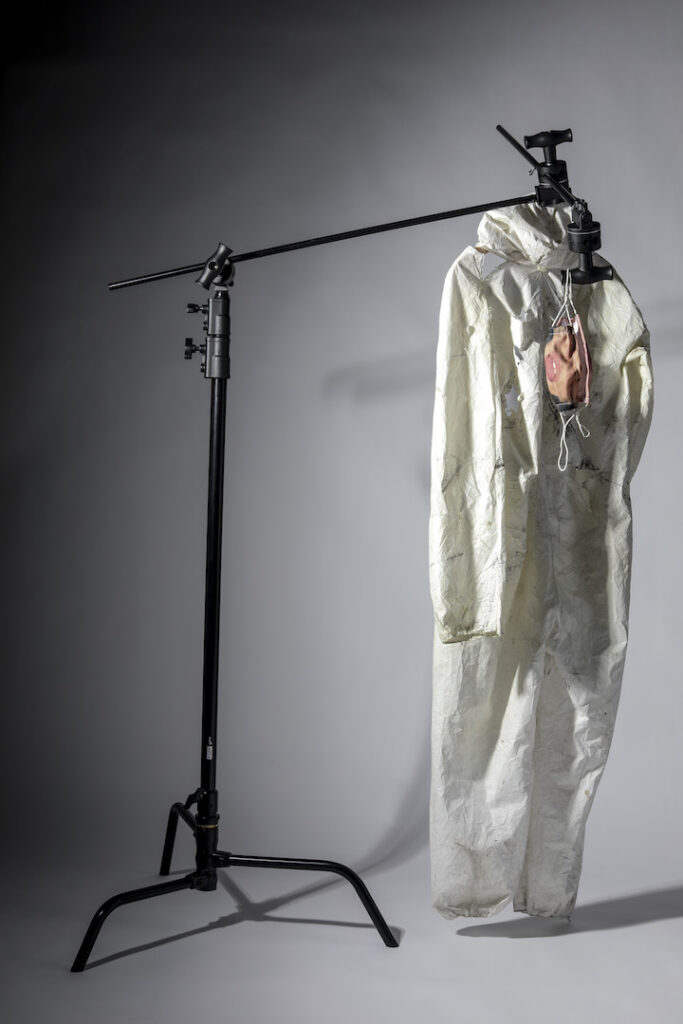 Seung-Min Lee work's in painting, performance, and video, challenging notions of whiteness, power relations, and the "normal" American identity.
These are a selected group of works and installation photographs from the exhibition. For a complete list of available works please contact us.
Big White, 2022, documents a series of performances that take shape in the artist's ritualistic processions through iconic areas in New York City, including Chinatown, Harlem, The Metropolitan Museum of Art, and Fox News Headquarters.
For this project, Lee incorporates a white Tyvek suit stained and damaged from an earlier performance in which the artist threw brand new safety suits in front of the oncoming subway traffic. This act took place on the same Times Square platform where an Asian woman, Michelle Go, was pushed to her death by a stranger – one of many violent attacks in the wave of anti-Asian sentiment since the onset of the COVID-19 pandemic. In the video, Lee drags through the streets on her ankle what she calls a "charm bracelet," a heavy chain loaded with objects to ward off danger: at-home COVID tests, surgical gloves, a manicurist's model hand holding a pepper spray, a heavyweight punching bag, and an aluminum baseball bat. "Big White" refers to the term Chinese people call the Hazmat-suited volunteers who manage and police the quarantines.
How does your artistic practice disrupt perceptual or phenomenological habits of whiteness? Every project I begin starts with thoroughly trying to find the sources of a feeling of alienation I experience in my daily, mundane experience of being in the world. Rage, disappointment, resignation, submission: these are the internal phase changes that alert me to a rift in my acclimatization to the "best-fit" diagram of a world that assumes a white body as its subject/customer/end-user. Having this "double consciousness" is how we cope, but it is not how we heal. In my work, it is my habit, in these instances, to try to inhabit this other, white, space fully until I can almost empathize with the oppressor, to hold inside my body the monstrous and allow myself to be fully consumed by its seductive power; and by allowing my body to be vulnerable and open to this possession in public space, I seek to create a meaningful tension that can disrupt the supposedly natural order of things.
Learn more about this exhibition and the artists.