Jen Clay: This World Doesn't Belong to You
March 18 - April 22, 2023
Reception: March 18, 2023, 6 PM-9 PM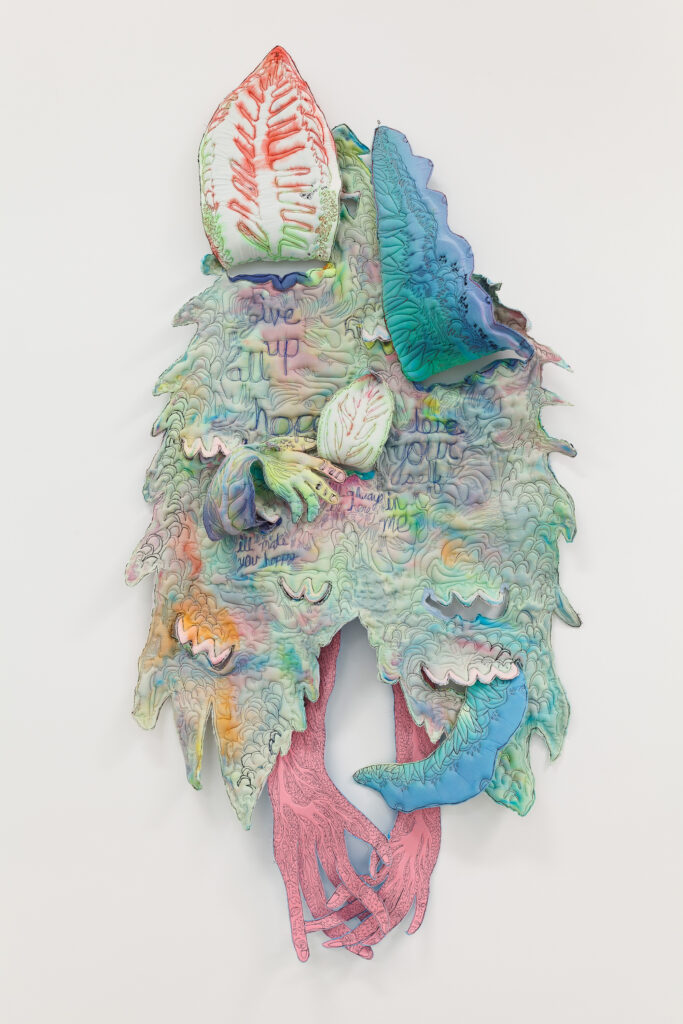 The root word for terrific, Clay says, is terror.
These are a selected group of works and installation photographs from the exhibition. For a complete list of available works please contact us.
Jen Clay: This World Doesn't Belong to You
Jen Clay's first solo exhibition with the gallery, This World Doesn't Belong to You, focuses on her recent performative objects and quilted wall hangings. In an essay that accompanies the show, curator Tyler Emerson-Dorsch considers Clay's references to behavioral science, popular culture and cultural theory, especially the concepts of cosmic horror and cosmic pessimism, in relation to a style she calls friendly aesthetics. 
"[Clay's] rich multimedia practice manifests monsters and their worlds. On the surface, her non-human figures are soft, charming and sweet. With hands and feet evoking talons or pincers, appendages drape over the creature's bulk, and a viewer can peer beneath, where seed sacs lie. Often in these crevices phrases hide in curving lines of stitched script. Clay first made versions of these anamorphous forms to illustrate the hallucinations which populated her childhood. Art and behavioral analysis were both fields of study which gave her the ability to understand and communicate those experiences. Her research scope widened to encompass many instances of anxieties, fears and phobias experienced in society and culture at large. In a world where we find comfort in explanations, she says that she is 'most interested in areas where there is no category.'"
–"Terrific Visions," An Essay by Tyler Emerson-Dorsch. © 2023
Traversing a wide range of media, from quilted wall hangings to interactive and multimedia performance, Jen Clay's body of work often places monster-like sculptures and wearables in situations that encourage interaction with them. The artist uses forms, materials and techniques familiar to her from the time and place of her youth, a time when she was in the company of hallucinations. Indeed,  she had hallucinations until age nine and her spoken language was delayed. Her work, then, seeks to recognize and validate that experience in herself and others. Clay's work also helps viewers who do not have this personal experience to stay with their fears so that the discomfort dissipates and a new plane of existence is possible. Often lush textures in a variety of textile techniques serve as "bait". The sculptures' cuddly aspects, along with tactility and other liminal inputs, like scent and sound, can bypass viewers' defenses. Clay frequently stages multi-sensory environments, which—together with the creatures—become meditations on the uncertainties we all face at a time when disaster is a constant threat. Her practice interrogates how the effects of fears are impacting – or not – how we as individuals can assess risk or ignore it, sometimes at the expense of sanity. Moreover, the ubiquity and patterns of these fears question whether the phenomena are individual at all or, rather, exist at a population level.
In 2022, at the same time Clay completed a two-year residency at Oolite Arts, she was awarded a Knight Arts New Work Award to produce Eyes of the Skin, a video game and immersive installation set to debut at Locust Projects, Miami, FL in the Fall of 2023. 
Jen Clay was born in 1985 in Mountain View, North Carolina. She received her BFA in Sculpture from University of North Carolina Charlotte and her MFA from the University of Florida in 2014. Directly after her MFA, she moved to South Florida, where, within a year, she had immersed herself in the scene, with screenings and performances at Girls Club Collection, Fort Lauderdale, FL; the Institute of Contemporary Art, Miami, FL; The Museum of Contemporary Art, North Miami, FL; NSU Art Museum, Ft Lauderdale FL; and Miami Light Box, Miami, FL. Commissions for more complex and immersive multimedia performances followed. Among these are "Stewardess, Pink Noise: Flexing the Frequency" at Girls Club Collection in 2016, "Welcome to You&Me" at Young at Art Museum in Davie, FL in 2019. The performances at Young at Arts and South Dade Arts Center, which built upon the commissioned performance for the Norton Museum of Art in Palm Beach, were conceived especially for neurodiverse children. It was while working on the group exhibition for the South Florida Cultural Consortium at Museum of Contemporary Art North Miami in 2019 when she began thinking about making self-contained performative objects. Clay has shown in institutions up and down the east coast of the United States. Residencies include Oolite Arts, Miami Beach, FL(2020-2022), along with a connected residency at the Atlantic Center for the Arts (2020), New Smyrna, FL. A short segment on her practice, "Jen Clay: The Texture of Anxiety, " won a 2020 regional Emmy through South Florida PBS.  A Knight Arts New Work Award is funding an ambitious new video game and installation, to debut at Locust Projects in the Fall of 2024. Clay lives and works in South Florida. 
Learn more about this artist.
For a complete list of related materials please contact us.