Barron Sherer: EKTA-GLADES
November 13th - November 17th, 2020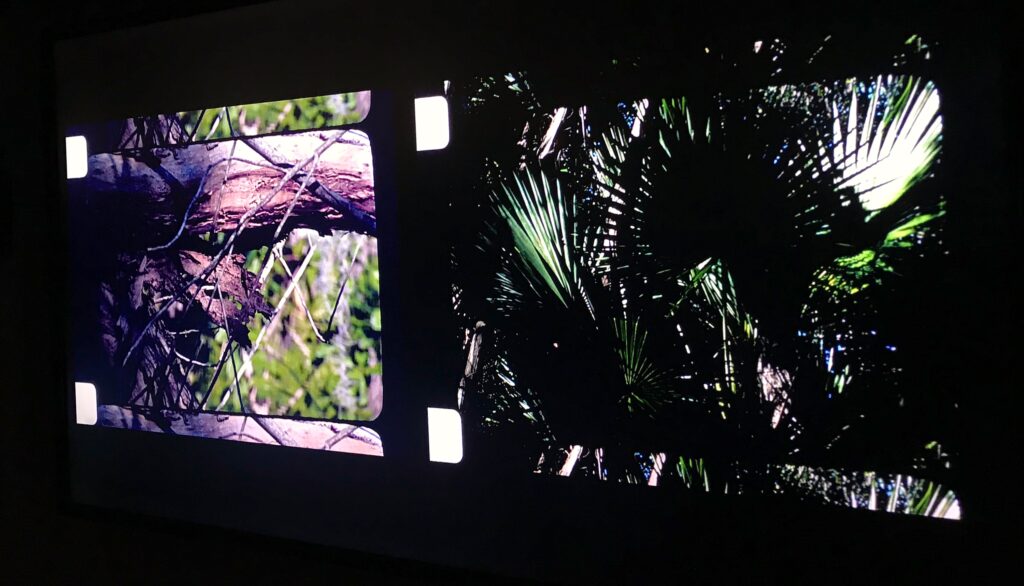 The video explores the relationship of the image to the frame and the image to the work's diegetic soundtrack.
These are a selected group of works and installation photographs from the exhibition. For a complete list of available works please contact us.
Barron Sherer: EKTA-GLADES
Barron Sherer, EKTA-GLADES, 2020. 16mm film transferred to HD video, color, sound, 7:56 min.
This moving image installation is a record of sound and images on 16mm motion picture film and digital audio captured during an AIRIE mini-residency. The video explores actuality (the Everglades in Winter) but also the relationship of the image to the frame and the image to the work's diegetic soundtrack. The work's temporal and structural dimension also notes human intrusion in a meditative and complex ecosystem. Ultimately, there are several modalities of experience: the work is material, referential, and scenic. It explores an archeo-exotic locale and our own contemporary backyard.
Edition of 5 and 1 A/P.
Locations include Coastal Prarie Hiking Trail, Christian Point, Mahogany Hammock, Gumbo Trail, and Lone Key Pine Trail.
Produced during a pilot program by Artists in Residence in Everglades, AIRIE, called Mini Residency 2019 in the Florida Everglades. Sherer shot the film during December 2019 and January 2020 and completed digital finishing at Oolite Arts takeover at Anderson Ranch Art Center during February and March 2020 after some remote lab work and scanning Thank you Cinelab, Boston, and the Lynn and Louis Wolfson II Florida Moving Image Archives.
5.1 Stereo (good headphones or speakers, please!)
Barron Sherer​ is a time-based media artist with a background in moving image archival practice. He works in Miami with a focus on altering and repurposing archived films. In the early 2000s, Sherer was curator at Lynn and Louis Wolfson II Florida Moving Image Archives programming film festivals and public programs, he also researched collections and managed the archive's photochemical conservation. Sherer founded a new studio project in 2020 with major Knight Foundation investment in the form of a Knight Arts Challenge award​.
His work focuses on re-purposing orphaned and appropriated motion pictures, slides, video, and photographs through formal experimentation. Sherer's exploration and ​artistic process​ in social media and digital platforms create source material and documentation of his temporary and experiential installations.
Sherer is the recipient of awards, fellowships, and residencies. Most recently he received a 2020 Oolite Arts "Ellies Creators Award" for a new large scale 16mm installation. Other acknowledgements include a 2015 Knight Arts Challenge grant for the three-year project he co-founded, ​"Obsolete Media Miami"​ that was dedicated to ​using legacy media and technology​. In 2017, Sherer was recognized with a prestigious South Florida Cultural Consortium Fellowship. Recent acknowledgments include a ​2019 Experimental Media Artist in Residence at Signal Culture​, ​2019 AIRIE Fellowship, Mini-Residency​, and a ​2020 Oolite Arts at Anderson Ranch Arts Center​.
Recent work has exhibited widely including the Frost Museum of Art; Perez Art Museum Miami; Deering Estate; Microscope Gallery (Brooklyn, NY); Rooster Gallery (NYC); Gallery 125 (Brooklyn, NY); EMP Collective (Baltimore, MD); Art Center Berlin (Berlin, Germany); Museo de Arte Moderno (Medellin, Colombia); and Universidad Autonoma Metropolitana (Lerma, Mexico). Barron Sherer's 2018 solo exhibition, MIAMI/MIAMI featured 16mm installations and video projections in at Walls Gallery in Miami, Queensland, Goldcoast, Australia
Learn more about this artist.