alfonso borragán: bucarolito
September 6 - October 6, 2019
Reception: Reception: September 6, 6 - 9 pm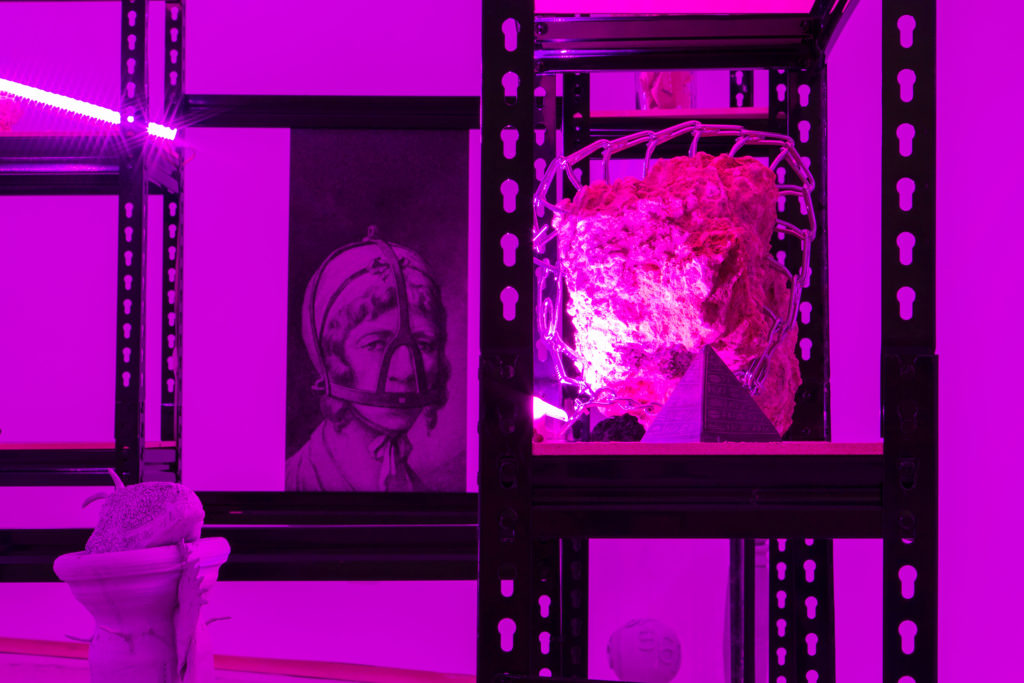 borragán creates situations and devices that are born to be consumed and that seek to change in some way the perception of reality, to broaden or interfere in it.
These are a selected group of works and installation photographs from the exhibition. For a complete list of available works please contact us.
alfonso borragán: bucarolito
Emerson Dorsch is proud to present Spanish artist alfonso borragán's first exhibition in the United States. His exhibition Bucarolito will open at the end of a month in residence at the gallery on Friday, September 6, 2019 from 6 to 9 pm.
Here the raw elements of borragán's art boil down to the MOUTH and the STONE. Think, if you will, of all the ways the human mouth serves as a threshold between an individual and the world at large. Similarly, contemplate how many ways stones and their particulates represent site, the earth, the material universe, and its non-living scaffolding.
The action at the center of each of borragán's experiences is TO INGEST and to inscribe and reveal an image through this action. This is the alchemy. For, in his environment of magenta phyto lights and dusty air, groups ingest stones together. In this case, they eat bucaros, which are small, unfired clay vessels eaten by the Spanish Aristocracy in the 17th century. Clay and earth ingestion is an ancient practice. There are traces of Egyptian ingestions of the Limes of Nile. Partially eaten ceramics have been found in Greece. Romans imported Greek edible ceramics with great impact; they led to terra sigillata. Bucaros appear in Renaissance still lives and in Diego Velázquez's painting Las Meninas. Those who ate them believed its properties could transform human matter.
During his residency at the gallery in Miami's Little Haiti, borragán and his collaborators Blanca Pujals, Santiago Reyes and Miami-based ceramicist Kira Tippenhauer will take as an axis and threat for the project the making of a series of bucaros from local clay. He will invite groups to participate in a private collective action and performative ingestion inside his installation at the gallery. By ingesting the clay, they absorb the place and become a part of it. Distinctions between inside and outside break down. The people who come and take part can help pressure the insides and outsides in our city.
borragán brings together ingestion, absorption and understanding with the hope that these can all converge into the exposure of a new matter. Hope is an intangible thing, like myths and transformation. So he thickens the stew, stirring it like a spell, adding to the core elements mouth and stone. Magenta light tints the AIR visitors breath. With breath comes life and language in all their dimensions. The very word bucaro sounds like the word for mouth in Spanish, boca. Little vessel, little mouth. borragán is a storyteller; he's as likely to spin a science fiction tale about the dissolution of time as he is to cast mutation. There will be lizard tails and gold teeth too.
African kings, Egyptian pharaohs, Etruscan women, Mayans, Lil Wayne, Nelly, Lady Gaga, and Erica Badou adorn their teeth with gold and jewels. Borragán adds meteorite grills as an ingredient, joining mouth, teeth and stone. Just as he samples Little Haiti's clay, Grillz are of this place. Orlando Plein, one of Grillz' inventors, has his shop Verrett Dental Center 4 miles from the gallery.
Born in 1983, alfonso borragán is a next generation artist alchemist for Miami, tapping into a vein introduced to us by Antoni Miralda's indelible food performances on South Beach in the 1990s and early 2000s as well as his Magi performance organized by MDC's Museum of Art and Design at Emerson Dorsch's building last year. In 2013, Borragán and Robert Chambers worked together with Montse Guillén on a project in an old castle in Basel, Switzerland. Chambers' Bigma, an installation of pools of glowing green, blue and red liquid in low light. at MOCA North Miami in 2003 and Zonat MOCA in 1996 had an immersive otherworldly quality akin to Borragán's projects.
As with the Bucarolito, which is the confluence of two years of work and research, alfonso borragán's art practice builds on extensive periods of research, represented in his biography by the many residencies he has attended around the world. He collaborates with teams of scientists, anthropologists, geologists and other technicians who expand and develop different visions during these processes.
Alfonso Borragán studied Fine Arts at the University of Barcelona and continued his training at the MFA Slade School of Fine Arts London where he is completing his doctorate. He works and lives in London. Previous iterations of Borragán's Litofagosseries took place in Barcelona and Alberta, Canada and Zagreb Croatia. He has shown internationally, with solo and two-person exhibitions in Canada, Spain, Colombia and the UK.
Notable among his accomplishments is an award this year from Fundación Botín, an organization based in Spain committed to supporting Spanish artists doing a project abroad. His residencies in North America include the Banff Centre Residency in Alberta, Canada; the Headlands AIR in San Francisco, CA; and The Fountainhead Residency in Miami, FL. These are along with a good number of international residencies and awards at FLORA ars+natura in Colombia; Khoj Residency, New Delhi, India; and more in Mexico, Italy, Spain, and the UK. A project from his Litofagos series accompanied his Banff Residency.
Santiago Reyes Villaveces
Born 1986 Bogota, Colombia. Reyes Villaveces work responds to inquiry, obsession, fascination, and pleasure for the structures, assemblages and dynamics that evidence the state of transitivity and precariousness that appeal to a state of temporal indetermination. His installations, sculpture, drawings and photographs — transform, determine, modify and interfere with the space in which they operate; affect the way the spectator occupies and perceives the physical and social space the work inhabits. Reyes Villaveces received his MA in Sculpture from the Royal College of Art, London, UK and his Bachelor in Fine Arts, with emphasis in Visual Arts, art theory and history, Universidad de los Andes, Bogotá, Colombia. He has exhibited work in London, Italy, Belgium, Colombia, and Brasil.
Kira Tippenhauer
Born in Port-au-Prince, Haiti. Tippenhauer has a multidisciplinary practice of fine art and a design line under Kiramade based in Miami, Florida. Born in Port-au-Prince, Haiti, Tippenhauer was raised by an architect-engineer father and kindergarten-owner mother. She received her MFA in Visual Arts from Miami International University of Art & Design (2011). Together with her brother and business partner, Kurt Tippenhauer, they own and operate Lakay Pottery Collective in Little Haiti where the bucaros for the project were made.
Learn more about this artist.